A vintage Sekt, a northern-Italian inspired Napa white blend, a Vintage Port from a sleeper of a producer in a not-so-sleeper of a year, and a single vineyard, old vine Chilean Malbec. All have taken the #1 spot in previous "vintages" of the 1WD Most Interesting Wines of the Year list. Believe it or not, the MIW list is now in its fifth consecutive incarnation, and it sure as hell ain't getting' any easier to produce each year!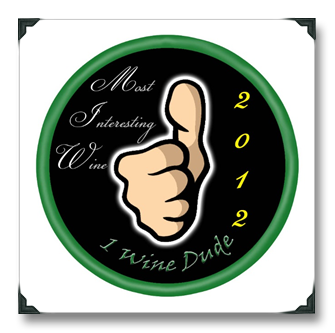 Both the number and quality of wines that I sample increases exponentially each year, and so the competition (such as it is) for those that stand out as somehow being the most special in some way/shape/form increases dramatically as well.
Having said that, there's a crap-ton of very good, but not very memorable wines out there… and I tasted a LOT of those to get to the ones on this top ten list.
Having said that, I feel somehow emotionally cheated with the list I'm presenting to you today… because so many excellent wines that I tasted in 2012 are missing… wines that could have been on here if it were a top 25 or top 50 list.
This list, as long-time 1WD readers already know, is not a "best of" or "highest rating" or "circle jerk" comparison (no mater what the PR folks do with it!). It's intended to be a list of wines that stood out, to me, as being particularly interesting, high quality and full of complexity; an attempt to shine an additional spotlight on vino that I found to be among the most compelling drinking experiences I had this year.
A few more moments of preamble: these are not wines released in 2012 (though I try to favor recent releases, so that you have a chance of actually trying them), they are wines that I tasted in 2012.  Not all the wines I tasted in 2012 qualified – the wines have to be at least somewhat available (also so that you have a shot at trying them). Things got expensive again this year; not sure what that says about me, or the wine biz in general, but not all of the vino on this list is stratospherically priced (though a few are – sorry, I gotta call this stuff as I see/taste it!).
I invite you to take a gander at previous vintages of the Top 10, to see how things have evolved over the last five years: 2011, 2010, 2009 & 2008. Reactions, exclamations, bitching/moaning, exaltations, and the like are all, of course, welcome. But most of all, I hope you enjoy the walk down 1WD memory lane.
Oh, yeah – and this year, at one spot in the list we have a tie, so technically there are eleven wines in the list (go ahead… flame me up for it… you know you wanna…).
Enjoy!…
The 1WineDude.com Ten Most Interesting Wines Of 2012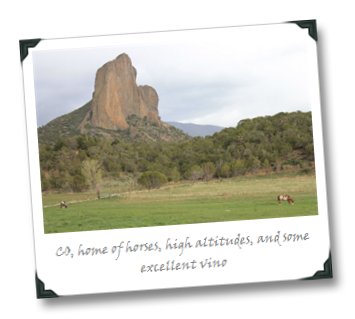 10) 2011 Guy Drew Vineyards Pinot Gris (Colorado, $16)
Why it made the list: And you thought all they did in CO was make Coors Light…
Despite the fact the Guy Drew once told me that I look like I'm fifty years old, I am quick to admit that this wine represents an incredible value and an equally (probably more) incredible statement of CO's fine wine potential. This might be the single best Pinot Gris I've yet had from the U.S.; it's got the melons and richness you'd expect from PG, but coupled with spices and a pithy, lemony raciness that sailed through to the finish like it was shot from a sniper's rifle. I just hope that guy can find more of this fruit for subsequent vintages – there is a very real danger that this impressive, svelte, boldly aromatic effort will be a fleeting one-off. Fortunately, Guy's other wines are also largely quite good and quite under-priced (just not this good and that under-priced). For what it's worth, this wine also handily took home the "media choice" award at the 2012 Drink Local Wine Conference's "Taste Off" competition, where I tasted it (so I wasn't just drunk at the time, and the inclusion on the 2012 MIW list is not a lark).
9) 2010 La Rochelle Four Sisters Vineyard Pinot Meunier (Sonoma Coast, $38)
Why it made the list: Dude loses the use of his family name, fights back by producing kick-ass juice (if you expected a Pinot Meunier on this list, then you obviously hacked into my website and saw the draft).
After six generations of pressing grapes in California, the Mirassou family has only one son left who owns a wine brand: Steven Mirassou.  That's despite the fact that Mirassous have been making wine since the mid-1800s, probably longer than any other CA winemaking family. Steven cannot use the family name because Gallo picked up the Mirassou brand in 2003. David Mirassou now represents that brand for Gallo, but the San Jose winery where they once made their products is long gone. Steven's now set up shop in Livermore, and is cranking out some exceptional – and above all interesting – wines. Case in point is this little beauty, well worth you turning up your wine geek radar on full-blast. Spicy, herbal, and full of red berries and flowers, this is a pretty, feminine, and (at turns) delicate wine that has vibrant, rustic and smoky "edges." Interestingly, this wine was aged in oak barrels with French heads and American oak bilges (I've no idea if that made it more compelling or not, but it is compelling regardless). I was like a dog at the fire hydrant (minus the peeing!) with this when I tasted it at Steven's Livermore tasting room, I would've sniffed it all day if we hadn't had 800 other wines to taste in the lineup after it.
8) It's a TIE! Yeah, I'm serious…
2011 Yves Leccia Patrimonio Blanc (Corsica, $38)
Why it made the list: In a year of geeking out over Vermentino, I geeked out the most over this Vermentino. Also, I drank it with Kermit freakin' Lynch!!

I hit the Vermentino hard-core this year. You wouldn't have known that from 1WD material, but I drank a shed load of it in my personal time, and it got a special mention in my Playboy.com column. Now, this particular Vermentino I happened to share with Kermit Lynch, at his Berkley-area shop, when he agreed to an interview about his fortieth year in business (he doesn't interview often, so the whole experience was a geektastic event for me all-around). This is the kind of wine that hits your palate like a life-force-giving tazer, inciting you with an immediate desire to finish the bottle (preferably over dinner and with friends). In other words, it's exactly the kind of white wine for which Kermit is justifiably well-known for importing.
and…
2008 Domaine du Closel "Clos du Papillon"  (Savennières, $32)
Why it made the list: More geektastic than attending a Star Trek convention, then racing off to a RUSH concert, all while wearing your circa-1980s Dr. Who t-shirt.
"Welcome to French Guiiiiiaaaaana!!!" Sorry, couldn't resist that… This is a wine geek's wine geek's wine. Not everyone is going to "get" this wine, and so it's no surprise that previous vintages have barely cracked the high 80s in scores. Screw the scores, and just enjoy the yeasty, wooly, creamy, pithy, round but still svelte, demanding, grapefruity deliciousness. It's a wine that unfolds in the glass over time as it warms, giving you plenty of reasons to geek out over it. Restraint will pay off, because the acidity will give this serious potential for longevity, after which it should take on honeyed, nutty notes and further elicit marked spikes on the geek meter. Also, I practically lost my feet to frostbite when I tasted it, and one doesn't quickly forget that kind of thing…
7) 2001 La Rioja Alta, S.A. Viña Ardanza Reserva Especial (Rioja, $30)
Why it made the list: Walmart's little bouncing happy face price-knocking guy has got nothing on bargains like this.
The best way to sum up this wine is, I think, to go simple: it's the most stunning red wine bargain I've tasted this year. 80% Tempranillo, 20% Garnacha, mostly from a thirty-year old vineyard. Here's what you get for your thirty bucks: tomato leaf, balsamic, olives, dried herbs, stewed-but-still-tart red plums, dark cherries, cigar, tobacco, tea leaf, black raspberry and sweet spices. And a pretty sexy, silky mouthfeel that makes it just as good going down as it is when you first sniff it. It's still fresh as a daisy. It's also got swagger, like combining the smarmy, back-of-the-classroom clown with the teacher's pet, a straight-A student that's also fun to be around. This is only the third Ardanza to be declared "Reserva Especial" (the others coming in 1964 and 1973), and as you can tell I've no reason to dispute it. I haven't had a red that overachieved like this in a long, long time. It's one of those buy-it-by-the-case releases, but I probably won't be lucky enough to do that living in the Communistwealth of Pennsylvania. Fortunately, I got to taste it at La Rioja Alta when I visited Rioja this year; and tasting it again would be a good enough excuse alone to go back.
6) 2009 Donum West Slope Pinot Noir (Carneros, $90)
Why it made the list: Will blissfully defer the crushing, depressive agony of your meaningless existence for an hour or two (or was that just me?).
Stunning. Threw me for a loop, too, as it's probably the best Pinot I've yet had out of Carneros, and it evokes a lot more "Sonoma Pinot" than it does "Napa Pinot." It was also the best overall wine I tasted during the entire Sonoma Wine Country Weekend jaunt (and that's saying something, because I tasted a sh*tload of good wine that weekend). It's a savory Pinot, with some spicy meat, but that meat is being slowly warmed by fruit so bright that it ought to have planets revolving around it. The mouthfeel is a step apart, with structure and bite and pith but also full of juicy cherry and red berry fruit and hints of chalky minerality. It made me want to punch myself upside my head for not having paid any real attention to Donum before. One to savor; and I mean savor as in hoard it for yourself, rather than opening it when your friends are around, unless your friends happen to include me that day in which case you have my permission to ignore that suggestion…
5) 2008 Melka Métisse Le Chatelet Vineyard Grand Cru (Saint Emilion, $120)
Why it made the list: Napa's most celebrated surfing winemaker shows a soft spot for his homeland.
Napa golden boy Philippe Melka is a talented winemaking French surfer dude, and this Merlot and Cab Franc blend (as you'd expect from its AOC designation – yes, you're reading that correctly, Philippe does make a St. Emilion Grand Cru) is a testament that his skillset isn't defined by the boundaries of the Valley. Its release date was Bastille Day, which is either clever or gimmicky, your choice depending on your cynicism level when you read this. The first thing to tell you about this wine is that I was astonished that it saw 20 months of 75% new French oak; it hardly comes off as oaky, and in fact comes off as quite pretty. Soft, with roses, cloves, spicy chocolate, dark cherry fruit; but there's structure (duh) and heft and earth and graphite and stones there, too. And the aromatic groups of "pretty" and "gritty" act like opposing forces in this wine, alternating in focus and brilliance as the wine develops in the glass, sort of like Cataclysmic Variable Binary Stars (look it up!). The result is a study in contrasts and a tension that is intriguing, but graceful – think ballet dancers going for a difficult, dangerous move on stage. Will it end well? Or are we in for compound fractures and expensive hospital stays for all involved? The answer is probably "well," but that doesn't make the anticipation any less fun.
4) 2005 Leeuwin Estate Art Series Chardonnay (Margaret River, $85)
Why it made the list: what, it being the best Chard I've ever had from the S. hemisphere isn't good enough for you?
About a Franklin and worth every Lincoln therein. Crème brulee meets ginger for starters. Then there's this elusive quality… I mean, you get these red & yellow apples but there's something so clean and pure about them. Peaches follow, along with a sense of the poised power that really defined the entire Leeuwin Chardonnay lineup for me; these wines flirt with heat but never get hot, because they end (as in this case) refreshingly with limes and lemons and pith and zest. You could circumnavigate Western Australia from Perth to the Darwin before the finish on this wine finally peeters out. In other words, it's just about seamless; and if you're inclined, as I am, to think about winemaking in terms of art, then you won't mind me mentioning that this wine is one of those efforts that actually gives its commissioned label a run for the money.
3) 2010 Domaine Vacheron Les Romains (Sancerre, $48)
Why it made the list: I tasted enough wines at the 2012 Salons des Vins de Loire to erase most of the enamel on my teeth and give me five (!) cavities, and guess which wine I remember most from it?
From 100% flint soils, planted in the late 1960s comes this gorgeous, whispering, goddess of a wine. The herbal side comes out first here: nettles, lemon grass… and then, once she gets rolling, she starts to open up a bit more quickly, even getting a little forward with you. Sexy, while still being totally refined, with white flowers in her hair. The finish is like catching a whiff of her perfume on the couch cushions the next day – to get at it, you have to come close, you have to want it, you have to listen to her whispering to you. The whole experience is crisp, clean & just insanely good. F*ck, I want a bottle of this so badly now, I'd mug someone's grandma for it (does that make me an addict?).
2) 2009 Château Climens (Barsac, $125)
Why it made the list: In a room full of `09 Bordeaux heavy hitters, this hit me the heaviest (ironically, with its unbearable lightness of being).

Welcome to the lighter side of Bordeaux dessert wines. For me, Barsac and Sauternes were the story of the 2009 Bordeaux vintage, and all the talk of whether the 2009, 2010, or 2005 reds were "best" totally missed the point of what the 2009 vintage offered up. Climens speaks profoundly, not loudly, in 2009 – lilting and pretty, this is a wine that sneaks up on you with its subtlety and feels like lemon meringue when it starts to fade on your tongue. But it doesn't lack for power in its funky yeasty-ness, either, and so it's like some sort of lovely, soft-spoken Barsac ninja. There's a grapefruit edginess and plenty of citric lift to this wine, and it really dances… it's actually more like a lovely, soft-spoken, dancing ballerina Barsac ninja. Okay, whatever, it's just friggin' awesome, okay?
1) 2007 Henschke Hill of Grace (Eden Valley, $625)
Why its on the list: Talk about real terroir…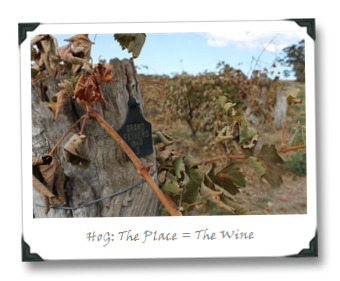 Aussie wine is not dead; the low end of the market has taken a hit, for sure, but those canvassing the entire country's vinous output as destined for the bargain bins is officially welcome to eat my undies. I suggest that they use HoG to wash those undies down, because just about anything can be made better with a wine like this (including, I suspect, death by crucifixion). Stephen Henscke called 2007 "one of the more difficult vintages, due to drought." But hey, nothing came easy to Beethoven, either. Yields were low, and the vineyard was undergoing some of its biodynamic conversion at the time. The wine is none the worse for wear, and it's incredibly young with probably decades to go before it sleeps. There are more layers and visceral beauty here than in any of the most complex battle scenes in the Lord of the Rings trilogy of films. Berries, plums, tangy red fruits, spices, nutmeg, pepper, tar, Mexican chocolate, eucalyptus… it keeps coming like an invading army of awesomeness. The mouthfeel is pithy and vibrant, astringent and seductive at the same time. Later, it gets spicier, and it starts to lay on more meats than an NYC butcher shop. In 2012 I had the good fortune of visiting a good number of special – dare i say it, magical – vineyards: Freedom, Bechthold in Lodi. HoG was the most special, the one most imbued with a quiet sense of… something… spiritual. And Hill of Grace the wine is Hill of Grace the place; now fifty years of that place being expressed in vinous form, and every ounce of it is elegant complexity. Worth $600? Depends on how much you like wine, and how much you dig Shiraz… but I thought about opening a special savings account so I could order a bottle of it…
Cheers!