First time? I'll be gentle, I promise!
Welcome to 1WineDude.com! Thanks for visiting. You look great, by the way – did you cut your bangs?
This website exists to help you learn more about wine. I primarily try to do this by a) entertaining you, b) providing useful information to you, and c) (hopefully) making you laugh along the way, all while assuming that you're no dummy.
What you get: Features on wines, producers, and regions (usually those that are well off the overly-trodden-paths), independent commentary on wine biz happenings and trends, and insights/reviews on the good stuff – all for $0.00!
Let's start by agreeing that, no matter what you've heard, learning to appreciate wine does not have to be daunting, expensive, or reserved for some strange elite with magical noses. You can learn to appreciate wine just as you can food, cooking, music, or anything else that you enjoy.
This site can help you do that. Take a look around, leave some comments, offer your feedback, but don't stay too long or your boss might catch you surfing on the job, ok?
Here are a few things that you might want to check out first:
Why don't I use scores? Instead of answering that, how about we ask ourselves why do we need scores?
Sure, value-for-money is important, but so is pleasure-for-money; do you need scores when you're buying a great steak, shopping for a dress, collecting art, or seeing a favorite band in concert? Competitions and rankings are fun, but they're not so much fun that we should abandon all personal preference and delight in pursuit of them – especially for a product like wine, one that can change so dramatically over time and is subject to subjective preferences, mood swings, temperature, what we had for lunch, etc., etc., etc.
You might have noticed that my wine 'mini' reviews are posted (more or less) weekly to the blog and that each review contains a rating that mirrors the 'report card' A-F grade format. Here's how those ratings work – they're meant to be a bit loose and imprecise by design as per the mini-manifesto above:
| Rating | Description | Reaction |
| --- | --- | --- |
| A- to A+ | An Excellent to Extraordinary wine, worth seeking out at nearly any price. | From "damn, this is great!" to "I'd rip someone's arm off for a bottle of this wine." |
| B- to B+ | An Above Average to Very Good wine, usually fairly priced and worth a buy. | From "this is pretty solid" to "I could drink me a lot of this vino." |
| C- to C+ | An Average wine. Buy it if you're a fan of the style, producer or variety, and you're looking for a simple sipper. | From "Well, it's better than the stuff they normally pour at the wedding bar" to "I could get behind this for the right price." |
| D- to D | A Below-Average to Poor wine. There is no D+ (hopefully I don't have to explain that one). Avoid. | From "this is really bad!" to "this is pretty bad." |
| F | An Affront to wine-making. Avoid & maybe even write your congressional representative to complain so that this stuff doesn't get made again (no +/- for reasons that should be obvious). | "Mistake me not, I will hurt you if you pour this for me or anyone that I care about." |
There are important differences between my system and the 100-point rating system:
I view wine rating as imprecise, because some wines change over time, even moment to moment. The ratings are meant to reflect a little more of that "fuzziness."

My ratings are not linear. There are, in my mind, fairly big differences between the "C" and "B" levels and between "B" and "A" level wines. If you were to "curve" the grades, they'd actually be more exponential than linear (I swear this is the closest to math we will ever get around here, okay?):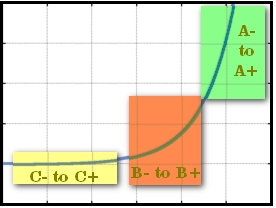 I also taste wines a bit differently than many other critics:
I rarely taste wines blind

(because you don't drink them that way). This means that things like typicity of variety, place of origin, and price can and do affect the overall rating that I give. An overpriced wine (in my view) might receive a "minus" as part of the grade, for example. I like to know everything I can about a wine EXCEPT for price and tasting notes before I taste it.
I taste in a variety of circumstances and if at all possible taste with and without food to help ascertain how food-friendly a wine might be.

I make no claims that my wine preferences aren't subjective – I just try to minimize the subjective part

(through technical evaluation techniques I learned through certifications and experience before the subjective aspects take over). Your mileage, as they say, may vary.

I don't review every wine sent to me

. I wish I could, but as of now, I can't, because I usually review them in what I consider a comprehensive way – there isn't enough time in the day for me to do that for all wines. I also just get and taste too many wines to review that way. Sorry, but it's just not possible (until cloning becomes more economically viable, anyway).
A wine's price doesn't factor significantly into its rating, however it does impact whether or not I think the wine is good value for money. That sets the "tone" of the text for the review, which may not – at first! – seem to "jive" with the rating. So a "C+" wine that's fairly-priced may have a very positive tone to its review, while a "B+" wine that (in my view) is way over-priced might carry a negatively-toned review. Give it time, you'll get used to it!
You only ever give B- or higher ratings… so do you just like everything?
Nope. I taste a good deal of wines that fall into the "C" range, but typically don't give them the bandwidth here because most of them are boring juice. I'd prefer to talk about the stuff that is actually good and good value for money. So the "C"-level ratings have fallen off, in favor of highlighting the "A" and "B" wines that I taste.
Unless otherwise noted, any product reviewed on 1WineDude.com is a sample. Every article on this blog is produced without compensation from any party whatsoever. Oh, yeah, before I forget – all the photos of me that appear on the blog have been digitally enhanced to make my nose appear bigger.
Looking for older content? Here's everything, sorted by month. Have fun!
Cheers!