If you give a wine geek a Savennières, eventually he'll want to take a trip to Savennières.
If he takes a press trip to Savennières, he's probably going to want to visit a Chateau.  Even if it snows and it's bitterly cold. Even if that area of the Loire valley hasn't seen snow in a damn long while and he didn't bring his snow boots.
When you take him to the Chateau (in this case, Chateau des Vaults at Domaine du Closel), he'll want to tour the vineyard, so you'll have to lend him some galoshes so he can walk around in the snow and take pictures.
After he's been walking around the vineyards taking pictures, he feet will get (really, really) cold because the galoshes have no lining. If his feet get cold, they'll go numb and he'll start walking around like a duck having a rare viral attack on its nervous system while everyone else on the vineyard tour is trying to pay attention to what the vigneronne (in this case, Evelyne de Pontbriand) is telling them about the vines and the special plot of land.
When he starts walking around like a duck having a strange and rare viral attack on its nervous system, everyone else will start to feel sorry for him, so one of them will give him those little chemical hand warmer packs and tell him they're great for warming up your hands when tasting wine in cold Burgundian wine cellars.
If someone gives him hand warmers, the little wine geek will stick those hand warmers in his galoshes, where they'll lodge themselves at the ankles, blocking his feet from moving properly and causing him to walk like a 1950s B-horror film alien robot in the snow (when he's not falling down, that is)…
After all the falling down and robot-walking, the wine geek will want to go back inside and warm his feet by the fire.
Once he warms his feet by the fire, he'll perk up and want some lunch. So you'll have to prepare an entire cheese spread, smoked salmon, hot soup, bread and of course chocolates for dessert (because he really, really likes chocolate).
When he's finished lunch, he'll remember how good of a food wine that Savennières is, so he'll want to taste through several vintages of the Chateau's entire portfolio, making wine geek style notes about each one and saying things like "hmmm… err… ehhh… WOW!"
After tasting through several vintages of the entire portfolio and making wine geek noises and taking notes, he'll have to spit, so you'll need to get spit buckets.
After he spits, he'll realize that he's really, really thirsty, so he'll probably want some water (actually, he'll want a lot of water).
After he drinks all of that water, he'll have to go to the bathroom, which is located near all the works of taxidermy in the hallway off the Chateau's main foyer. So when he comes out of the bathroom, the lifelike stuffed fox that appears to be "sleeping" on the bench in the hallway will scare the bejesus out of him (good thing he's already gone to the potty!).
When he's done being terrified, he'll want to prove his brave manliness hasn't been too impacted so he'll want to visit the cold, dark Chateau cellar (without galoshes) and taste the wines that are developing in the barrels and in the tanks.
Once he's done visiting the cellar and tasting more wines and making lots more wine geek noises and taking notes, he'll want a nap. So you'll have to kick him out because you definitely won't want him sleeping at your place after all of that trouble.
After he leaves and wakes up from his nap, he'll be hungry and he'll have to get a snack.
Once he gets a snack (on his own, this time), he'll be reminded how well Savennières goes with food, then he'll start thinking about how intellectually stimulating and demanding – and potentially long-lived – the wine is.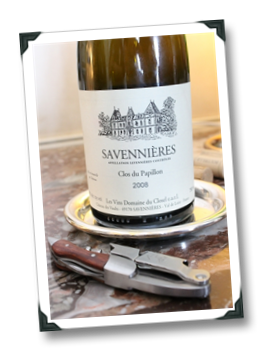 So… he'll want to drink some more Savennières.
Which is why it's probably not a good idea to give a wine geek a Savennières…

2008 Domaine du Closel "Clos du Papillon" (Savennières)
Price: $32
Rating: B+
I could have highlighted any number of Closel's wines, but went with my personal fave white and its recent vintage so that this wouldn't turn into a 15,000 word post. Closel's 2008 Papillon ("welcome to French Guiiiiiaaaaana!!!") is wine geek's wine geek's wine. Yeasty, wooly, creamy, pithy, round but still svelte, it demands attention and brain power to wrap your head around before you can get the point where you just down it with great food to appreciate its grapefruity deliciousness. It's a wine that unfolds in the glass over time as it warms, giving you plenty of reasons to geek out over it. Restraint will pay off, because the acidity will give this wine serious potential for longevity, after which it should take on honeyed, nutty notes and further elicit marked spikes on the geek meter (the 2007 is also pretty stellar, and might even be a smidgen better). Geeks, unite!
Cheers!