This is how I imagine many top-tier Bordeaux Chateaux owners end their day: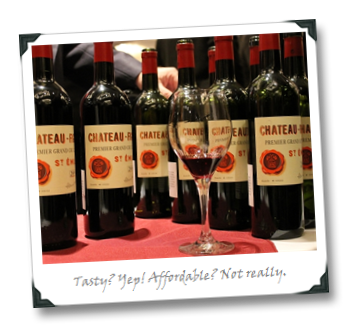 They put down their small glasses of aged Sauturnes (which have been chilled by Winter fairies blowing ice crystals at them), and are lifted out of their easy chairs on large red ribbons made of the finest silk, held aloft by cherubs singing a lullaby from the music of the spheres, and on the way through their marble hallways to their lavish canopy beds they are heralded by smiling, talking statues who repeatedly exclaim how blessed those owners are to be themselves, and how lucky the world's mortal wine drinkers are to have their glasses graced by even the tiniest drops from the nectar aging in their chai's barrels.
I imagine this because living in a fantasy land is one of the few logical explanations for how the 2009 Bordeaux wine prices are shaping up. At least, that's the conclusion I reached after attending the recent Union des Grand Crus de Bordeaux 2009 vintage tasting in NYC.
For sure there were some amazing wines being poured (more on my faves after the jump), but a higher density under one roof of "pretty good" to "errr… uhmmm… not-so-great" wines for $50 and up you are not likely to find anywhere else on the planet. I interviewed Robert Parker a couple of years ago, and in that conversation he told me that Bordeaux wines were dramatically overpriced – the situation appears to have gotten a sight worse since then. As one salesman I met at the NYC tasting told me, when it comes to 2009 Bordeaux prices, "whatever you think it is, add… A LOT!" (that same person hinted that a recent vintage of one of the First Growths was rumored to be $22,000 a case).
But before you start shouting foul play on the part of the Asian wine market being responsible for putting Bordeaux prices out of reach of non-cherub-owning humans, bear in mind that it takes a certain amount of avarice (and probably arrogance) to charge a ton of money for a product that cannot be said be at all a rarity…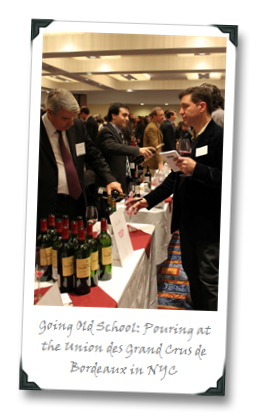 As detailed in the excellent book What Price Bordeaux, the Bordeaux "quality pyramid" is now totally inverted, with some of the highest-ranking, and highest-rated producers churning out quite large volumes of wine that they then price stratospherically (hey, those cherubs probably don't come cheap, right?).
This is the opposite situation from Burgundy, where the most storied wines are made in such small quantities that supply and demand might actually make their enormous prices (somewhat) fair, in market terms, and thus give their quality pyramid a decidedly more upright stance.
If I sound grumpy about all of this, it's because I don't want to have to do silly things when it comes to wine; like, say, paying $200 for a bottle of vino that I wouldn't serve to the horse of which its aromas reminded me. I get that the region of Bordeaux is amazing, and rightfully can be called an historic world treasure. And I get that their wines can be amazing no matter what the production volumes. And believe me, I get that it could be open season on me for going open season on a region with which I have little detailed experience. But as a wine lover myself (hey, that's how I got into this whole thing, after all!) I don't really get the insanity of the pricing, or at least I don't want to face the cold, hard fact that they could just be due to the almighty dollar always-always-always winning out.
And so it's all the more heartening to encounter a producer like Chateau Lagrange, whose 2009 is, for sure, a deserving "honorable mention" here in more ways than one: it's peppery, spicy, seductive, full of beautiful red fruits, and is currently clocking in somewhere around $65 a bottle (far from highway-robbery territory).
Now that the depressing exposition is over, and now that I've got all that off my wine-soaked chest, let's talk about some of the stars of the NYC tasting (you've already been warned about the prices…):
Fave White

2009 Château Carbonnieux Blanc (Pessac-Léognan)
Price: $45
Rating: B+
A beautiful wine – just mouthfuls of citrus, melon and total gorgeousness. Having said that, this is not a wine for now; only the truly patient need apply, because it will require a few years to really smooth out all that intense, acidic structure. Patience will probably be very much rewarded, but it's really damn good right now, too, and if you do up some really fancy scallops you might get away with drinking it soon (the thought for sure crossed my mind).
Fave Red (tie)

2009 Château Figeac (St. Émilion)
Price: $250
Rating: A
I am saying it is excellent juice – I am not saying that I'd pay $250 for it. But if you dig truffles, the bouquet on this will wine practically drive you insane with pleasure. I mean, this train has pulled directly into truffle station. The tannins are quite demanding, but not disjointed, and the structure is there for some long-haul aging. My favorite part was the tangy redcurrant action, which made me start to drool in my glass and suggested this will be an amazing food wine after it softens up in, like, a trillion years.

2009 Château Pichon-Longueville au Baron de Pichon-Longueville (Pauillac)
Price: $145
Rating: A-
Now this one… this one I would pay $150 for. So much tension and release is going on here, with excellent grip and structure but also tart fruit and an enticing floral edge. I loved it. I did not want to spit it. I wanted to take it to my bosom, and steal away with it while it whispered to me about its flowers. But that didn't happen (though I may have seen cherubs when I tasted it).
Fave "Sticky" (tie)

2009 Château Climens (Barsac)
Price: $115
Rating: A-
Welcome to the lighter side of Bordeaux dessert wines. Lilting and pretty, this is a wine that sneaks up on you with its subtlety. But it doesn't lack power in its funky yeasty-ness. It's like a lovely, soft-spoken Barsac ninja. There's a grapefruit edginess and plenty of citric lift to this wine, and it really dances on your tongue; so it's a lovely, soft-spoken, dancing ballerina Barsac ninja.

2009 Château Suduiraut (Sauternes)
Price: $100
Rating: A
Su-Su-Suduiraut… Somebody call Weird Al Yankovic, I've got a killer idea for a song parody here…! Ok… sorry… Anyway… Overall, this was the best and most complete wine I tasted among the 2009 Bordeaux lineup. Classic Sauternes: nuts, honey, vinyl, citrus pith, apricot, peaches… And it's nearly the polar opposite of the Climens, muscular and powerful (and unctuously sweet – bring the toothbrush, you're gonna need it). BUT… the key thing with this wine is the finish, which started when I tasted the wine in NYC and I think will go on until the 2012 Bordeaux grapes are harvested. That finish is like an extra treat after dessert, a meringue that is at once creamy and feather-light, and melts its way through your olfactory cavities after making you its beeeeatch.
Cheers!