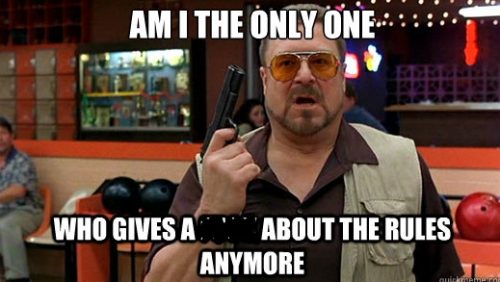 As 2016 draws to a close (and by the looks of it, most of us won't be sad to see its hiney shuffling out of the doorway), it's time for the annual tradition of looking back on the 1WD articles that got the most play during the year.
Yeah, I know it's kind of a lazy cop-out; hey, man, go easy, my 2016 was just as crappy as yours, ok? For example, technically I am still not 100% divorced (though it's definitely not for a lack of trying on my part!).
On the plus side, I'm still doing what I love, my daughter is still amazing, and my "work" travels have seen me hit Chile, Madeira, California, Washington, Italy, Texas, NYC, and most of those more than once. Overall, shiz is still pretty excellent in 1WD land.
Anyway, here are the top 10 most popular 1WD articles of 2016, as measured by the Google Analytics Gods…
10) Golden Years (Tasting Fifty Harvests Of Mondavi Reserve Cabernet)
Well, if, as a wine lover, you can't get up for it when the "it" includes almost all fifty vintages of what might be America's most iconic wine, in some ases introduced by the winemakers who made those wines happen, then you need help. Serious help. The kind of help that involves resuscitation technologies.
9) Working Hard To Change Nothing (Williams Selyem Recent Releases)
Interestingly, while this brand's Pinot has been well and justifiably celebrated, they haven't received a ton of media play recently, which might explain the pageview popularity of my take on their most recent wares. From a quality standpoint, they certainly deserve whatever coverage they're getting.
8) But First, Wine Books (August 2016 Wine Product Roundup)
At first, a roundup of recent wine book releases might seem an odd item to crack the top ten, this article happened to include a short review of my friend David White's But First, Champagne, and my friend Patrick Comiskey's American Rhone. Since both of them are social-media-savvy, and well-regarded, I'm chalking up the post's popularity to their efforts in sharing the reviews. In any case, I'm glad for both of them if it helped them get a royalty payment or two.
7) Dropping The Mic On Online Wine ROI (TMRW Engine's 2016 Digital Wine Report)
The only surprising thing for me about this article being on this list was that it wasn't in the top three most popular posts of the year. I remain flabbergasted at the viscerally negative reaction to the facts and figures being highlighted in this report; but then, we do seem to be living in a post-factual society here in the U.S. these days. Speaking of which…
6) What A Trump Presidency Means For The Wine Business
I was actually surprised at the reaction to this article, which received a lot more attention than I would have predicted. The bottom line with DJT is that we can only predict that he will be unpredictable. Having said that, I don't think that his presidential tenure will have a dramatic impact on the wine business in the U.S., either positively or negatively. Hopefully the same can be said of its impact on the rest of our lives in four years' time (or two years' time, judging by his track record…).
5) Why You Should Care When The Clock Strikes Wine O'Clock (Thoughts On The Enolytics 2016 Report)
I love me some data, and I love that Enolytics is hitting up the wine world for more data, which it needs almost as desperately as it needs an attitude adjustment to take the implications of those data more seriously.
4) And Then, Apparently Everyone Went Insane (Wine Competitions 2016)
What. The. Hell?!?? Only on the Global Interwebs can an article announcing that I'll be taking part as a judge in wine competitions actually be more popular than the summaries of the actual results of those competitions… Le Sigh…
3) The Most Interesting Wines Of 2015
Ok, now this makes more sense. I'm particularly happy to see that these wines – those that touched my soul in some way during the year – got so much extra attention. They deserve it, dammit!  I already miss them…
2) Pinooooooooooh Yeeeeaaaah (Two Exceptional Pinot Noir Recent Releases)
Ok, so… this is awesome. Seriously. Do you know how much crap I've had to hear for years about how wine reviews on wine blogs don't mean jack sh*t, and it's the controversial topics that get all of the attention without benefiting the wines? It's been… well… a significant amount. I'm stoked that a straight-up wine review did this well, and hopefully some well-deserved eyeball attention got paid to those Pinots.
1) In Other Words, The Wine Biz Is Pretty F*cked Up (Thoughts On The Closure Of IPOB)
Despite the strong showing of #2 above, controversy still (predictably) won the day… er, I mean, the year. The much-hullabalooed folding of the In Pursuit of Balance wine event got me waxing all dime-store-philosophical about the dysfunction in the modern wine biz. This quote – and yeah, I'm douchebaggingly self-quoting here – still, unfortunately, rings true many months later:
"…the quasi-religious debates that surround hot-button fine wine topics such as natural wines, Biodynamic farming, and winemaking styles does nothing – I cannot emphasize this enough, NOTHING – for fine wine consumers except to further alienate them (much to the delight, I am sure, of producers of coffee, tea, beer, and spirits, who are all more than happy to steal those wine consumers away)."
Cheers – and Happy New Year!