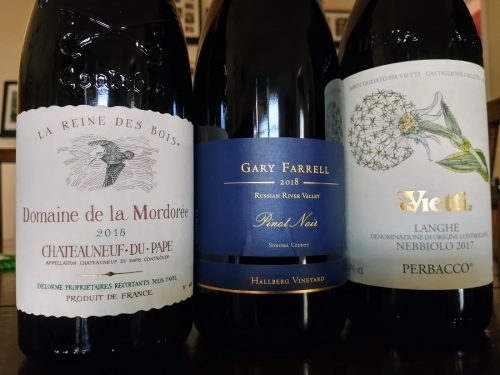 The latest recap of what I hope will soon be a thing of the past – COVID-era Shelter-in-Place Zoom tastings in lieu of being able to actually get together in real life in the same place – has us revisiting some old friends. Several, in fact.
First, there's Evan Goldstein, MS, of Full Circle Wine Solutions, who helped organize this 2021 incarnation of DIAM Wine Conversations (focusing, as you've probably already guessed, exclusively on a tasting of DIAM-enclosed wines). Evan is one of the true mensches of the wine business, and had previously hired me to speak at the 2015 version of this event (held traditionally, rather than virtually). And as you'll see below, this years' sample wine lineup reunites us with some quality producers previously featured on 1WD.
But first, I feel compelled to share some of the market insights that DIAM's François Margot, who also spoke at the event, shared with the attendees – because some of those didn't feel familiar, and might strike many of you as downright surprising. The preamble: DIAM has some statistically-relevant data behind their insights; they make 2.4 billion closures used in 70+ countries.
Premumization is UP – Despite COVID's economic impact, people are spending more money per wine bottle. This is a growing trend that's being fueled by generational shifts (more an more Millennial dollars are being spent vs. those of Boomers).
Still wine volume sales are UP; also DTC FTW! – Specifically, by 4%. Again, surprising given COVID. On-premise sales have, predictably during the pandemic, absolutely tanked, but online wine sales are booming,up an astonishing 167% globally (with DTC increasing over 30%). I think that it's worth pointing out here that the genie cannot be put back into the bottle easily on this one. Yes, we should expect on-premise sales to pick up dramatically once COVID safely recedes and people are back out and about, but we can't just think that consumers are going to pretend that they will forget about the convenience and flash sale action they enjoyed during COVID. Online sales – especially DTC – have hit the fast track and are more the-trend-of-now then they are the-coming-trend.
Hot categories are changing – First, the not-surprising part: Rosé sales are still going strong. The somewhat-predictable parts: Cans/convenience packaging are up, and Flavored wines have "exploded" in sales growth. Now for the parts we didn't see coming: Sauvignon Blanc is up, and sparkling wines are down (apparently, folks just aren't feeling all that celebratory at the moment).
OK, now that we've gotten the surprises out of the way, let's get drinking!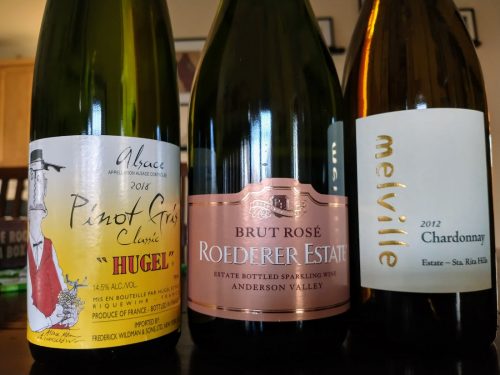 NV Roederer Estate Brut Rosé (Anderson Valley, $35)
Yes, DIAM makes enclosures for bubbles. Arnaud Weyrich has headed winemaking for about a decade at Roederer Estate, and said that he uses DIAM because he was tired of getting bottles sent back to him, or having his tasting panels reject their rosé ("the cork would actually mute the fruit, creating something dull and boring"), and was concerned that people who didn't know the brand would just assume that they didn't like the wine (rather than suspect a faulty cork had deadened its flavors). This sparkler is a Pinot Noir and Chardonnay blend, from all-estate vineyards, and is first-press only. It's quite floral – lots of rose petal and white flower action here, as well as slight red berry notes. Cherry, some red apple, yellow apple, and subtle citrus all make appearances. Incredibly drinkable, this one won't stick around long once opened. Evan's take was "hyper-delicious," and I'm inclined to agree with him.

2018 Hugel & Fils Pinot Gris 'Classic' (Alsace, $22)
Speaking of friends, we've been there! Alsace's 2017 vintage was described as "a real emotional roller-coaster" due to the worst frost seen in the area for three decades. That doesn't seem to have slowed down Hugel's textbook example of Pinot Gris, though – an "absolutely archetypal example," according to Evan. And there's a good reason this line is called "classic." Melons, citrus, intense minerality, hints of smoke and wet stone with great balance between viscosity, ripeness/sweetness, acidity, and textural astringency… Indeed, this is just a "classic" go-to white wine pick (no matter what stopper it uses).



2012 Melville Estate Chardonnay (Santa Rita Hills, $50)
Hey, we've been there, too! "We've been all-in on DIAM" since 2008, Chad Melville told us. "We take a lot of risk, because we own our own land, and do our own farming." The DIAM closure is a bit of an insurance policy for their wines. "Texturally, the wine is as fresh as if it was just bottled." Mad props to Chad for bringing us a Chardonnay with this much age on it. As mentioned, this one is from all estate fruit (hand harvested), and also saw some sur lie aging. It's an absolutely lovely deep lemon color now. It's big (14.5% abv), but also balanced, and holding up great. Grilled citrus peel, lemons, grilled peaches, honeydew melon, toast, and mesquite honey… Touches of creaminess, tons of vivacity… and just a fantastic texture. This is killer right now (but probably not getting much better after this point).

2017 Vietti 'Perbacco' Langhe Nebbiolo (Piedmont, $28)
This "baby Barolo" is blended from fifteen different Grand Cru vineyards in the region, all vinified separately, and sees two years in large Slavonian oak casks. The operative word here? Yum. Violets, juicy black cherries, truffle, dried wild herbs, and hints of tobacco leaf grace the nose. The palate is so vivacious, so spicy, and so savory, with chewy tannins and just-ripe plum fruitiness. Long and peppery, and elegant overall.

2018 Gary Farrell Hallberg Vineyard Pinot Noir (Russian River Valley, $55)
Hey, we know these guys! Winemaker Theresa Heredia did side-by-side comparisons to pick exactly which DIAM closure they were going with, focusing on finding freshness and consistency. "It's really heartbreaking as a winemaker to put all of your blood, sweat and tears into these wines" and have them impacted by TCA, she noted. This single-vineyard delight is from the Green Valley sub-appellation, and sees 15 months in 40% new French oak. The story of the vintage was gig quantity, and good quality – "one of my favorite vintages of Hallberg" Heredia proclaimed. It's certianly one of the most vibrant Hallbergs that I can remember – tons of tea like spices, wild raspberry, multiple types of cherries. The palate is just banging – so alive, so fresh… so fruity (cherry, raspberry, pomegranate, and citrus) without being obnoxious about it. The finish is ridiculously long. It needs food to tame some of that liveliness, but this one is just superb for those who like things lively.

2018 Domaine de la Mordorée 'la Reine de Bois' Châteauneuf du Pape (Rhône, $112)
Hey, we've visited these guys, too (and they happen to make some great Tavel)! The name of this typically Grenache/Mourvedre/Syrah/Vaccarese blend from 65+ year old vines means "Queen of the Woods" And that queen kicks all kinds of butt. There's a savory nose here, full of black raspberry, black cherry, red plums, red raspberry, and a complex array of dried herbs. This is so young… almost reticent right now. The palate has touches of iron and stony minerality throughout the dense, spicy black plum fruit flavors, and great freshness complimenting its touches of earthiness. The purity here is just undeniable.
Cheers!