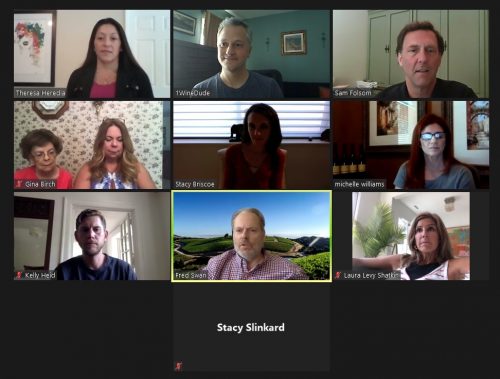 As the Coronavirus has most of us sipping while we SIP, the wine media world has been (in lieu of our normal mode of being able to travel to experience wines directly and visit the people and places that make them) undergoing a plethora of "virtual" tastings.
Personally, I'm now into double-digits on the ZOOM meeting tastings, and today's feature is, well, featuring one of them, in which I and a handful of other wine media types tasted over video with talented biochemist-turned-winemaker Theresa Heredia, sampling several of her employer Gary Farrell's recent releases.
Most of these virtual tastings center around a theme, in this case it was the diversity of clones and single vineyards that make up some of the source material for Gary Farrell's pretty-much-universally-excellent Pinot Noirs. Lovers of Russian River Valley reds will want to break out the notebook (and then the checkbook); all of these are stunners in some way/shape/form…

2016 Gary Farrell Bien Nacido Vineyard Pinot Noir (Santa Maria Valley, $70)
"It's like my Central Coast vacation when I go to visit the vineyard" Heredia remarked when describing Bien Nacido. These cooler area plantings, from the 1970s, see less sun intensity, are older, and are under various disease pressures, which seem to bring out something unique during their struggles. "The cooler the climate, the more stem inclusion I can do," Heredia mused, "but Bien Nacido is an anomaly; it already has that earthy backbone." Gary Farrell is able to source 100% from this vineyard's well-regarded "Q Block," which includes Pommard clone Pinot. Complex and lovely, with dark cherry, pomegranate, tea leaf, cola, and citrus peel, it's a beautiful, balanced combination of earthy and ripe.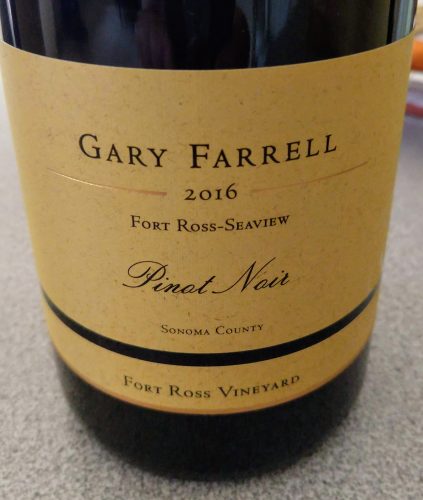 2016 Gary Farrell Fort Ross Vineyard Pinot Noir (Fort Ross-Seaview, $75)
This cool site sits less than a mile inland from the Pacific Ocean, at about 1500 feet above sea level. "Well above the fog layer," Heredia noted, "but the closest vineyard in California to the ocean. The fog burns off in the morning; the wines are more supple, less austere, less rustic." Spicy and sexy, with lifted aromatics, blue and black fruits, black tea, and a long, excellent savory and tangy finish, this wine feels totally complete. Clone 777 and Calera are included, for those who care about such stuff. For me, this is one of my most favorite GF releases in recent memory.

2016 Gary Farrell Hallberg Vineyard Pinot Noir (Russian River Valley, $55)
Speaking of sexy wines, we also have the come-hither stare of this red, blended from multiple blocks of the sandy, foggy, and cool Hallberg Vineyard (including clones 667, 777, 828, Pommard and a apparently an unidentified "suitcase" clone) in Green Valley. Fruity, juicy, and sultry, with darkness, depth, and oomph. Not subtle, but still excellent.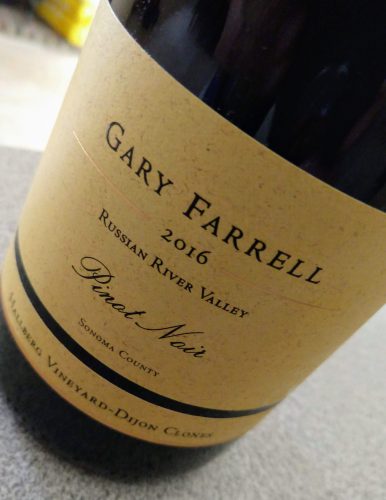 2016 Gary Farrell Hallberg Vineyard Dijon Clones Pinot Noir (Russian River Valley, $60)
This Pinot highlights the 667 and 777 clones, which according to Heredia "made a wine that was more earthy, savory, floral… for people who like more of a 'geeky' [wine]. It's a striking wine" Well, consider me geeky, then; spicy, with a mix of exotic and dark cherry fruits, along with graphite, herbs, and some form of (Rooibos?) tea action. Redder fruits on the palate, which is succulent and enticing. Striking, indeed, but poised all the way, too.

2016 Gary Farrell Toboni Vineyard Pinot Noir (Russian River Valley, $55)
Toboni is a clay-soil vineyard, on the eastern end of the RRV (on the Santa Rosa Plain). This lower area was planted in the early 2000s with clones 115, 667, 777, and Pommard, and has cold air that settles in on the vines, helping to retain acidity. Black tea, red and blue plummy fruits, meatiness, roundness, and sporting muscular, grippy edginess, this wine does a bit of a 180 on the mid-palate, with a fresh, focused linear acid line. Then another 180, with bold, rich fruitiness. As Heredia put it, it has "elixir-like qualities."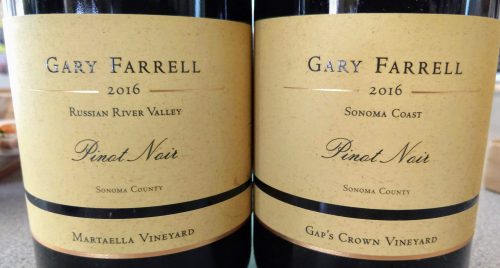 2016 Gary Farrell Martaella Vineyard Pinot Noir (Russian River Valley, $65)
Also part of the Santa Rosa Plain, but right smack dab in the middle of RRV, this is a "meticulously farmed vineyard," Heredia told us, with "low-yielding, small clusters, and this stems" that promote whole cluster inclusion. This red feels large and generous, but also gorgeous, focused, and deliberate. Mineral, herbal, dark, and plummy, with hints of tropical fruits and orange peel. The structure feels like scaffolding for the rest of the wine's "big palate presence" as Heredia put it.

2016 Gary Farrell Gap's Crown Vineyard Pinot Noir (Petaluma Gap, $80)
A blend of clones 828 and 667, from a vineyard that's "tucked away into the mountains" in a hilly, foggy, and windy site in the Petaluma wind gap. Brambly spices, wild red and blue berry fruits, violets, with a palate that's earthy, muscular, and long, this red feels like wild dogs that have been tamed but could be unleashed in a fury at a moment's notice. You'll need patience to let his one unfold and mellow over a few years, but it'll be well worth the wait, I suspect.
Cheers!