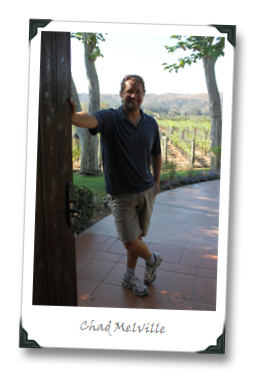 "We don't make wine. We grow wine. We're more like 'sashimi style' winemaking."
On a cool morning that will later turn into a blustering day in the midst of a small August heat wave, Chad Melville seemed to be feeding me what ought to be a standard marketing line about winemaking. The kind that end in phrases like "optimal ripeness."
Suuuure, you don't make wine; it's all about the special land upon which your grapes grow… the one that is kissed by col fog in the morning, and bathed in sunlight and warmth during the day. And he is the sales director for his family's Lompoc, CA wine business, after all (businessman father Ron Melville founded Melville after getting bit by the wine bug in undergrad, and then setting up a grape growing operation in Knight's Valley; brother Brent is the vineyard manager).
But there was a problem with Chad's sales pitch about their by-hand fifteen thousand case production: it didn't come off as a pitch. No references to optimal ripeness, no rococo-esque flourishes of over-endorsement or self-aggrandizement. Chad's non-pitch was interjected with the firsthand knowledge of a guy who helped to establish and develop the vineyards and business that his family owns, and who previously assisted in winemaking at the estate (winemaker duties are now headed up by Greg Brewer).
In other words, I bought it, because my bullsh*t meter was barely registering a tick. And after I tasted through Chad's family's wines – which are high quality while also being almost fiercely unadorned – I'd say the BS meter had some hard evidence to back up its initial assessment…
Melville was my first stop on a press trip through Santa Barbara wine country, and it was the stop that ended up sticking with me the longest, because it ended up being a microcosm summary of everything that has me excited about SB as a winemaking region. They've got cooling fog and wind (courtesy of the Humboldt current, with mountain ranges that run east-west to funnel in the moderating sea influences), plenty of sunshine, and acid-retaining diurnal temperature swings. Which means balanced grapes, grapes that are ripe without being overripe, and which usually retain natural acids to give the finished wines some pop. The vines come out of dormancy in Santa Barbara a bit early for California, due to the mild winters, so the growing season is pretty long.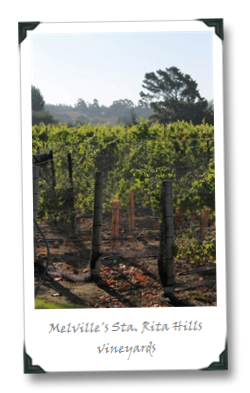 In other words, theoretically winemakers dealing with Santa Barbara grapes don't need to add acid or sugar to turn them into wine, so theoretically that's at least two fewer adjustments that need to be made in the cellar, both of which could potentially totally f*ck the wines up.
The real challenge, it seems, is vigor. "You have a better chance of meeting equilibrium, so stress is the key out here," Chad told me during our tasting and non-pitch pitch. "We were grape growers up north, and we wanted to apply new tech to grape growing down here. It was like building a dream house… 'where do you want the kitchen?'"
Sandy soils and dense plantings help, but the tech to which Chad was referring were things that a lot of hard-core people will tell you are eventually wine quality killers: drip irrigation, a heavy focus (bordering on obsession) on rootstock and vine clone matches. And yet, the wines do not come off as fake, forced, bland, or lacking a sense of place. From a wine geek perspective, it was flying in the face of some of my geekier preconceived notions.
Chad did have a slightly-pitchy answer for that: "Well, we have total control on what to pick, which is the most important thing," he told me. "We can chose to pick micro plots when they are really ready, and ferment them and barrel them that way."
Exactly the answer I'd expect to hear before being poured wines that were technically excellent but lacked soul. Which is exactly the opposite of what I was actually poured, which were vibrant, fresh, vocal wines that drank without a shred of pomposity or adornment. This is helped, I think, by Melville's oak regimen, which is to use it but only employing neutral wood ("you have way less distraction that way" Chad told me). Now, I'm not an oak-hater, but my personal favorite wines in all the world (Mosel Riesling as a category) see zero oak aging, so I might have been predisposed to liking these wines, even if the rest of my Melville visit basically ended with a mental note of "Dude… what the hell? Now I've got to go and rewrite some of my preconceived notions!"
Again.

2010 Melville Estate Chardonnay (Sta. Rita Hills)
Price: $26
Rating: B+
One of the more interesting CA Chards you're likely to pick up for under $30. There's a down-pillow like softness from the lees contact, but you're sitting on that pillow eating a breakfast of racy grapefruit, apples and nuts. You'll wash it down with crips mineral water. And the breakfast table has fresh flowers on it. Good morning.

2011 Melville Estate Inox Clone 76 Chardonnay (Sta. Rita Hills)
Price: $36
Rating: B+
"There's no nothing on this wine," according to Chad Melville; "what you taste is as core as you can get." And he's right; everything here is what Chardonnay will give you when it's not buried in too much oak: white flowers, white grape, green apples, melons, chalky stones. Sounds all light and froo-froo, but there's depth here on the palate (it's over 14% abv), it's pithy with acidity that's tight and bright. I wanted to f*cking kiss this wine. I think I kind of did, actually. And I suspect my "rating" will be proven wrong, and it will become one of those A-level wines after a few years of development. But I don't have a reference point so I'm sticking with the B+ and then let's all hope we are pleasantly surprised later.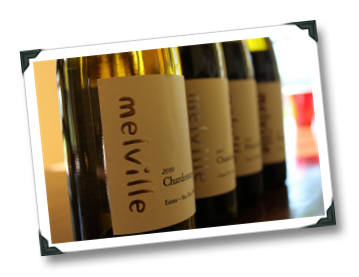 2010 Melville Estate Pinot Noir (Sta. Rita Hills)
Price: $34
Rating: B+
Melville's reds see stem contact, and it adds a little wild note to the wines, I think. There's a little woodland fairy dancing around in this glass, and she's throwing out dried herbs, tea leaves, and red berries at your nose and laughing gaily. She's also smoking a clove cigarette. Then she takes you to her burrow house for dinner, where you are introduced to her decidedly more masculine and weightier Leprechaun husband, who's cooking up savory game meat for dinner. C'mon, work with me on this one…

2010 Melville Estate Carrie's Pinot Noir (Sta. Rita Hills)
Price: $52
Rating: A-
Chad described this wine as having "lower tone rumble" which as a bass player I found an appealing analogy for a bigger, darker, tighter Pinot. This one is definitely laying down some slow-driving low-end, with the occasional prog-rock flourish of virtuosity that doesn't destroy the overall groove. It's too tight right now, but it's also hinting at what will happen later: spicy richness, plummy red fruits and berries, dark cherry, herbs, chalk, and concentration without obnoxiousness. Long finish, great acidity, textural tannic structure, and – alas – only 626 cases.

2010 Melville Verna's Estate Syrah (Santa Barbara County)
Price: $26
Rating: B+
Understated is the operative word. There's pepper (yes, in a CA Syrah!), cherries, plums, a lot of floral notes and more red than blue and black fruits. Hell, it's even got some citrus rind and refreshment going on; on the whole, this is a breath of fresh air from the flood of heavy-handed CA Syrahs out there. I found it a geeky wine, but it's Melville's "number one seller" according to Chad so what the hell do I know.
Cheers!