By now many of you will have heard that Sommelier Journal is ceasing publication.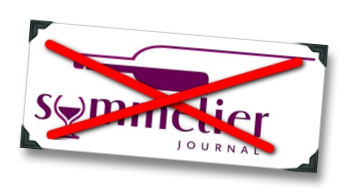 The news came to me via SJ editor David Vogels, who several days ago issued an email to those writers who had contracted work with the magazine. I happen to be one of those writers, having only weeks ago completed a featured story / regional overview on Crete, an article that was to appear in SJ's November issue. Here's what Vogels wrote in the email:
"I regret to inform you that Sommelier Journal has suspended publication. We are currently negotiating with a group that hopes to purchase the title and resume publishing the magazine at some point within the next year. In the meantime, we have arranged with Wine & Spirits Magazine to complete the terms of our current paid subscribers with the same number of issues they have remaining (whether in print or online-only)."
The news is sad for several reasons. Sommelier Journal was a bright light among wine publications over the last six years, as any long-time 1WD reader is already well aware. It was probably the only publication that catered specifically to sommeliers, beverage directors, and others in a similar vinous vein who actually cared deeply about building a taste profile for their clientele.
But among the reasons for why the shuttering of SJ's glossy covers totally sucks, the reason vying for number one in line for the suck-a-thon as far as I'm concerned is the fact that I'm now not going to be paid for the article I wrote for them. That's work I sweated and bled, based on a journey I took to the region under the auspice that I was on assignment (I've reached out to World of Fine Wine about taking it up, but they seem to move pretty slowly, unless they have something they'd like me to promote to you, of course!).
I'd like to say that this development is probably a fluke, but I think it's actually indicative of a larger issue, which is that paid content in any form is a tough sell, period. Paid content for a niche is even tougher. And as a result, building wealth by writing content about a niche topic like wine is a bit like talking about unicorns or the Easter bunny (or about Easter bunnies riding unicorns): fun to discuss, but ultimately a figment of our collective, wine-soaked imagination…
Probably the question I am most asked about having ventured out into wine media as a profession is this: how are you doing? Those asking don't mean how am I doing in the abstract, they want to know how I am doing when it comes to the bottom line. During a recent tour of the Reagan library in southern California, after finding out what I did for a living the docent giving us a tour asked me if there was any chance that money can be made doing what I do (he has a daughter with a budding food blog). My response was "not really."
Look at it this way: as fellow Philly wine personality and educator Marnie Old and I have discussed a few times, we do something that's so cool (talk about wine) that people are willing to do it for free. No matter how good you are at something, it's awfully tough to compete with free.
And even if you can compete with free, you've also got to compete for a shrinking piece of paid wine media pie with folks like Masters of Wine, Master Sommeliers, and "master" bloggers, all of whom already have built up names for themselves. To be seen amongst that crowd, you either need to have an incredible story, amazing originality, and killer writing – or, more improbably, all three. It's a tall order.
And if I've learned anything over the last few years trying to eke out a living in wine media, it's that the wine media pie ain't all that big. Susan Kostrzewa's income survey of attendees at this year's Wine Writers Symposium, which you can read over at Vinography.com, I think seriously overstates the income of most wine writers, as WWS attendees tend to skew towards those who already have some form of writing job (based on my experiences attending and speaking at two of them, anyway). More likely, if you're kicking ass at wine writing, you'll probably score about what you'd make serving tables at a really nice restaurant in a big city. Interestingly, while Susan's article states that most of the writers surveyed "were making the majority of their wine journalistic income from traditional print editorial sources (magazines, newspaper)," the numbers cited in the article actually show that the majority make their journalistic income outside of traditional media (53% in on-line/other, vs. 47% for magazines and newspapers). In any case, the numbers are sobering, with an average wine writer income of $15,000-25,000 per year.
Can you make a living writing about wine? Probably.
Can you build wealth doing it? Almost certainly No. Not by my standards of building wealth, anyway.
I'm not a dream-squelcher (for the most part, anyway). I'm not saying that people attending the Professional Wine Writers Symposium (which purports to give you a leg up in the wine writing biz) are totally deluding themselves (you can get a leg up and still not make much, where others make more like nothing). I'm not deliberately trying to throw a hosed-down blanket on the steel tank of your fermenting wine writing dreams. I love what I do, and feel blessed to have the gigs that I do have, and lucky to be part of the wine media world in my "semi-retirement." But it's worth noting that the demise of Sommelier Journal is likely more than tangentially related to the fact that it is very, very, very difficult to build anything resembling true wealth in the wine media sphere. It's worth knowing the Sisyphean challenge and mouse-sized financial payoff  that awaits you if you do decide to take a crack at the wine media nut. Wait a second… okay, that was too man metaphors… sorry…
Anyway…
Want to get paid for writing about wine? Get in line, people. Get passionate, get excited, but make sure that you also get a solid clue about what you're getting yourself into. This is a business in which some of the better stuff never sees the printed pages of magazines, and some of the best mags die on the vine.
As for how I'm doing, the answer is "better than most in this business, but not well enough to be thrilled about the results yet." As for how on earth I am able to feed my family (the second most-asked question I get), that's a answer best saved for another thousand words. In the meantime, in an effort to end this little rant in a manner less reminiscent of a mass suicide, I'm pretty sure that you could, if you really wanted it, make more money than most in the wine media business – there's a path to building the authority you'd need to get started, but so far I'm not aware of a single soul who's yet tried to follow it.
Maybe it's your turn?
Cheers!