Ok, technically they were wines from last week.  So sue me.
[Editor's note: please do NOT actually sue me.]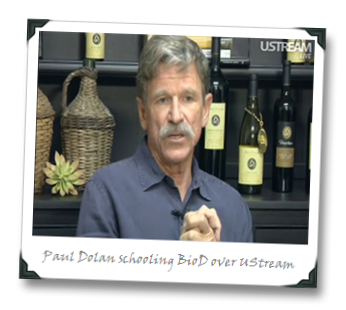 Last week, I had another run-in with those tiny T.A.S.T.E. 50ml bottles, taking part in an on-line UStream live tasting with winemaker Paul Dolan, going through the majority of his portfolio.  Paul has the advantage of exuding a calm and commanding presence even over a tiny video window (I credit his kick-ass mustache), and he also happens to make some compelling wines.
Those wines happen to be made from biodynamic grapes, which is a veritable conversation powder-keg when thrown into any gathering of two or more wine lovers these days.  And we all know what I think about BioD, which is that I don't know what to think about it yet.
I'll admit, whenever Paul got to talking about BioD during the tasting, I found myself wondering if I should go looking for some weed and a bong to put my mind in the proper perspective, you know, to really understand what he was on about, man!
The BioD conversation did yield this fantastic tweet during our tasting, though:
"@PaulDolanWine: Some call it voodoo, we like to call Biodynamics Moo-Do."
That is just sooooo good…
Anyway, while I found the whites a bit to rough-around-the-edges, the reds from Paul Dolan for the most part were very, very good, and in at lest one case offered what I felt was a downright amazing bargain…