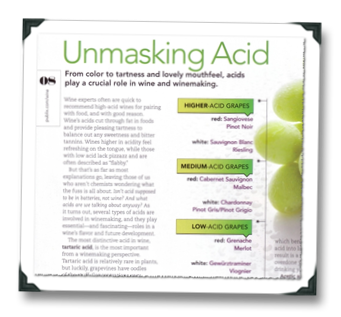 Sometimes synchronicity of seemingly unrelated events feels like it's biting you on the ass (like when you get an increase in property taxes, health care premiums, and the price of your favorite beer, all in the same week). But other times, synchronicity is amicable, gently applying a sort of lifestyle deep tissue massage to your spiritual buttocks.
I think a recent congruence of wine-related events in my life falls into the latter (butt-massaging) category. They involve 1) the Publix supermarket chain, 2) thinking about low-acid wine grape varieties, 3) South Africa, and 4) racial tolerance.
I know what you're thinking… how's he gonna get himself out of this one? Have some faith, people!
For a little while now, I've been quietly (not a normal operating mode for me, I know) penning the In Focus section for Publix Grape Magazine (those of you living in much of the Southern U.S. can sign up for Grape, for free, by the way). I love the gig, because they ask me to take complex wine topics like Oak or Yeasts and make them accessible (and hopefully edu-taining) to wine laypeople (also known as normal people who don't find obsessing over detailed winemaking topics to be as geektastic as we do). The Fall edition of Grape is hitting publication now, and in it I write about the fascinating (to us geeks, I mean) world of… wait for iiiiit… wine acids!
Hello? Anyone still there?!??…
The wine acids topic is seriously complex, and acidity is such an integral aspect of a wine's aging structure that I'm fond of saying that I'd put more money down a random Riesling aging better than a random Cabernet any day of the week. But even a Riesling-fiend like me needs variety, and after the crap-ton of Riesling I'd tasted at the 2013 Riesling Rendezvous event… well, I'd just about OD'd on Riesling lately.
So I was jonesin' for silky, seductive, softer white wines in the short term, but in tasting them I found I just couldn't kick the acid habit, so to speak. And this got me thinking about how much I dig high-acid versions of low-acid grapes. Case in point: Stone Cottage Cellars in West Elks, Colorado, has Gewurztraminer planted at elevations so high that the acid retained in those normally lower-acid grapes will just about rip your face off (in a good way). Lucky for me, a sample of relatively high-acid white wine made form the relatively low-acid Viognier arrived at the door from South Africa's Silkbush just in time to satiate my jonesin'.
The SA tie-in was another nice and tidy but of synchronicity, given that I'm about to head down to Cape Town to deliver the keynote address at the 2013 Nederburg Auction. The fact that Silkbush seems to have achieved a bit of much-needed racial harmony in how they maintain operations also drew me in, given the recent sh*t-storm on that front caused by the comments of Friuli winemaker Fulvio Bressan.
So there you have it, the bizarre synaptic firings that constitute related events in the mind of 1WD, which have led us to a feature on a wine that retails for under $20 (to those who've been complaining that I only talk about ultra-premium wines here lately: suck it, beaaaaaatches!!!) .
Ok, you're right, we should just talk about the wine…

2012 Silkbush Viognier (Western Cape, $17)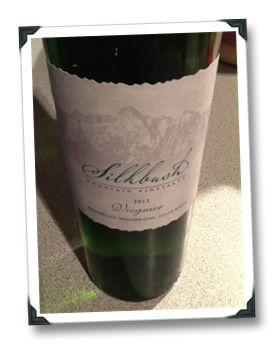 At this price, an Overachiever because, well, it is, but also because I don't have a badge for "lip smacking good." I loved the melon-like richness of this wine from Breedekloof. Silkbush's vines aren't seriously old (about ten years), but old enough that the wine seems to have a good sense of itself now. Their Viognier is planted on hilly spots with shale soils, at relatively high elevations, which might account for the (…and here we're coming back full-circle to the beginning… work with me, folks…) pleasantly surprising acidity that the wine retains (they claim it's natural), making it crisp and energetic. Talk about fitting the bill on the high-acidity from low-acid grapes order. You get way more aromatic and flavor complexity (dried peaches, hints of flowers, a touch of honey) than you rightfully ought to expect for under $20 USD, and if that acid is indeed natural, then this ought to give some Loire wines a run for their money in terms of aging potential over the next five years or so. I don't know why, but I felt hopeful when I drank this wine; it's got a sunny disposition that wears off on you. And now I'm going to go finish the bottle before I start to hug trees…
Cheers!