Thanks again to everyone who participated in the ClubW.com giveaway, and special thanks to ClubW.com for offering up the loot! The giveaway is officially closed, and our randomly-selected winner is…
Jeff noted that he'd like to try some of the wines on offer from ClubW, specifically the 2007 Chateau de Mattes-Sabran Dionysus Corbieres, the 2012 Banyan Creek Gewurztraminer
and the 2009 Domaine de Milliere VDP Vaucluse Rouge. And so now he'll get the chance to do that (for about $0.00, I suspect).
For those of you who aren't Jeff, but are interested in checking out ClubW.com, they are also offering a discount code to you for being a 1WD reader (and yet, most of you benefitting from that will have paid me $0.00 for all of my work in reporting wine to you all of these years… the irony!). The code is "4111wine" (minus the quotation marks, naturally) and comes with a $13 value for signing up (basically one free bottle of vino). To redeem the code, just access ClubW.com from here and enter 4111wine into the Voucher/Referral box when checking out with your order.
Enjoy!
While we're together here, I'll also take the opportunity to report on a few 1WD-related happenings (humor me, okay?)…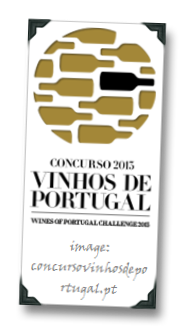 As you read this, I'll be in Lisbon taking part in the Wines of Portugal Challenge 2013 (see page two), as one of about forty international judges. I only know a handful of the judging group, so I'm excited to meet the folks with whom I'm sure I'll frantically be pacing to keep up in terms of evaluation chops.
And yes, this is more-or-less fresh off playing Team America while judging the 2013 Argentina Wine Awards earlier this year (you can read more on the assumptions-busting seminar from that one here). It's also on the heels of two California-based competitions (in which many of the judges are people I already have the pleasure of knowing) in which I'll be participating in June: The 2013 CA State Fair competition in Sacramento, followed closely by the 2013 Critics Challenge in San Diego (my first time judging both).
If you feel as though you're sensing a theme here, it's because… you are, thus proving that you possess extraordinary powers of intellectual observation, and probably good looks and meticulous tastes (this is what 1WD reading does for you, people… okay, maybe not…). Wine comps (and sensory evaluation gigs I've done for a new mobile wine app that's in the works) have been a big focus of mine in 2013.
I'd love to say that focus was the result of some form of master plan, but the truth is that almost all of it fell into my lap, as so much of this wine-related stuff seems to do, and I'm reacting to it the same way that I did when beautiful women tell me that they are in love with me: do not question, just be grateful to The Universe and accept it with the small amount of grace that I can muster. The most valuable lesson I've learned in judging so far… is to make sure that whenever the photographer is around you raise the glass to your nose instead of sticking your nose down in the glass. This is to make sure that in the embarrassing photo of you that the competition organizers publish – and they will publish it, because they love what amount to competition "action shots" and sniffing looks better than spitting in the pics – it doesn't look as though you have 700 chins. Unfortunately, nothing can be done to minimize the apparent size of my schnoz using either method, presumably because that's not possible without the help of Photoshop: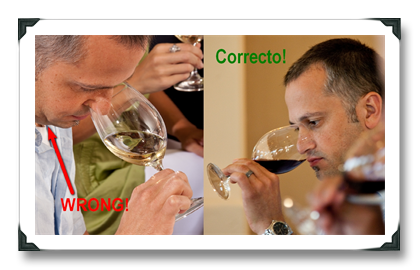 Anyway…
Before 2013, my last comp judging creds came via the 2011 Lake County Wine Awards, and so I'm excited to have sort-of jumped into the wine competition sphere more heavily this year, and part of me is just hoping that I don't F most of it up.
More to come, probably on most of the above, so if you've got some aspects about the comps that you're particularly interested in hearing more about (the wines, the process, the annoying habits of the other judges during breaks, how much beer is consumed after each judging day…), then shout 'em out.
Cheers!