[ This is part three of a short series covering my tenure as a judge in the 2011 Lake County Wine Competition – for more details, check out Part The First and Part The Second. ]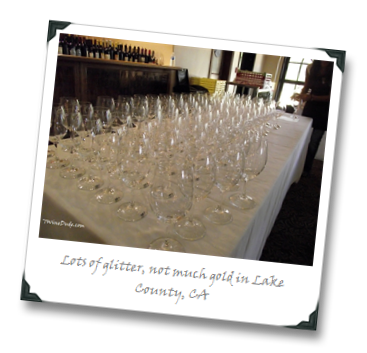 The Gold Rush in California dried up more-or-less 150 years ago. And the 2011 Lake County Wine Awards results didn't do much as far as opening the floodgates back up when it comes to CA gold: out of 180+ entries, we awarded eleven gold medals – roughly six percent of the total entries.
While one might not expect a wine competition to result in a large number of gold medals (and one might cast a wary eye on any competition that did dole out a high volume of golds, anyway), I suspect that having a relatively low number generally in this case is a result of two things: 1) the as-yet-unrealized potential of Lake County's fruit, and 2) the fact that it's not really practical to decant the big red wines prior to the competition, and so those that need time in the glass to fully develop just didn't have a totally fair shake to strut their real stuff.
But we shouldn't ignore the fact that golds were, in fact, handed out – as it turns out, those gold medals were awarded to a pretty interesting cast of vinous characters, each worth discussing in a bit more detail…
On day two of the competition, all of the judges got an opportunity to taste (blind) the full compliment of Gold Medal winners (we had two panels, each of which tasted different flights of wines, and therefore selected different medal winners); below are my thoughts on the golden group.
The Lake County Wine Awards Gold Medal Winners: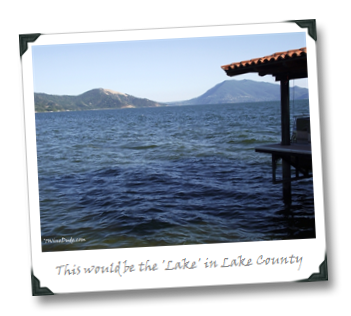 2010 Brassfield Estate Sauvignon Blanc, High Serenity Ranch, High Valley
Price: $13
Rating: B
Very grassy, very lemon-citrusy, and very good. This was one of the 'sleeper' wines for me in the competition, and I really dug the citrus/herbal interplay going on in this one.
2010 Chacewater Sauvignon Blanc
Price: $14
Rating: B
A different style altogether than the Brassfield SB, it has herbal notes but is much richer in texture. Not my personal cup o' SB (I prefer them a bit svelte) but just as well-made as the Brassfield, and the differences had more to do with stylistic preferences.
2010 Guenoc Sauvignon Blanc
Price: $14
Rating: B-
I really thought that this wine was bringing the cheese when I tasted it – it brought the spice, too, but I found the tertiary action provided just a little too much distraction from the primary fruit aromas. Oh, well.
2010 Steele Wines Viognier
Price: $17
Rating: B
As tropical as you'd expect from Cali-for-nigh-A, but hardly as big and flabby as you might expect from CA.  Having said that, it doesn't have quite the citric pizzazz of Viognier from Virginia, either, but it's well-balanced overall and very, very drinkable.
2009 High Valley Vineyards Barbera, High Valley
Price: $20
Rating: B
When it's done right, Barbera can be a real charmer, and this wine brings some charm to the table.  It has red fruits to spare, but they're in competition with quite a bit of sweet oak.  Time might tame it a little.
2009 Rosa d'Oro Primitivo, Clear Lake
Price: $20
Rating: B-
Ah, Primitivo… the grape I love to loathe.  Actually, that's not fair – I don't hate Primitivo, it's just that I've had so many tepid, sour, and uninteresting Primitivos and so few that have felt like complete wines with somewhat ripe fruit profiles.  This one… well, it tends towards the sour red fruit side, though it's not tepid, and it certainly shows the spicier side of the variety. Having said that, I think you'd need to be a hardcore Primitivo fan to really dig it (and pay $20 for it).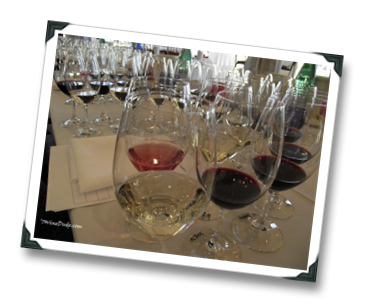 2009
Steele Wines Zinfandel, Catfish Vineyard, Clear Lake
Price: $24
Rating: C+
I'm still scratching my head as to how this wine ended up with a gold (full disclosure/excuse: it wasn't tasted in my panel!). Meaty, with rather sour red fruits and not a whole lot of charm.
2009 High Valley Vineyards Petite Sirah, High Valley
Price: $20
Rating: C
This wine is like… well, it's like earth and flat cola. That's being kind.  Another one that (thankfully) wasn't tasted in my panel.  There are so, so many Petite Sirahs that are better than this, such as…
2007 Dusinberre Cellars Petite Sirah
Price: $27
Rating: B
Chalky, dense and intensely structured with dark fruits and soul-wrenching tannins.  It lacks the floral components of the best PS wines, but do you really expect a man's man's man's wine to be carrying flowers?
2010 Bonterra Muscat
Price: $15
Rating: B+
A stunning bargain (ah, the benefits of a wine region that's not yet a household name!). Grapey, floral, and just downright lovely; it had me looking around after the competition to see if I could sneak unopened bottles into my messenger bag. Not that I would do that.  I think…
2005 Snows Lake "Two"
Price: $45
Rating: A
Speaking of stunning, our old Cab Sauv / Cab Franc blend friend did, in fact, make an appearance (and the same vintage, donchyaknow!).  Interestingly (but not surprisingly – see comments above about big reds being judged without decanting), I had to get talked into giving this the Gold, as it was a bit off-balance when it was first poured. On day two, though… oh man… this wine showed why it was probably the best wine entered into the entire competition. My previous tasting notes ("Black currants provide the backdrop, with raspberry and sweet spice on top – it's like they got the whole kitchen pantry into this thing") still apply.  I just wish more wines like this were being made in Lake County.
Cheers!