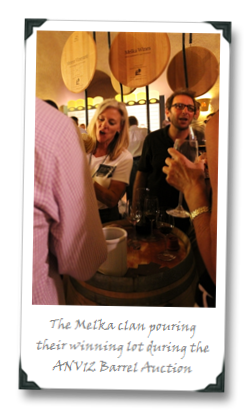 Part of the madness of Auction Napa Valley (the annual over-the-top charity shin-dig that this year raked in about $8 million) – and the fun – is that both the one-percenters and the rest of us can bid on barrels of upcoming Napa Valley wine releases (and, in some cases, special one-of-a-kind lots) during the event's barrel auction day (an e-auction also takes place, which is probably where more of the 99-percenters can realistically get in on the action).
This year, the barrel auction was held inside the extensive caves at Jarvis, a producer who brings their grapes underground into their man-made caves, with those grapes not seeing the light of day again until they exit as high-end, bottle-aged wines.
It's a fun event, where wine producers, press, and the one-percenters (okay… that's unfair… let's say two-percenters) mingle on the lawn, sampling NV producer wines and enjoying a sh*tload of foodstuffs from local purveyors (and it wasn't exactly run-of-the-mill food-truck fare, either – at one station, you could sample a mini version of The French Laundry's famous salmon tartare "ice cream cone").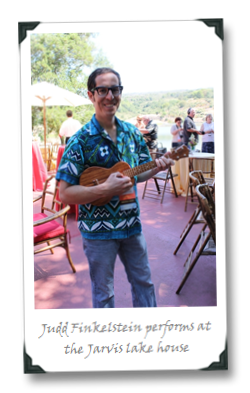 2012's version was a bit hectic (apparently so hectic that I was able to only take photos in portait orientation, from the looks of the inset pics), but in a fun way. However, the mayhem made even the hockey-arena-sized event space in Jarvis' caves seem crowded. I gave up on critically assessing the barrel lots pretty quickly, once it became clear that it was going to take me a few minutes per taste just to work my way through the throngs enough to access the spit buckets.
So… I only got to about thirty of the hundred-or-so auction lots that day, and while it might come as no surprise to hear that a Philippe Melka wine and a Scarecow lot were vying for the highest-bid bragging rights during the auction, it might surprise those of you who have been following the NV wine scene to learn that Scarecrow came in second this time, losing out to Melka's first-ever barrel auction wine under his own label.
Following are my takes on the best of what I got around to tasting critically that day, before I gave the hell up to the whole enticing craziness and just started drinking (mostly Schramsberg Blanc de Blancs, since it was hot and sunny) instead of tasting… as well as some thoughts on the 2010 NV vintage overall…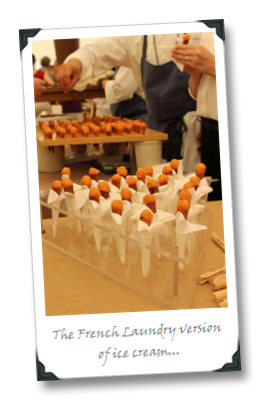 Lets' start with the latter: if the barrel auction is any indication, 2010 is going to be a very interesting vintage for Napa reds. The wines one the whole were big, but generally well-balanced, spicy, and the best of them were sporting a lot more floral notes than I can recall encountering for quite some time. Fans of the jammy might actually be disappointed; the rest of us have well-structured, floral, intense and potentially age-able wines to enjoy.
As for the tasting notes…
In the "A" Range (in order of personal preference, just for kicks):
Melka Wines Lot 250 2010 Jumping Goat Cabernet Sauvignon (St. Helena): "Generous" and "broad" were the first two words to come to mind when tasting this, a special lot that is normally a large component for what becomes a blended release. "Special" is also a good word for it – this is a wine that keeps unfolding… licorice, balsamic notes, amazing blackcurrant fruits…
Shafer Vineyards Lot 280 2010 Hillside Select Cabernet Sauvignon (Stags Leap District): This might have been the most gorgeous Hillside Select I've ever tasted. While it sported a beautiful structure, it was also totally fruity, offering a ton of blackberry action. The best part, though, were the incredible blue flower aromas… it was positively singing with them, like you'd just shoved your face right into the flower pot.
Scarecrow Lot 278 2010 Cabernet Sauvignon (Rutherford): A leap of faith. Why? Because this wine was tighter than a walnut's ass, linear, wound-up, with hints of meat, spices, licorice, cedar, and velvety blackberries. And it was churning out the oak notes, big-time… The leap of faith therefore is that one would, based on their previous efforts, expect this to unfold over time and bring enough backbone and fruit to absorb the oak notes and all shall be well, even beautiful perhaps. I tended to fall on the side of the optimistic on this one, though I certainly encountered those who were far less sure about it (it didn't seem to hurt the bidding any).
Vineyard 7 & 8 Lot 299 2010 Estate Cabernet Sauvignon (Spring Mountain District): Poised. Very poised. Also spicy, and serious. I really liked the floral notes on this Cab, it had some graphite and slate action, too. The minerality really stood out, far above any other wine on hand that day (IMHO). Cherries, dark plummy fruit and shear power brought it all home.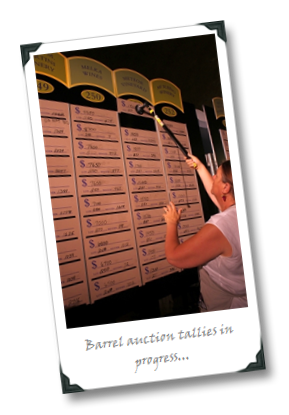 Cliff Lede Vineyards Lot 217 Poetry Cabernet Sauvignon (Stags Leap District): This was the "sleeper" for me, their barrel was located just outside the main event room in the caves and so you might have missed it if you weren't paying attention. And you'd have missed a lot, maybe the best Poetry to date. It had clay and dusty earthiness to it, blue flowers all over the place, and a dense, chocolaty-but-tangy core. I loved it.
In the "A-" Range (in alphabetical order):
Blackbird Vineyards Lot 210 2010 Red Wine (Napa Valley): Intensely floral, with blue fruits and just overall very, very good stuff.
Cardinale Lot 214 2010 Red Wine (Napa Valley): Blueberries and violets, ripe and plummy, big but very pretty.
Ehlers Estate Lot 226 2010 Cabernet Sauvignon (St. Helena): A lot of chocolate & dried herbs here, and a crazy amount of gorgeous structure (both tannin and, thankfully, acid!), with blackcurrants… needs a ton of time.
Frank Family Vineyards Lot 231 2010 Cabernet Sauvignon (Oakville): Very spicy, and a lot of smoked meat and vanilla; it's grand, with a big presence. One of the more 'old school' approaches I tasted at the BA.
HdV Wines Hyde de Villaine Lot 235 2011 Chardonnay Comandante (Los Carneros): A nice respite from Cab Land; spicy peaches, comes off a touch hot & creamy but a linear minerality starts to cut through as this goes down, and it's enticing.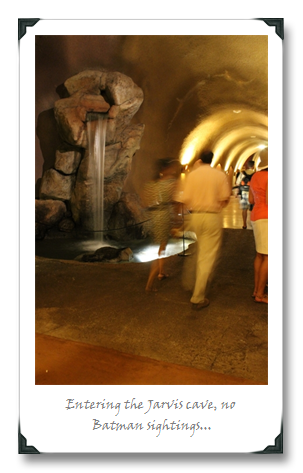 Jones Family Vineyards Lot 242 2010 Cabernet Sauvignon (Napa Valley): Major, major balsamic action; savory, and the nose is just crazy good with black fruits, pepper and spices.
Kongsgaard Lot 246 2010 Cabernet Sauvignon (Napa Valley): Clay earth to start, plummy fruits to follow, and a side of truffles. Also the most tanic wine I encountered all day, it's fiercely structured and doesn't want you to so much as even look at it for another eight years.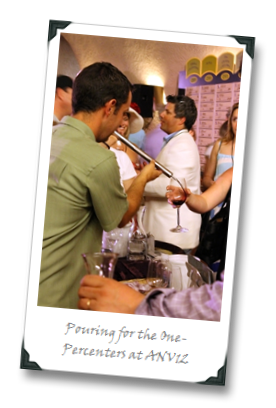 Michael Mondavi Family Estate Lot 253 2010 Cabernet Sauvignon M, Animo Vineyard (Atlas Peak): Smokey with a heaping of incense; big and brooding and built for a long haul.
Mt. Brave Lot 254 2010 Cabernet Sauvignon (Mt. Veeder): One of the wines with the best overall fruit profile of the day – aromas of currants, blackberries, and then a tart, red and spicy palate.
Spottswoode Estate Lot 283 2010 Cabernet Sauvignon (Napa Valley):  Broad, gritty, spicy and plummy; I am sure this wine will age pretty well, but f*ck it just tastes wonderful right now.
Terra Valentine Lot 289 2010 Marriage Red Wine (Spring Mountain District): Chalky minerality defines this one, and sets it apart; moves from spicy red plums to blackcurrant. It's a big wine for TV, and tightly wound, asserting its Mountain heritage.
Trinchero Lot 294 2010 Cabernet Sauvignon, central Park West (St. Helena): Good work by Mario Monticelli; this wine is also chalky, and plummy, but it's the red currant on the palate that makes this one shine.
Viader Lot 298 2010 Cabernet Sauvignon (Napa Valley): Very poised, elegant, powerful, spicy and serious. Florals and slate start to peak out over the dark cherries and plums.
Cheers!