It's not a stretch to say that Philippe Melka is, right now, the hottest winemaker in all of the Napa Valley (hottest as in "most in-demand," and not as in "most hunky," though admittedly I'd be a pretty poor judge of the latter). He's got a 100-point Wine Advocate review under his belt with Dana Estates (no denying the power of that, no matter what your take on wine scores might be), and is now riding high on Dana's stunning 2012 Premiere Napa Valley auction lot, which took the top-grossing slot at $70K.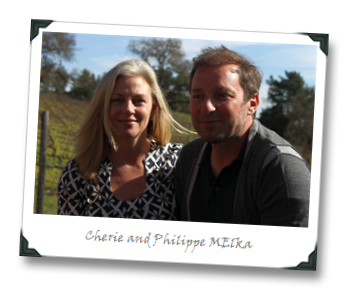 So it's interesting, in retrospect, that he was… let's just say cautiously optimistic about Californian winemaking potential when coming to Napa from France with Dominus in the early 1990s. Being skeptical is part of the French culture, of course; and being skeptical about Napa wine is probably even more understandable when you've cut your winemaking teeth at Bordeaux stalwarts Haut Brion and Pomerol darling Chateau Petrus.
"In France I kept hearing, 'in California they make good wine, but they have no sense of terroir'" he told me over lunch in the trailer that now marks the entrance to what will become the Napa Valley tasting room for Melka Wines, the only brand to which he's attached his now-famous (in winemaking terms, anyway) surname. "And to some extent, they were right. I mean, everyone was planting Cabernet Sauvignon no matter what – regardless of the soil, the sunlight, everything. I was looking for limestone in Napa. I am still looking for limestone in Napa!"
Fast forward twenty-some-odd years from those cautiously-optimistic days, and through the thoroughly French exterior, you find someone that seems thoroughly Northern Californian at heart – a laid-back, down-to-earth surfer-dude of a winemaker. Philippe now consults on wines from the elegantly powerful (Vineyard 29, Parallel Wines, Entre Nous) to the sometimes-just-too-damn-powerful (Gemstone and Moone-Tsai), and he's involved in at least one worst-kept-secret "cult wine" Napa project that I've tasted (if you're wondering if that last one is worth the ton of money it would cost to try it, I'll say this: I've had few wines that were bigger, but also few big wines that were better, and it's got the purest black licorice and dark chocolate aromas I've ever encountered in a wine, period)…
Philippe makes the wine, but it seemed to me to be his American-born, wine-lab-veteran wife Cherie that makes Melka wines "go" as an enterprise. A trained microbiologist who spent time at Silver Oak, Ridge and Beauliea Vineyards, Cherie comes off as capable, elegant, and smart, but with a serious undercurrent of… well, seriousness. I got the sense that she doesn't suffer fools (beating the odds in my case, we seemed to get along okay). And they're certainly an affable couple – if you want info. about point scores, awards, or what-have-you, you need to grab their press materials because that stuff just doesn't come up in conversation with the Melkas. Wine, yes (geekily, yes); accolades, no; which sucks if you're trying to catch them leaning on hubris in a moment of weakness… not that I'd ever do such a thing just to provide you entertaining wine coverage… okay, so I was kind of oxymoronically (or maybe just moronically, in my case) pleasantly-disappointed that they were so down-to-earth…
As for the melding-of-two-cultures clichés, insert yours here because they're all applicable in this scenario of French-classicism-meets-tough-pioneering-American-spirit; though they don't seem quite so cliché when you taste Melka's Metisse wines, most of which are made in tiny quantities and are generally superb (or I wouldn't bother telling you about them!):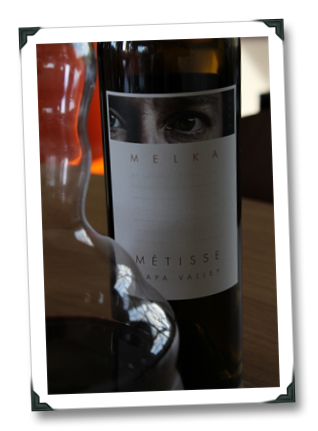 For starters, the Melkas offer a sort-of second wine: CJ, a Napa Valley Cab named after their two (or course!) children. Their 2008 CJ is big on the anise and dried herbs, and bright on the red and black plums, but offers a lot of structure and aging potential for its $50-ish price tag. It has some bite to it, and I got the feeling that Philippe doesn't really have a wine-for-now bone in his winemaking body, because things got progressively more structured and complex from there.
The 2008 Melka Métisse Jumping Goat Vineyard (Napa Valley, around $155), is velvety, big, dense an intense, with even more structure (and hints of florals) than most Napa Cabs typically offer at any price point. A sneak preview of the 2009 (which will be released in May) showed gave even more of a grab-that-Snickers-because-we're-not-going-anywhere-for-a-long-while look, with a strong, well-articulated structure reminiscent of Tim Mondavi's (equally pricey) Continuum, and a mineral-driven stoniness that was just awesome.
After that, I thought that things got even more interesting (and a tad less expensive!). So in keeping with our duality theme here, I'm highlighting Melka's other two (ah ha!) wines, made from two (of course!) gape varieties, and in two (bien sûr!) different countries – almost mirror images of one another, really, and both probably needing a decade to fully come around:

2008 Melka Métisse La Mekerra Vineyard (Knights Valley)
Price: $125
Rating: A-
"This was our 'miracle' wine" Cherie told me. Only 200 (okay, now the two thing is just getting totally out of hand) cases of this were made, though taking with the Melkas it seems hardly possible that any cases were made at all. Spring frosts hit their inappropriately-named Knights Valley vineyard (the vines are actually at fairly high elevation at 2500 feet) hard in 2008, making for very low yields and having the Melkas convinced for some time that they were going to be calling the insurance company rather than picking any fruit. Roughly half Merlot and Cabernet Franc, it's a dark, focused, chocolaty wine. It takes a few minutes before its true complexity shows up – black tea, olives, even some flowers. It's muscular but slightly feminine and very, very young; like an Olympic swimmer in training who you can tell just by watching has the raw-talent goods but won't hit her prime for several more years.

2008 Melka Métisse Le Chatelet Vineyard Grand Cru (Saint Emilion)
Price: $125
Rating: A
Another Merlot and Cab Franc blend, though this time the preponderance is Merlot, as you'd expect from its AOC designation (yes, you're reading that correctly, Philippe does make a St. Emilion Grand Cru – and its release date was Bastille Day, which is either clever or gimmicky, your choice probably depending on your cynicism level when you read this). The first thing to tell you about this wine is that I was astonished that it saw 20 months of 75% new French oak; it hardly comes off as oaky, and in fact comes off as quite pretty. Soft, with roses, cloves, spicy chocolate, dark cherry fruit; but there's structure (duh) and heft and earth and graphite and stones there, too. And the aromatic groups of "pretty" and "gritty" act like opposing forces in this wine, alternating in focus and brilliance as the wine develops in the glass, sort of like Cataclysmic Variable Binary Stars (look it up!). The result is a study in contrasts and a tension that is intriguing, but graceful – think ballet dancers going for a difficult, dangerous move on stage. Will it end well? Or are we in for compound fractures and expensive hospital stays for all involved? The answer is probably "well," but that doesn't make the anticipation any less fun.
Cheers!