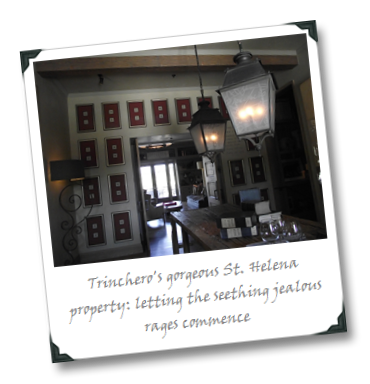 As in, almost literally going for broke, because I don't think they're actually profitable yet.  And that's just fine with the people footing the bills.  Sounds nuts but it will all make sense in minute. Or three…
What would you do if you went to work every day with almost no limitations? Tools, money, ideas – nothing really holding you back?
It's a situation to which many would instantly want to switch if given the chance, but with which almost none of us can truly identify, and most likely most of us never will.  But it's pretty much the business-as-usual case for Trinchero's young winemaker Mario Monticelli.
That's because Mario works for Bob Trinchero, who owns the Sutter Home empire and the guy whose family name has been tied to wine in some way/shape/form for over 100 years (Bob Trinchero was recently inducted into the Vintners Hall of Fame, a choice that I like to think of as a nice little reminder that while we all like to wax poetic over the tiny fine wine market, it's the Fres, Sycamore Lanes, and White Zinfandels of the world that really make this industry GO).  Interestingly, Trinchero's beautiful St. Helena winemaking property has the new-kid-on-the-block, no-expenses-spared feel despite Sutter Home having about as deep a set of historical roots in the Napa Valley as any other producer along Highway 29.
"It's a dream job," Mario told me when I visited in February. "But it also means you have no excuses!"…
Most winemakers would probably want try to kick Mario in the jimmy when they hear about his nearly-limitless operating environment and see the meticulously-kept cold storage and barrel rooms at Trinchero (after having talked with him, I suspect his affable demeanor has saved him from any jealousy-inspired bruises).  Look, it's not everybody that gets to sail atop a sea of wine made by a winemaking empire – and it means that Mario can basically operate Trinchero's high-end project in a go-for-broke style (figuratively and literally, without yet worrying about making a profit).  It also seriously increases the toolkit from which he can draw to craft the estate wines that the Trinchero family sees as sitting atop their quality pyramid.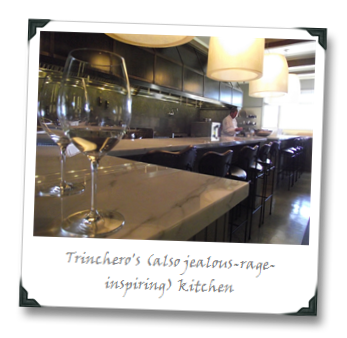 Want to mix-and-match fruit characteristics from Calistoga, Rutherford, Atlas Peak, Mt. Veeder, and St. Helena? Or maybe true single-vineyard wines from all of those areas? No problem – got estate fruit for that.  Wanna experiment with different French oak barrels from different coopers at different toast levels?  Here's a blank check.
You get the idea.
I can feel the seething jealous rages raising the ambient temperature across the Valley now…
Mario seems an able-bodied and capable a person to head up the winemaking at Trinchero despite being on the young side. He's a NorCal native and UC Davis guy, and has had a good deal of practical experience making wine in Italy and in assisting at a handful of high-end producers in Napa like Quintessa.  Despite the deep financial toolbox, Mario described his winemaking style as "minimalist," an approach borne out in the designations of many of Trinchero's wines (which, for those playing along at home, mostly went the single-vineyard estate fruit route).  Their red wines are (Surprise! Napa!) on the riper side of the taste profile, with dark fruits and woody spices from the oak.  I've got two in particular to recommend if you dig that style:

2008  Trinchero Chicken Ranch Vineyard Cabernet Sauvignon (Rutherford) $40
The structure on this wine is pretty big, and the cedar spice is little too prominent at first, but give it a few minutes in the glass and you get the addition of herbs and dusty, mineral-driven overtones that compliment the dark fruit nicely, and makes this a heck of a wine for the money (especially considering it's from Napa, where anything approaching 'Rutherford Dust' almost always gets an automatic $20 price tag hike).

2007 Trinchero Haystack Vineyard Cabernet Sauvignon (Atlas Peak) $50
This Cab has the dark, dark, dark and focused profile that you'd expect from mountain fruit, and the vineyard sits at about 1500 feet above sea level which is about as high as it gets in these parts. Thank the elevation for small, intensely-flavored berries. There's sandalwood oak spice, too, and the whole package just about screams "take me to an expensive steakhouse, beeeatch!"  Your mouth will thank you for pairing that steak with this wine's long, black-fruited finish.
Cheers!