Australian wine has become the red-headed stepchild of the fine wine world. But the ginger brat is still alive and kicking, people.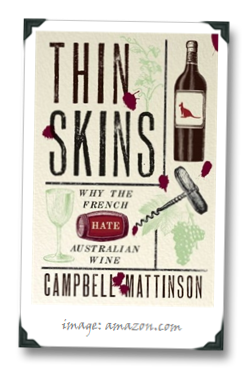 I can hear the Aussie wine biz calling out from the cart, like the old man in the "Bring Out Your Dead" skit of Monty Python's Holy Grail: "I'm not dead!… I think I'll go for a walk… I feel haaaapy!!!"
[ Editor's note: speaking of Python, anyone remember their old "Aussie Table Wine" bit, based on the idea that fine wine being made in a place like Australia was so laughable that it could be used as premise for a comedy skit? Who's laughing now? ]
The general zeitgeist of the wine cognoscenti (at least lately) is that Aussie wine (particularly the much-maligned Shiraz) consists of overly-dense, brutish, syrupy, overblown, Port-without-the-charm and generally overpriced vino on the high end, and sugary, soda-pop-wannabe plonk on the low end.
Like most myths, Aussie wine's death is based in some semblance of truth – but I am growing increasingly convinced that it is exactly that: a myth. Why? Because increasingly I am running into Aussie wines that are anything but plonk, and are a far cry from charmless saccharine plum-sauce.
Sure, Australia pumps out plonky, low-end crap by the Brobdingnag-esque tank-load (literally) – but name me one major wine-producing country that doesn't do that. As for the high-end, the gems – the wines that truly speak of place and do have charm to spare – well, they are there, you just have to know where to look for them (just as you have to do in every other wine-producing card-carrying U.N. member country).
So what happened? Why are consumers and critics alike turning away from Aussie wine faster than a wombat would turn away after catching a whiff of a stark-raving-mad and starving dingo on the hunt? According to some, the stigma for Aussie wine is mostly Robert Parker's fault; or, rather, the culpability rests with an industry that got too greedy and built production – and prices – up too fast after Parker anointed a few heady styles of Aussie low-production reds with near-perfect scores while at the apex of his influence in the 1990s. That's the premise behind Campbell Mattinson's excellent Thin Skins: Why The French Hate Australian Wine…