In part of his coverage/promotion of wine blogger Alder Yarrow's new gig as part of Team Jancis over at JancisRobinson.com, wine blogger Tom Wark rightly points out that it's almost paradoxically at once significant and also a natural, balladromic bit of evolution to have an established wine personality tap into the blog-o-world when seeking to add more wine writing talent to their publications.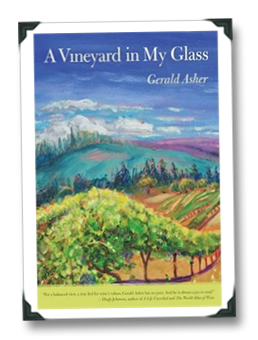 Tom also claimed that "we are living in the Golden Age of Wine Writing and the Golden Age of Wine Writing Talent."
I read those words during the same period of time that I was making way through a review copy of long-time wine scribe Gerald Asher's new collection of writings, A Vineyard In My Glass (not literally at the same exact time, of course, I'm not Thomas Jefferson, so I'm not reading eight books simultaneously while also dictating correspondences and cataloging in detail how many of my goats died from frost exposure last Winter while slaking my thirst with Scuppernong , or whatever), and I can tell you that just about every page of Asher's collection screams out (in a polite, congenial British scream, of course) that Tom is way off base in his claim.  I say this with mad respect for Tom, of course, but…
Sorry, bro. We are not even close to being in a golden age of wine writing talent – unless you extend that Age's starting point back far enough to include the writings of Asher and Hugh Johnson; because in terms of plying the craft of writing and applying the focused, dedicated talent of it to the world of wine, those two writers have NO modern equal.
If you're reading this and you haven't sampled the writings of those two stalwarts, then you need to do so with all speed. If you're reading this and you fancy yourself a wine writer, I'm willing to bet a case of DRC that you couldn't go toe-to-toe in terms of writing skills with either one of those gentlemen, even on your best day…
This is not meant to downplay your fave writers or their (or your) writing ability. And this is (emphatically!) not meant as a negative commentary on Alder's new position at Team Jancis (just the opposite, in fact), nor should it be taken to mean that we aren't in promising new age of wine coverage, with a veritable cornucopia of wine excellent and entertaining material available to us as never before (just the opposite, in fact).
But it is meant to say that we have very few people with true, unique, and finely-honed writing chops in any modern field, and particularly in wine, where much of the modern written coverage has become so banal and formulaic that it now effectively operates via an outsourced model – it's well-passed the "jump the shark" stage at this point, folks.
This is not the Golden Age of Wine Writing – it is the Golden Age of Wine Coverage (and Tasting!) Democracy, and they are not nearly the same thing.  A short read through any of the articles in A Vineyard In My Glass will prove that to you, unequivocally.
Asher is a master storyteller, and he expects you (politely) to keep up with him, and helps you along my masterfully explaining difficult and often esoteric wine concepts in simple terms without ever including an ounce of condescension (which, incidentally, is exactly how he speaks to you in real life, if you ever have the pleasure of meeting him in person).  Asher's primary goal seems to be to convey the humor, humanity and essence of a wine experience, educating you along the way where required (his take on Mt. Veeder Cab is particularly compelling in this way, I think).  We do not really have writers like this in wine anymore.
And it's good in some ways that we don't have writers like this in wine anymore.
Why? Because a lot of A Vineyard In My Glass is boring, and I mean boring in the way that your Grandfather telling you a story with a dozen tangents is boring. It's boring in the way that Melville is boring when he goes off on those lengthy 'this-is-how-worked' descriptors about life at sea in Moby Dick. It's boring because it's masterful and beautiful and damn-near god-like in its lucidity, and we mere mortals simply lack the patience to deal with it.
We need to be entertained, and the future of wine coverage is clearly not in lengthy – or even necessarily well-written – prose.  It includes photos, and videos, and hopefully decently-written articles, and findings gems in that coverage like Asher (which are, by necessity, rare) should be treated as a bonus, and celebrated.  But while it might seem a slog at times, you're unlikely to find anyone who will tell you, after they've gotten through them, that the regretted reading Moby Dick, or A Vineyard In My Glass.
Great writing will never die, but it wine it clearly needs to adapt in favor of great entertainment and education, and present itself in different and unique formats.  It's not a Golden Age yet, but that doesn't mean we shouldn't strive for it, and it certainly doesn't mean that we shouldn't learn from the past masters.
Cheers!