Mary Frances Kennedy (M.F.K.) Fisher shuffled off the mortal coil twenty years ago this Summer.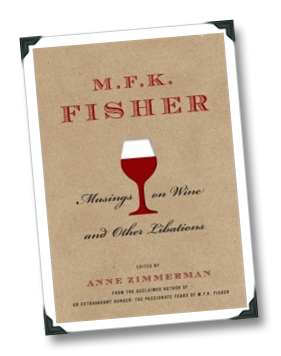 Twenty years on after her departure, her status has not change a single jot: Fisher's still the greatest food writer who has ever lived.
Don't believe me? Try out the latest collection of some of her work, Musings On Wine And Other Libations (about $18; I received a review copy), which focuses almost exclusively on Fisher's wine prose and is edited by Anne Zimmerman (who last year wrote the book on Fisher – literally).
What you will find is a writer who had an ability to ingrain context into wine tales that was so uncannily pure that I suspect it was enmeshed within her DNA, along with an editor who puts context on top of all that context. Musings On Wine And Other Libations ends up providing a surfeit of context that should get most wine geeks swooning.
And when you read Fisher's insightful musing about vino, know this: as god as it is, it probably isn't even her best writing…
She seems to have reserved that real magic for describing food. An example:
"As for potato chips, I do not remember them earlier than my twenty-first year, when I ate stupidly and well of them in a small, stylish restaurant in Germany, where we had to wait downstairs in the tavern while our meal was being readied to eat upstairs. Beside me on the a table was a bowl of exquisitely fresh and delicate chips, and when we finally sat down I could not face the heavily excellent dinner we had ordered. I was ashamed of my gluttony, for it is never commendable, even when based on ignorance. Perhaps that is why I am so stern today about no eating many of the devilish temptations?"
That's from an essay she penned for The New Yorker, and in those few sentences we are transported not only to a German tavern (peripherally), but also to a spot in front of food (almost tangibly) and finally (and much more tangibly) are given access to Fisher's private feelings, which make us alternatively hungry and then bloated in the short-lived self-disgust that's so often the by-product of overindulgence. It's easy in all of the context to lose sight of the fact that she was talking about eating potato chips. In other words, it's masterful.
Musings On Wine And Other Libations occasionally flirts with romanticized descriptions, but Fisher's work is a bit like a Mozart composition: take a phrase out of context and neither it nor the whole make much sense (in fact, it's was a total bitch just to find a quotable excerpt for this review that could stand on its own). Fisher's prose can does what so little food and wine writing can do now – actually make us hungry and thirsty. And that's why it's probably still the best, even so long after her typewriter went silent .
Cheers!