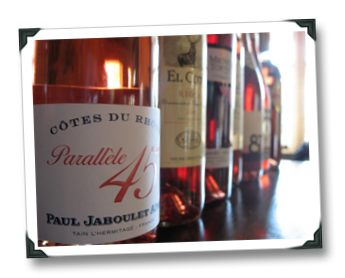 This Summer has been a season of meteorological discontent in the greater Delaware Valley. The (multiple) successive (and repressive) heatwaves might actually make the local wines interesting to taste once they're finally bottled, but it hasn't exactly jived with the tastes of the rest of us.
In other words, it's been too f-ing hot and miserable around here lately!
So, I for one will be very, very happy to see Summer hightail its sorry ass out of here. To celebrate this Summer's pending death, and of course the rise of Autumn (and therefore also the hallmark of Steelers football), I recently raided the sample storage and pulled out a bunch of Rosé, because it reminds me of blood and when it comes to this Summer, I'm definitely out for its blood. The outcome of all of the vinous bloodshed is an overview of Rosé production (and a few reasonably-priced picks) that I penned last week over at Table Matters.
The good news is that the current state of international Rosé remains interesting, vibrant, fun, and for the most part affordable. If you're a Rosé fan, it's a good time to be alive; if you're not yet a Rosé fan, it's a good time to get your act together and try some because very, very good and varied examples are being made all over the world right now.
My reviews from the Rosé sample raid are below after the jump – along with a couple of badges for two standouts among the mix…