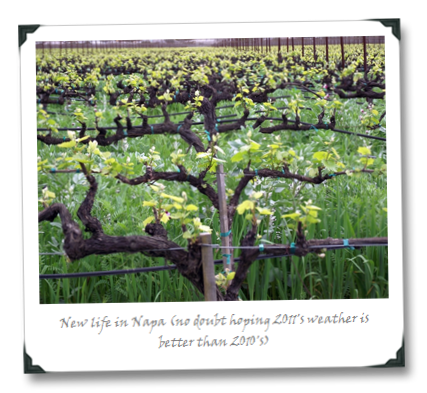 During my most recent jaunt to Napa, I had the pleasure of visiting a few producers in the Valley to get a feel for just how the hellish 2010 vintage (remember that?) was coming along in barrel (well, for those fortunate enough to get fruit picked and crushed from 2010, that is).
So after that totally loaded intro., you're probably already thinking "okay, spill it, WTF is going on with the 2010s," right?
Not so fast, buck-o!
Let's prolong the agony… and give you a little bit of (important!) context.  You see, I didn't taste every friggin' barrel of aging 2010 red in the Valley, and to get a firm grip on a vintage, you need to taste a sh*tload more of wines from that vintage than I managed to do that week.  In fact, I only hit up three high-end producers during the trip (Chimney Rock in Stag's Leap; Hourglass' Blueline estate, where they were aging juice from there and from their mid-Valley estate vineyard; and Cornerstone Cellars, who are aging 2010 wines made from fruit sourced all over the Valley, including St. Helena, Oakville, and Howell Mountain) – so my assessments should be taken with the proverbial grain of vinous salt.  One brief assessment does not a vintage chart make.
Having said that… few elements stood out as consistent throughout all of those barrel samples, and so we can wax some preliminary geekiness about what we might expect out of the Valley's upper-fine-wine-tier in the 2010s (once they get into bottle)…