"You're actually the first journalist to see this."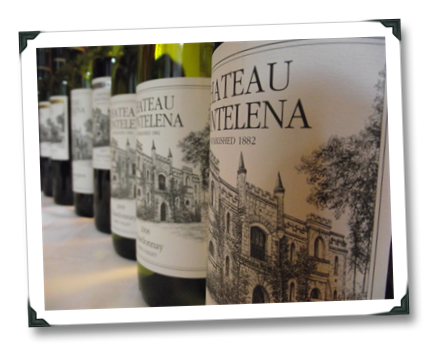 Loaded words spoken to me when walking down the back staircase at Chateau Montelena to the cellar room. And they're not just fully-packed AK-47 words because I've received no formal training in journalism; it's because there's pressure when someone trusts you enough let you take a peek into the dirty underwear drawer of a movie star.
Ok, so it's not actually a dirty undie drawer; but it's the equivalent, anyway, when that movie star isn't a recognizable pretty face plastered across billboards and silver screens worldwide, but is a winery.  And make no mistake about it, Chateau Montelena is, indeed, a movie star.
The steady stream of tourists and visitors arriving right on my heels at 9AM, popping photos of the Calistoga winery's iconic stone castle exterior was evidence enough of that, considering that your average Napa Valley wine country tourist turns around once they hit downtown St. Helena on Route 29.  If you want to visit Montelena, you have to find Montelena, and to find Montelena you have to be going slightly out of your way; you have to be looking for it.
The recently-expanded parking lot is the best evidence of Chateau Montelena's new-found popularity – where they previously got by with space for about eleven cars, they've had to expand to a new lot that can accommodate several times that number. It's all part of the strange dichotomy that seems to have defined the image of Montelena in the minds of wine lovers over last few decades: a familiar name and yet not a familiar destination.  Even though its name became etched into the consciousness of U.S. wine lovers after Chateau Montelena's then-unknown Chardonnay bested its more celebrated French counterparts in the famed 1976 "Judgement of Paris" tasting, real fame – movie star fame – didn't come until 2008 when the movie Bottle Shock hit the theaters, giving the `76 Paris tasting the Hollywood treatment.
Too Hollywood, as it turns out.  Ask Montelena's assistant winemaker, Matt Crafton – who as a lanky, tall, affable, laid-back-but-knowledgeable guy seems to fit like a glove into Montelena's NorCal culture – how accurately Bottle Shock portrayed Montelena's history, and you get a pause, followed by a smile and an answer that says everything by hardly saying anything:
"Well… There was a Paris tasting; the Barretts did exist; we did win."
All the rest, as they say, is basically Hollywood bullsh*t…
So don't go out of your way at Montelena looking for any boxing rings, or drop-dead-gorgeous interns, ok?
The improbable `76 Paris win remains the thing we Americans just can't let go – the wine equivalent of the Miracle On Ice (at the 2011 Vintners Hall of Fame induction ceremony in nearby St. Helena, the event was mentioned no fewer than six times).  Yet, one gets the feeling from the Montelena staff that The Judgment has little bearing on what's going on right now at the winery. And what's going on right now is the equivalent of dumping the dirty underwear hampers and cleaning house.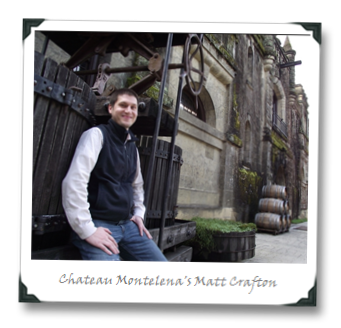 What I saw underneath the stone-castle veneer (a former residence of the Frank family, who also architected the Chinese gardens on the site) was a cellar being ripped to shreds. "The pad's coming up, down to the soil; the plumbing's getting ripped out; we're rebuilding under the façade from the ground up," Matt told me.  It looked stark and naked, with empty spaces echoing where tanks once stood, but it belied the enthusiasm Matt clearly felt in anticipation of having more modern equipment at his disposal.
The internal effort to modernize is being mirrored externally in the vineyard.  Sort of.  Actually, it's more apt to say the internal work is mirroring what's going on in the vineyard.
According to Matt: "We're doing a green biomass index and soil revesting mapping, basically to put real data behind Bo [Barrett]'s hunches [on what ripens when], so we can use that knowledge far into the future.  Bo might say 'Back in the `70s, during such-and-such weather, blocks XYZ ripened faster and so we should pick those first',' and we're trying to put some science behind that."  Turns out a lot of Bo's hunches are getting confirmed, but the point is to put more of a focus on managing the vineyard plantings row-by-row instead of block-by-block. "When you're picking twelve tons of fruit over a vineyard area where you get two tons per acre," Matt said, "what's are the chances of the grapes being uniformly ripe?  Zero."
Both vini- and viti-cultural efforts are part of a larger plan to focus more on the vineyard and remove the limiting factors (like older equipment) that might get in the way of making the kind of wine they're after, which Matt describe as a "Montelena fingerprint."  In the case of their Estate-level Cabernets, it's black fruits and tannic structure built for aging, while letting the interesting elements of vintage variation make their marks on each year's wine.  The goal is to get everything done in time for next year's harvest, so no one is getting much rest apparently.
Tasting through the wines, the "fingerprint" is definitely there in the Estate Cabs, though not every vintage is a winner for the $125+ price point.  Which doesn't mean the wines are bad – it's very unlikely that Montelena would remain popular if they didn't deliver the goods each year, even if they do have the benefit of movie star status – just that the vintage variations can result in some major differences year-on-year, which you might love or loathe depending on your personal tastes.
Movie stardom hasn't seemed to infect Montelena with its Lindsay-Lohan-ish poison yet.  As Matt put it, "Big business didn't build this winery; oil didn't build this winery; every bottle we sold built this winery."  Here's hoping that attitude stays firmly put, and that we don't see that famous stone castle throwing TVs out of NYC hotel room windows after all-night coke-binges in the not-too-distant future.
2009

Chateau Montelena Chardonnay (Napa Valley) $50
I suspect the bar for Chardonnay is set crazy high here considering Montelena's history, even if they claim that the 1976 Paris tasting results don't factor much into their day-to-day lives.  I'm not gonna say this is my version of a Chard for the ages, but while the 2008 on the buttery, melony side of things, the 2009 shows a lot more citrus and peach on top of the spicy oak, and the result is a relatively-big but very-well-balanced wine, with just enough acidity to keep it lively and suggest some good aging potential (if you can wait).

2008 Chateau Montelena Zinfandel (Calistoga) $30
I wasn't expecting to find a balanced, spicy, lighter take on Zinfandel coming from the hot spot of Calistoga, but that just shows how little I really know, now doesn't it?  I got the feeling this wine, which deftly handles jammy blackberry fruit with peppery spice, would go down real easy with meat and veggies fresh off the grill.  Enough fruit for the non-geeks, enough food-friendliness and spice for the full-on-geeks.

2007 Chateau Montelena Estate Cabernet Sauvignon (Napa Valley) $135
Far and away the best of the Estate Cabs I tasted form Montelena going back to the `03 vintage.  The acidity is jumping and it makes the ripe red and black fruits pop out vibrantly despite its young age, and it clearly has some years ahead of it on the kick-ass tannic backbone (which firmly establishes its presence at the end of the mid-palate and lets you know the wine is serious, dammit).  I know people hate when I say that the fruit is "pure" but the description fits here, as it does in wines that really achieve a level beyond the ordinary.
Cheers!