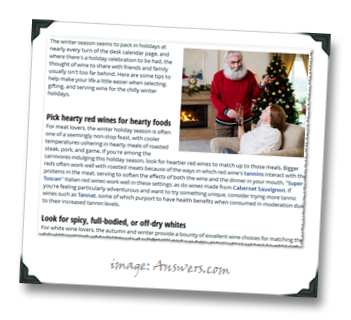 It's hard for me to believe, but since I started my gig as the Answers.com wine dude in the Spring I've penned 100 articles for the category (yes, it's a paying gig; no, I'm not part of their recently announced guest blogger program).
So far, it's been… well, great, actually.
I've been able to find a perfect outlet for product/accessory reviews and wine book reviews on Wine.Answers.com, as well as a means to offer beginner-style advice that otherwise here on 1WD might get flamed to a black, ashy crisp suitable for high-tasted barrel staves by you geeky people (and I love you for that!).
And so today I write not just as a round-up of some of the December 2013 Answers.com wine articles, but find myself reflecting on the past 100 articles and the several months I've spent authoring content for gig that are now under my thick black Santa-style Christmas belt. The short version of that reflection is that I'm enjoying the hell out of it, and as far as freelancing "day jobs" go, this one is rockin' like Dokken (do they have a Christmas album?).
Anyway… here are a few of the December 2013 entries for you to peruse before your holiday libations have you too drunk to read any more…