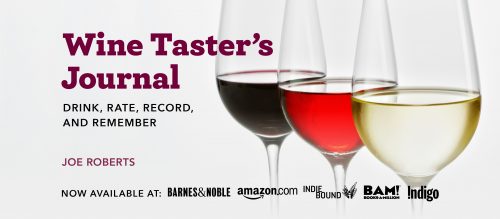 Yesterday, the first of my two new books officially became available. You can now have Wine Taster's Journal: Drink, Rate, Record, and Remember shipped right on over to you, no waiting!
Technically, this is the second of my two new books, as it's the companion piece to the much longer Wine Taster's Guide: Drink and Learn with 30 Wine Tastings. I've no idea why the Journal was released before the Guide, though certainly it can stand on its own and doesn't require the Guide to be a useful tool itself; but I'm not a book publisher, so I'm going to just shut up about it now and trust the people who know a lot more about it than I do.
Additionally, I'll be popping the corks on something nice to celebrate the fact that during pre-orders both the Journal and the Guide have, at various points, hit the #1 and #2 slots for Amazon's Hot New Releases in the Wine Tasting category.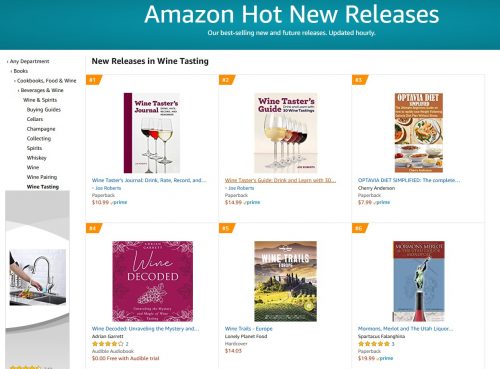 Pretty sweet!
If you grab a copy, my publisher and I (but mostly my publisher) would love to have you write a review of the book on Amazon (excellent chance to heckle me there)…
While the Journal predominantly consists of repeating pages of a handy form for collecting wine tasting details, there are some actual words crafted by yours truly in there, too. Here's a brief example of some of the book's handiness: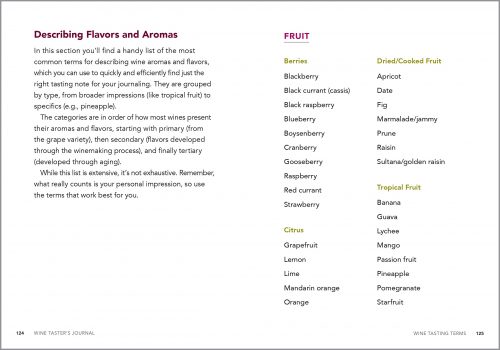 In this case, a snippet of the Journal's handy tasting rubric for which I'd love to take credit all on my own, but truth be told my fantastic editor collected a good portion of the flavor and aroma terms, and it could be argued that I merely edited her excellent work. So maybe she deserves a co-writing credit? Oh, well, too late; I definitely owe her a few bottles of wine.
Here's what some of my wine industry friends had to say about the Journal (thanks, again, guys!):
"In his inimitably energetic and knowing way, Joe has not only demystified wine tasting here, but he's done so in a manner that applies just as much to the seasoned collector as to wine lovers who are new to the grape. The Wine Taster's Journal belongs in everyone's cellar or next to their wine rack… preferably wine-stained, dog-eared, and well-used." ―Brian Freedman, wine/spirits/travel/food columnist

"The best way to get better at anything is to take advice from an expert and then practice, practice, practice. Joe Roberts's Wine Taster's Journal helps wine lovers do both of those things, by encouraging them to discover exactly what it is that attracts them to the wines they like. Whether you are new to the wine scene or are trying to elevate your game, the instruction and exercises in this book will help you get better." ―Mike DeSimone and Jeff Jenssen, "The World Wine Guys," co-authors of Red Wine: The Comprehensive Guide to the Fifty Essential Varieties and Styles

"Joe knows wine. Wine is a beverage―it shouldn't be fussy, and journaling about it shouldn't feel like a chore. Not only does Joe provide a useful catalog of specific words that describe flavors and aromas in wine, but he has smartly designed this journal to make it easy and simple to recall the wines you liked best in your wine journey. You may be new to wine or a seasoned veteran; either way the Wine Taster's Journal will help focus your attention so that you get the most out of wine." ―Michael Cervin, wine author and judge
I'd love to know what you think of the book(s), even if you hate them (before you ask, I'm not contractually obligated to say that)!
Cheers!