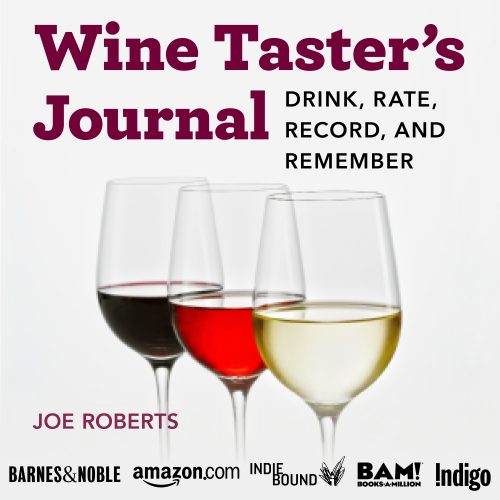 Holy crap!!!
I am tickled pinker than a Côtes de Provence rosé to tell you that the first of my two (yeah, two) upcoming books is now available for pre-order, to be released on July 7, 2020!
For reasons that will be obvious from the title, Wine Taster's Journal: Drink, Rate, Record, and Remember by yours truly is being released in portable paperback form for $10.99.
This little gem is meant to accompany you during your wine tasting, and now competes with something like 10,457,632 different wine journals currently on the market. Mine, of course, is better than all of those because you know me, right? Right?!??
Anyway…
This first release is part of a duo, an amuse bouche to the 1WD book main course: Wine Taster's Guide: Drink and Learn with 30 Wine Tastings which will also be available for pre-order shortly (more on that soon)…
I never do this, but since it's my book, I'm reproducing the PR-style description:
Sip, savor, record, repeat―a wine journal for your wine-derful memories

Uncorking a brand new bottle of wine and wafting in its flavorful aromas is a great experience―and tasting it is even better. With the Wine Taster's Journal you won't forget what you sample. Its pages will serve as your taste memory, allowing you to record your thoughts on the wines you love and the ones you don't.

This helpful wine journal also provides you with a list of the most frequently used adjectives in wine evaluation so you can identify that certain something you're detecting in the aroma or flavor. There's also space to make a note of your favorite bottles as well as wines recommended to you by other enthusiasts.

This engaging wine journal includes:

Tasting 101―Use the primer at the beginning of the wine journal to learn the basics of proper wine-tasting techniques.
You're judge & jury―Fill-ins and helpful prompts allow you to accurately capture your observations.
Hope you're hungry―The prompts also include a section to assess how the wine paired with your meal.

Easy to use and portable, this wine journal helps you get the most out of wine tasting.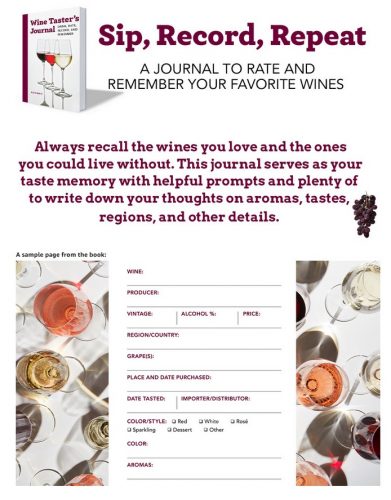 So… why are you still reading this when you could be ordering copious quantities of this little ditty for you and everyone else that you know?
[ Up until the release date of July 7, 2020, if you're interested in a pre-release e-copy (in the hopes that you will leave an honest review of it on Amazon), please contact me. ]
Cheers!