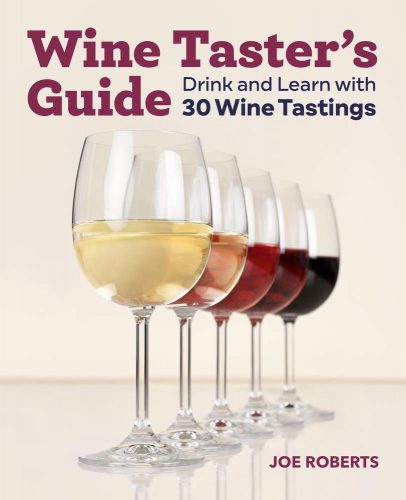 Shiz just got very real, folks!
My new book, Wine Taster's Guide: Drink and Learn with 30 Wine Tastings, is now officially available for pre-order ($14.99 for the paperback)! Shipping and whatnot begins on July 21, 2020.
The Guide is the main course meal to the Wine Taster's Journal starter (the handy, portable companion which gets released on July 7, 2020). I'm pretty stoked, and for some time will likely insist that people address me as "Published Author Joe Roberts," at least until I calm down (it could be a while).
FWIW, I really dig the cover design and how both books' designs compliment one another (not to mention how well they capture the incredible, thirst-inducing shades of the wines). I, of course, had nothing directly to do with any of that.
Anyway… there is so much that I want to tell you about the inception and creation of this book… and I will be getting to that soon in a follow-up post or two here on 1WD. For now, I'll share the PR-styling intro that Rockridge Press put together for the release…
Uncork your understanding of wine and develop your palate with 30 tasting lessons

Ever wish you were the one to confidently grab the wine list and make a fantastic choice for the table? Wine Taster's Guide is your step-by-step manual to understanding why different wines taste the way they do through 30 tastings. You'll learn how grape varieties, wine-making processes, and regional styles impact the wine you drink.

Find out how aging can affect the final flavor of a wine. Discover why swirling the wine in your glass will have a huge impact on what you smell. Before you know it, you'll be drinking and discussing wine like a sommelier at a winery in the French countryside.

The Wine Taster's Guide includes:

Tasting 101―Learn about the science of how we perceive aroma and flavor as well as the steps of wine evaluations―look, swirl, smell, and taste.
Regional wines―Head straight to the source with a chapter on the major wine regions of the world, including France, Italy, the United States, and others, plus wine-tasting suggestions that will introduce you to the styles they are known for.
Pairings galore―What is wine without food? Learn how to partner like a pro, whether it's brie or blue cheese, steak, or sushi.

Learning everything there is to know about wine has never been more fun and easy than with the Wine Taster's Guide.
Just as with the Wine Taster's Journal, for a limited time you can request a preview e-copy (in the hopes that you will, in turn, leave an honest review on the book's Amazon.com page). If interested, contact me.
Cheers!