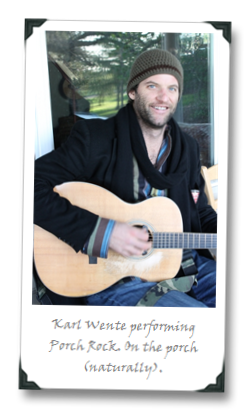 Standing in between fifth generation Livermore wine producer Karl Wente (who is light, with executive-style, thick brown hair, and built like an NCAA basketball player) and his best friend (who is dark, soft-spoken, and built like an NCAA basketball player) is a bit like what I imagine standing at the bottom of a well might feel like.
It didn't help that, as Karl and his buddy played small acoustic instruments (guitar and viola, respectively) that in their long, lanky arms looked not unlike undersized toys, all 5'5" of my frame was manning a large upright bass and fumbling my way through a jam of Karl's laid-back, folk-inspired tunes (what he calls "Porch Rock").
So while I certainly enjoyed performing in the impromptu concert inside Karl's probably-in-constant-state-of-semi-renovation living room, I couldn't shake the feeling that, when I'd been invited to Karl's home to taste through the modern Wente portfolio, I'd actually been invited to taste a lineup of wines made in Brobdingnag (what, you've never read Gulliver's Travels? As my late grandmother used to say, "what the hell AILS YOU?!??")…
As a producer, Wente usually isn't anywhere close to being in the bull's-eye of the fine wine radar for the vinous cognoscenti, besmirched (no unlike other long-standing California producers such as Jordan and Silver Oak) by the stigma of producing-way-too-much–volume-to-be-really-great (but then, after being around for 125 years, you're gonna be a big target no matter what you do). But those who would decry the juice probably haven't had that juice in a while; while it might not be life-altering, tear-inducingly great, it sure as hell over-delivers for the price points.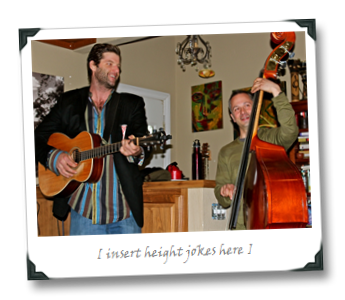 If you don't believe it, then take an inexpensive gamble and flip over the $15-or-less it will set you back to try Wente's 2009 Southern Hills Cabernet Sauvignon – tangy, food-friendly, yet focused and deep, it mirrors the quality of the better South American mid-range Cabs while somehow also mirroring their price, despite the fact that CA land and labor costs roughly double what it does in Argentina.
The thing I remember most about meeting Karl in Livermore (aside from consistently high QPR of the wines, and the fact that, based on what he recounted to me of his escapades, my liver probably wouldn't last through one of his parties) was a phrase that he used over and over again in describing each wine to me when we tasted them on his porch, listening to the rough cut of his band's upcoming album:
"The fruit reigns supreme, man, the fruit reigns supreme."
That phrase, along with the porch rock and hipster-esque exterior, belies a focus and work ethic that, to me, thoroughly explains what Wente's modern wines are all about. They just taste really f*cking good. It's the type of focus that makes winemakers like Kirsty Harmon at Blenheim Vineyards so successful: zero in like a lazer on offering wines that drink well now, that are true to place, and make them as delicious as possible. And it's the type of focus that wins you loyal followings of wine drinkers, because it means that even if you offer a wide portfolio, chances are good that none of the items in it suck.
On the value front, Wente offers one wine that I found myself coming back to several times over in my mind:

2010 Wente Morning Fog Chardonnay (Livermore Valley/San Francisco Bay)
Price: $13
Rating: B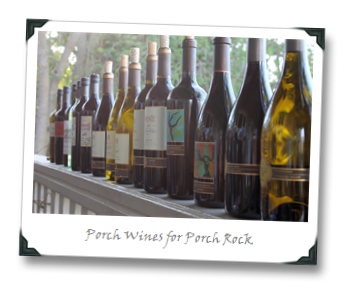 Balanced, racy, tropical & totally ruining the curve for underachievers. This wine is literally a tale of halves: half apple and half piña colada fruitiness, half creamy and half vibrant, half barrel-fermented-with-lees action and half stainless-steel treatment. But it all comes together in a wine that would be at home set against a wide array of foods – and that's saying something for an under $20 Chardonnay from California, people.
Higher on the price band are two wines offered to Wente club members only, but might just be worth becoming a member to have access to them because they display a great combination of pleasurable drinking and geeky intellectual pursuit:

2009 Wente Small Lot Syrenity (Livermore Valley/San Francisco Bay)
Price: $40
Rating: B+
Wente's take on the Rhone, this is a blend of peppery, vibrant Counoise, and sexy, velvety Syrah. It works because the wine achieves balance of jamminess and vibrancy, with a the pepper and toasty oak spiciness adding to the mix without dominating the fruit, which is just enough front-and-center to make the wine attractive and accessible, but not so front-and-center to make you feel like reaching for a moist towlette so that you can wipe the prune and plums off your face. Open and watch disappear (quickly).

2009 Wente Small Lot Sonata (Livermore Valley/San Francisco Bay/Arroyo Seco)
Price: $45
Rating: B+
This time it's Cab and Syrah, and (I thought) a nod to the better of such blends you can find coming out of Oz. The richer of the two small lot reds, it's dark where the Syrenity is vibrant: chocolate, coffee, spiced black plums. It's like Batman (Christian Bale version, NOT that travesty George Clooney version) but as a maître d'hôtel; the wine to pour when your friends who only want to drink Big Bad Cab are over for dinner, but you secretly want something that will go better with your short ribs (because they'll still drink the hell out of it).
Oh… and before I forget: the band's name?
The Front Porch.
Naturally.
Cheers!