Maybe this is a bit early, but the judging lineup for the 12th annual Critics Challenge International Wine Competition, held in Stay Classy San Diego, has been finalized, and once again I'll have the honor and pleasure of being one of said critics putting the submitted wines through a GLASS CASE OF EMOTION!!!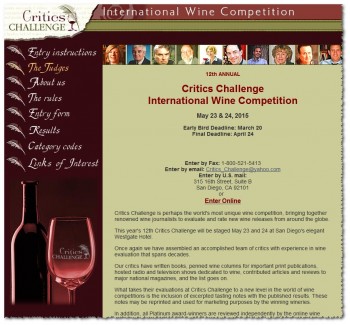 Previously, the CC has been the origin of many an entertaining and surprising wine find for me, several of which have been reported on these virtual pages. Back in 2013, I was luckily paired up with the irrepressible Leslie Sbrocco, which is kind of like pouring combustible liquid onto a raging fire (let's not forget that Leslie and I managed to work words such as "Godzilla" and "nipples" into our tasting notes during that incarnation of the CC). Last year, my partner in crime was the elegant and talented Deb Parker Wong, who went ga-ga with me over a wine that eventually made onto the 2014 MIW list here.
So, the expectations I've got for CC 2015 are waaaaay high, and I am pretty stoked about being a part of the action.
For more details (or to submit wines), check out criticschallenge.com. For a run-down of how some of the various entrants have fared in previous versions of the Critics Challenge, you can check out the details on their dedicated Wine-Searcher.com page.
Cheers!