Last week, my latest Wined Down column for Playboy.com hit the Global Interwebs, and authoring it was an experience I won't soon forget.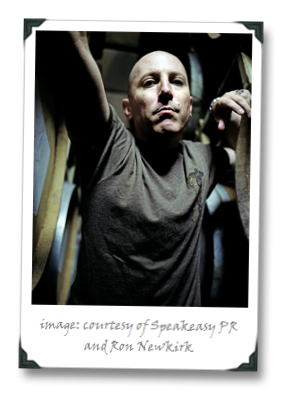 Firstly, it involved me interviewing someone over IP phone software using my laptop. I had to use the laptop becaue I needed a battery. I needed a battery because I didn't have much faith that my house would retain electrical power given the size of the thunderstorm that was sitting almost directly overhead of my snug little neighborhood at the time. I was Doubting Thomas of the powergrid because the last time I'd seen skies that black, I ended up with a flattened garage, a broken deck, a dead lawn (utterly killed off from having a couple of tons of horizontal 110-year-old oak tree deposited unceremoniously on top of it), and no one within an eight mile radius could use electrical appliances for the better part of a week.
Secondly, it involved interviewing a Grammy-award-winning rock-star-turned-winemaker (again): Maynard James Keenan, the man behind Arizona wine brand Caduceus, and someone who doesn't give the impression of suffering fools lightly. Oh, and he's someone who's rumored to be fairly reclusive when off stage, for just about anything other than the topic of wine. This is sort of what was running through my brain at the time, as I crouched on the floor coordinating notebooks, laptops, and headset while the sky outside took on a purplish hue that would have thrown a cheap Argentine Malbec into fits of jealous rage:
Please, please, pleeeeeeease UPS backup battery, keep the f*cking Internet connection online if the meteorological sh*t hits the fan…!
Thirdly, it involved Playboy, a gig for which the coolness factor is hella-far from running out for me (truth be told, I'm not sure the coolness of it has actually sunk in yet). And finally, in it Keenan talks about Grenache being a "panty-dropper" (and as rock-star as the wine world can sometimes get, I'm not sure the wine world gets a whole lot more rock-star than that).
The result of my excessive worrying (the power didn't even blink, by the way) is Wined Down: Exploring The Sexy Side of "Local" U.S. Red Wines With Rock Star Maynard James Keenan. Not all of the conversation between Keenan and I made it to the finished article, so I thought I'd share some of the geekier wine tidbits from MJK here, as a bit of a follow-up on what's been happening with Keenan and his wine brand, Caduceus Cellars since the last time we talked…
"I think we've had a lot of failures, and we've had equal amount of successes," Keenan told me when I asked how things have progressed at Caduceus. "Early planting decisions that we made that didn't pan out; weather things, we thought we would have more problems with heat than cold, so we've kind of figured that out. Some very expensive mistakes."
They're still searching for the signature grape varieties for the region, experimenting and slowly giving up on varieties that "didn't express that place as much as I wanted it to." But some varieties have stuck, or at least are showing singificant promise in his view; Keenan was, I think, justifiably proud of the showing that his wines (and others from AZ) had in recent competitions, and seemed spurred on by their recent successes.
"Malvasia tends to be more of a signature [for Arizona]," he mentioned (gotta admit, I didn't see that one coming); "I have a 50/50 blend of Chard and Malvasia that just won a gold medal at the San Francisco International Wine Competition." Those SF competition results are detailed a bit more in the PB article, and while we wine geeks tend to view competitions divisively (and that's being polite), I viewed the SF showing as a good indicator that Caduceus, and AZ wines, are closer to arriving in terms of quality than they are further away from it.
Not the case with other emerging wine areas in the U.S. (the focus of the PB article), which on the whole Keenan sees as still experimenting (and in some cases, struggling) to find signature varieties to give them a marketing foothold. Keenan has strong opinions on those struggles: "The investors immediately go 'Cab sells; Chardonnay sells!' So you're in the middle of Texas, trying to grow Chardonnay and Cab because it will sell. Well, it'll sell, but it sucks! It's not supposed to be there. There are parts of Texas that you want to plant grapes in, and none of the grapes you wanna plant there have anything to do with Bordeaux."
Amen, bother – after all, if your business model is predicated on making very-bad-but-recognizable wine and then hoping that consumers will trade up to your "real" signature offerings… well, good luck with that.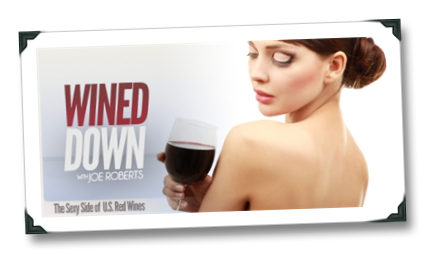 The most interesting and revealing part of our conversation had to do with what's happened in the AZ wine scene since Keenan's film Blood Into Wine put it (at least peripherally) into the public consciousness.
"Prior to that [film], even during that, there was push-back from the state, people not really  helping, locals definitely throwing roadblocks up; people just didn't understand it," Keenan told me. "This year the Governor – a very Republican governor by the way – has actually gone on record with the municipalities in the various counties saying 'Get behind this industry, they're doing something here.' So for a conservative person to actually go on record saying 'help them don't stop them,' that speaks volumes."
I wish him luck – coming from Pennsylvania, I'd love to see another "nascent" wine area in the U.S. kick some ass and make the PA government look like fools for not creating a better climate for its wine producers. Just sayin'.
Finally, I wanted to share something over which Keenan and I had a chuckle (sounds so quaint, doesn't it? hey, this is wine we're talking about…).
We got to talking about the price of some of more expensive wines being produced in AZ, CO and other emerging wine-producing states, which Keenan saw as generally more a factor of production costs than of any greed on the part of small producers. But he then immediately added this tidbit:
"There's a but-ton of amazing $10 wines out there, though; but I don't think my liver could handle trying to find them. You're gonna have to drink 100 of 'em to find one, generally."
To which I replied: "bro, I feel your pain; I need another sample of over-produced $12 Malbec like I need a hole in my head!"
Laughter.
And no soul-eating monsoon rainfall/thunderstorm, either.
So overall, a very good day at the "office."
Cheers!