The time has come once again for you to give your digitus secundus (that's your index finger, by the way… you creep!…) a momentary workout by using it to click on your favorite finalists in the Wine Blog Awards voting, this being the 2013 version thereof.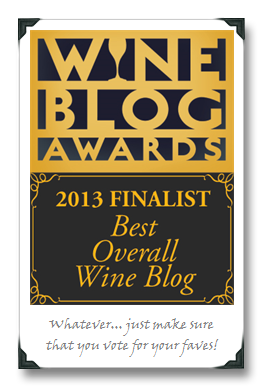 I've got a long (in Internet time) history with the WBAs: I've been a winner, a criticizer, a judge, and an improvement-committee-member (yeah, I know, that last one does not quite roll mellifluously off the tongue, does it?). This year, I'm a finalist in the Best Overall Wine Blog category (thanks to the judges, and most especially to you for that!).
Please consider voting, as the recognition of hard work and efforts well-spent probably means a great deal to those who are among the finalists. Also, it's the easiest way to fill your good karma quotient fit the day. And if you don't vote, then the fleas of one thousand camels might infest your armpits [ editor's note: this may not actually be true ].
You're under no obligation to vote for me, of course, unless you want Ron Washam to lose a bet in which he will publicly sing classic Journey hits while wearing a baby costume – seriously, I swear that's our bet! [ editor's note: this may not actually be true ]. Whatever… look, just drink up and vote, okay? Following are the finalists in the Best Overall Wine Blog category:
Along with those mentioned above, there are some very interesting picks in the finalists across all of the various categories this year, and many of them are passionate and relatively new voices in the wine blogging crowd. Personally, I'm particularly pleased to also see academicwino.com, The Wine Curmudgeon, Hawk Wakawaka, Bigger Than Your Head, On The Wine Trail in Italy, Washington Wine Report, Jameson Fink, The Drunken Cyclist (despite his terrible taste in NFL franchises), and my Portuguese brother-from-another-mother Andre Rib also being recognized as finalists in various categories this year (though Andre's listing was subsequently removed, for reasons not yet explained to me as of the time of this writing). If you aren't familiar with them, go check them out.
Voting remains open through this Friday, May 24th, so… prevent bad karma flea-infestations and GO VOTE!
As for some personal thoughts on all of this WBA stuff (hey, it's my blog after all)…

I'm happy and surprised to be a finalist again; even though it seems as if people expect 1WD to make the finalist cut in some way/shape/form during this annual wine blog love-fest (as one first time finalist told me earlier this week, "this is old hat to you!"), *I* don't expect it every year. The lack of consistency in the WBAs year-to-year doesn't help in terms of boosting one's confidence, either (example: several of last year's winners aren't even represented in the 2013 finalists list… I mean, what kind of universe are we living in here, where Jamie Goode and Alder Yarrow don't make the cut?!??).
I take chances with 1WD. I do shiz on here that would be considered certifiably, straight-jacket, get-the-meds-now, balls-on, bat-sh*t crazy just about anywhere else (especially in print). In other words, it's my truest self in writing terms. Some days I'm amazed that anyone reads the stuff, which means I'm always (always!) grateful when they do.
I couple the bat-sh*t craziness with an insatiable urge to tweak, and an unhealthy defiance of convention. The minute that something appears formulaic to me, and even when my own version of bat-sh*t crazy starts to feel formulaic to me, I pilot the ship in a slightly different direction, ripping off those whose literature has inspired me…, er, incorporating different writing influences, and basically doing everything that I possibly can to make 1WD feel like nothing else that's out there. I haven't always gotten that right, and I've ruffled a few (okay, more than a few) feathers along the way, and the ship is a lot larger now and the damn thing doesn't turn with quite the nimble radius it once had.
And so in a lot of ways, my gratitude towards all of you out there grows larger every year (if you can make it to my house, I can express that gratitude via sharing enough wine samples to pickle all of us several times over).
So… Thank you for staying bat-sh*t crazy with me. Trust me when I tell you that no industry is as wonderful – or as bat-sh*t crazy! – as wine. As nuts as we are, they need us, for the good of the land and the realm…
Cheers!