It's that time of year, again.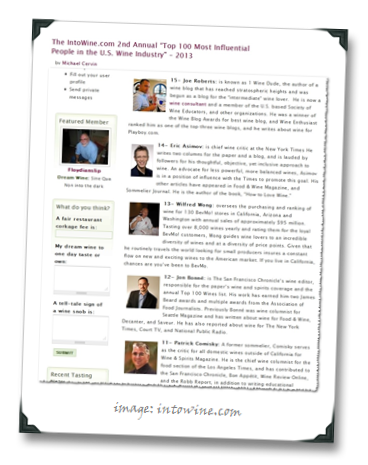 Last year, Michael Cervin (with whom I later toured the wine scene in Crete) from IntoWine.com stirred up a minor sh*tstorm when he published the inaugural version of his list of the Top 100 Most Influential People in the U.S. Wine Industry.
We love lists, and we hate them. Hence the ensuing sh*storm: why was so-and-so left off? how could they place what's-his-name so high up on the list? are these guys just attention-grabbing?… etc. My takeaway last year was that the list was "good for a pulse check, probably bad for anything more substantial than that." I'm pretty much of the same mindset regarding the recently-published 2013 version of the list.
According to IntoWine.com, they don't really have a strong agenda in compiling this list of influencers:
"Does influential mean people who move markets, impact consumers, inspire winemakers, form policy, and create debate? Yes… We merely define the Top 100 people, from winemakers to law makers, bankers to bloggers, and sommeliers to celebrities who influence wine; how it is made, marketed, perceived, sold, shipped, purchased, shared and consumed."
Over the last year, not a lot of shuffling took place in the top 20 (I swapped places with Eric Asimov, which puts him ahead of me and therefore rights at least one wrong from the 2012 version!) – I'm not sure if that means that the wine biz in the U.S. is pretty stagnant from an influencer perspective, but the advent of the list is a god excuse for us to take a pulse of the U.S. wine biz in general…
Just as was the case last year, there are (in my eyes, anyway) some glaring omissions, as well as some odd placements in the 80s and 90s of folks who probably should be in the 20s or 30s (page through the list on the IntoWine.com website, and you will immediately see what I'm talking about).
Some people will be happy to see people like me ranked highly on this list, while it will drive some others bonkers, but there's nothing much I can do about either scenario, except drink some wine (and, as you know, I was gonna go ahead and do that anyway!). At the end of the day, I'm just really grateful to be doing what I'm doing. And while you're reading this, I'll be playing the role of Team USA at the 2013 Argentina Wine Awards in Mendoza, with probably little time to argue about the various positions on the list in between sipping and spitting a few hundred Malbecs (hence the break from the normal Thursday wine review – sorry, probably should've mentioned that earlier… whoops!). There has been a fairly robust discussion going on about the list over at Tom Wark's blog (with Michael Cervin chiming in); the comments section there should give you a large Burgundy-style glass full of both measured thoughts and outright snark. To those who've supported me over the years here and have offered me congrats when mentions like these lists happen, you've got my heartfelt thanks (but you already know that!); to those who are pissed off whenever my name gets mentioned publicly: sorry, but I'm not planning on going anywhere anytime soon, lists or no lists (if it's any consolation, I can offer you a crap-ton of suggestions if you need a glass of wine to cope :-).
I'll leave you with these three thoughts about the IntoWine.com 2013 list:
1) At this point, while people in the U.S. wine biz could be forgiven for not expecting an on-line influencer to be within the top 20 names of such a list (I'm still shocked, frankly), if they are also surprised to have online influencers on the list altogether then they've just not been paying attention to their business over the last five years (and might have gotten their heads lodged firmly into a place that would require a belly-button window to provide visual input from the outside world). Having said that, the big question I have walking away from this year's list is why aren't there **more** on-line media peeps on it? It suggests that the wine biz doesn't give enough of its attention to on-line media (and guess what – it doesn't!).
2) Numero Uno still belongs to Robert Parker – but for how long? Everyone in the know agrees that the influence of the number one influencer on the list – Robert Parker – is on the wane. Yet, like IBM, his stock can lose value for years before anyone else could challenge his top spot. This is despite the fact that most wine consumers have never heard of him, and that he's arguably wielding more influence in Asia than in the U.S. Personally, I don't think we will ever see a recreation of the perfect storm of factors that birthed Parker's influence – wine criticism is already to democratized and fragmented for that. Who will take that number one spot in the likely-not-too-distant future? I doubt it will be anyone from the Wine Advocate staff under Parker, and I hope it's someone who actually interacts regularly with consumers (in that vein, it's very interesting to see Costco's Annette Alvares-Peters in the number two spot on this list). The lack of clarity and dominance that is set to define the future of wine biz influence is, to me, quite exciting – but I might just be weird…
3) I feel privileged in that of the Top 100 names of U.S. wine biz influencers, I personally know and/or have hung out with and/or count as friends and/or have interviewed over a third of them. And a good many of that third-and-a-bit are just fantastic f*cking people: generous, knowledgeable, fun, friendly, honest and insightful. Yeah, there are a few bad apples, but if there weren't then it would have to be a list of robots, not vino-imbibing humans. All in all, that's a sign, I think, of what a true blessing it is just to be in this business (and even more of a blessing to be counted among the ranks of people like that).
Here's to blessings, people!
Cheers!