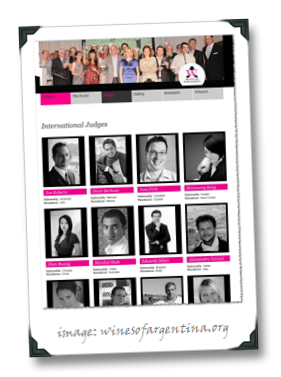 This coming February, I'll be representing Team USA in the 2013 Argentina Wine Awards. No, I won't be performing on the parallel bars – I'll be the sole U.S. judge on an international panel that includes writers, sommeliers, and other geeky wine folk from China, Brazil, Australia, Italy, Spain, South Korea, Mexico, Canada, Switzerland and the UK (who somehow managed to get two representatives), all of whom will convene in Argentina to taste through something like 750 wines over the course of a few days.
"Designed to benchmark and reward the quality and advancement of the Argentine wine industry, the Argentina Wine Awards have established themselves as the most important event in the local calendar as well as being increasingly followed with interest by those in the wider world of wine. Over 740 wine samples participated in the 2012 edition."
I'm stoked – and not a little intimidated (representing the country? no pressure!) – to get back down to Argentina, a place I haven't visited in nearly two years (and where I ate well, drank well, and was unbelievable sick… there will be a Z-pack in the travel bag this time).
The reason I'm telling you all of this? I need your help!…
Here's the deal:
Each of the judges on the International panel have ben asked to pick a wine (any wine) about which we will speak for a few minutes, and which will be tasted by those all those attending the seminar that will help conclude the annual event.
Said wine must meet the following criteria:
A wine that supports your views in regard to wine styles and innovations that appeal to 'The New Generation' in your domestic market
Retails per bottle between 13 and 25 USD (or equivalent)
"New Generation" hasn't been formally defined, so let's assume they're talking about Millennials. So, I might be breaking the second guideline, because I strongly believe that they got the price range totally wrong, particularly if they're talking about Millennials (try $13 or under, amigos!).
Now, I've got a wine in mind already, BUT… I'm very interested in what wine you would select to be the sole representative of your generation (whether you're a Millennial or not!). What one wine would you pick to sum up the approach, stylistic preferences, and gestalt of your entire age bracket when it comes to fine wine? And why?
Shout it out in the comments! Of course, twitter and Facebook responses are also welcome, if only because I know you people will respond there and ignore my pleas to capture all the great ideas in one place… don't worry, I can deal…
Cheers – and thanks!