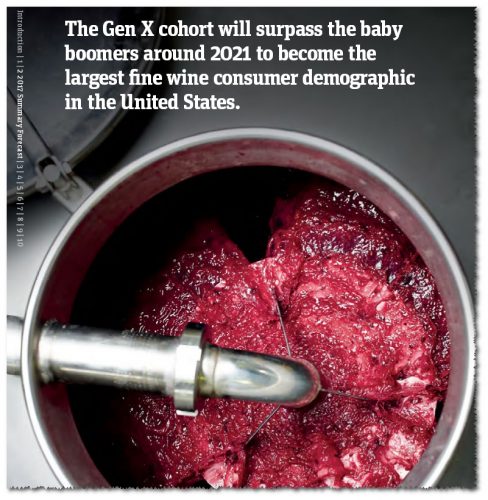 Each year, Silicon Valley Bank (SVB) releases their predictions for the U.S. wine biz for the coming year, and every year I have my (typically snarky) commentary on the report (which, I should add, I usually find to be insightful – the report, I mean, not necessarily my snarky commentary).
The SVB report is Northern-California-heavy, which makes sense, given their clientele. It often makes also contains predictions that one might generously call "favorably perceived" by that clientele; in the 2017 report, for example, we're told that Millenial consumers will move from imbibing blends into imbibing varietal wines, and will also pay more for the privilege. Which probably has a lot of perennially under-compensated Millenial wine lovers saying, "ok, sure, with what, the money I make by selling my f*cking blood?!??"
What I want to focus on for 2017, however, are two aspects emphasized in the SVB report, one of which the U.S. wine biz seems to be on board with (albeit a bit late), and another with which the U.S. wine biz seems to be, well, not so on board…
First, the good news: the power of Direct to Consumer (DTC) sales seems have gotten through the figurative skulls of America's wine industry.
Unsurprisingly, the smaller the production, the more likely the winery/brand is to leverage DTC as a sales tool, given that consolidation within the country's alcohol distribution tier has made cracking into the traditional sales channels more difficult. The empowering thing, as long-time 1WD readers will already have heard ad nauseum, is that engaging the consumers most likely to spend the bucks DTC-wise has never been easier.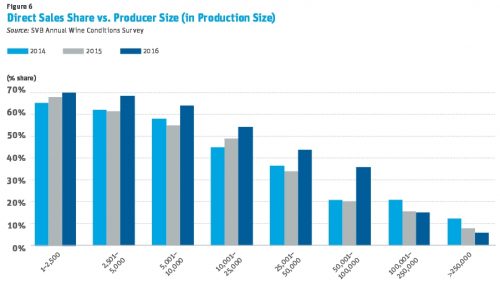 I'm really happy to see this, and to see that smaller producers are increasingly leveraging online the sales king fu that they already have honed at with visitors at the cellar door.
Now, it wouldn't be a 1WD commentary without tuf-luv style bad news, and so here it is – the wine biz probably isn't well-poised to engage the next batch of consumers that they will need to woo if they want to remain solvent: my generation, the oft-unrecognized GenX-ers. According to the 2017 SVB report, "the Gen X cohort will surpass the baby boomers around 2021 to become the largest fine wine consumer demographic in the United States."
Here are the numbers, starting with current trends, and then extrapolating that out to 2035: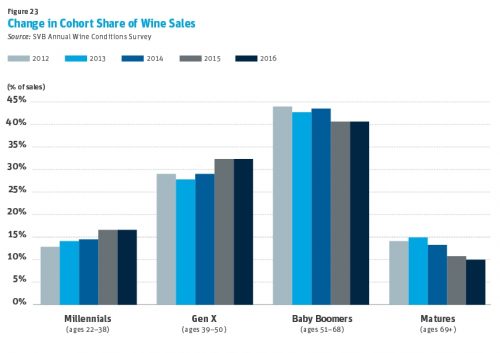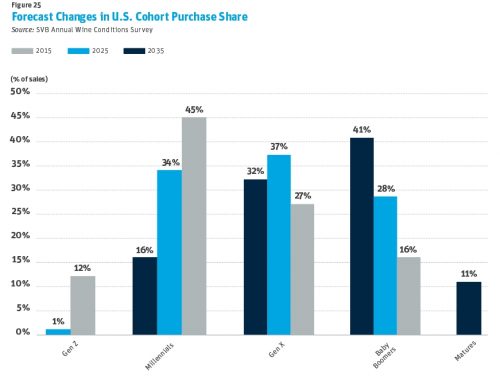 U.S. fine wine sales, particularly in the premium tiers, is still an old (and probably mostly male… and maybe mostly white) game, at least as far as target marketing goes. But the shift needs to happen, and the phasing of marketing dollars to GenX consumers needs to be underway, lest some fine wine brands eventually find themselves without a cash-cow consumer base that pays the majority of the bills.
They've got their work cut out for them, too; the GenX generation has been largely ignored so long in marketing that we often don't even know what to do with marketing attention when we do get it. Not only that, but even GenX-ers themselves don't really know what defines our generation, so we have trouble articulating it in terms that marketers are used to using successfully with Baby Boomers.
In other words… best of luck, wine industry peeps! We're pulling for you, but we probably won't be of much help to you…
Cheers!