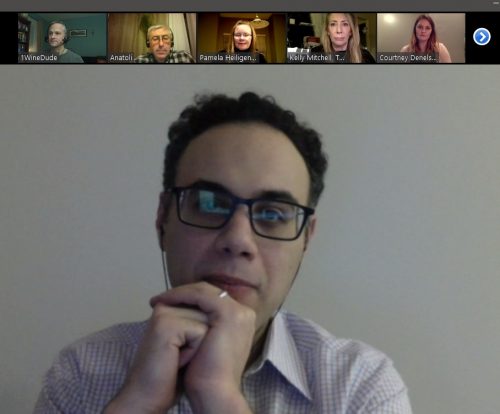 Earlier this week, I took part in an online masterclass/virtual-round-table of sorts with Wines of Chile and Snooth, tasting through a selection of Chilean Carménère reds (some of which you can purchase via a pretty good deal right now), with a group of capable and affable fellow wine-media-types (including @WineDineWanda, @enobytes, @talkavino, and @KellyMitchell).
If you're kind of scratching your head on the uncharacteristically quick turnaround time in recapitulating the experience here on 1WD, it's because the whole online-video-Carménère thing is nostalgic for me, as it was one of the first such tastings that I ever did under the 1WD umbrella (back when the writing here could charitably be described as fledgling…).
While almost unlikely to become a crowd favorite based on availability alone, Carignan is probably the empirically best Chilean red fine wine grape, or at least the one with the most depth, intrigue, and soul.
Having said that, the much more ubiquitous Carménère from Chile is still an incredible bargain, and arguably has never been better (or easier to enjoy even at modest price points). In Carménère, Chile is leveraging its ever-increasing winemaking knowledge levels to the full, combining modern know-how with more hand-crafted approaches; the results in some cases are single vineyard wines from older vines that provide an intellectually captivating experience at prices that still kind of defy credulity. At least, that's how I'm increasingly seeing that landscape, particularly based on what we tasted during our video meetup…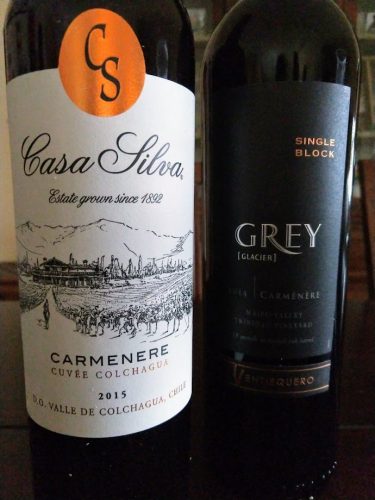 2016 Viña Casa Silva Cuvee Colchagua Carménère (Colchagua Valley, $15)
I've had a lot of fun visiting this quintessentially Chilean spot before, with my main takeaway having been that they like to present Carménère in its more unadulterated, unapologetic forms. "Don't like green herb notes? F–k you, drink me. Don't like reeeeeeally dark fruits? F–k you, drink me." You get the idea. This wine is a perennially excellent introduction to the main pillars of Chilean Carm: dark fruit flavors, strong minty notes, and plenty of tobacco and spice aromas that are delivered from the grape and not from wood.

2014 Viña Ventisquero Grey Glacier Single Block Carménère (Maipo Valley, $22)
The Single Block Grey series is another consistent offering, and in this case, comes from relatively atypical sandy-clay soils of the Trinidad Vineyard. The Grey is similar to Casa Silva's Cuvee, in that you get full-on Carm, but with more oak aging (a third of it in new French barrels). It's dark, minty, intense, and evolves on the palate with stewed black fruits, pepper notes, and a meaty, chewy texture.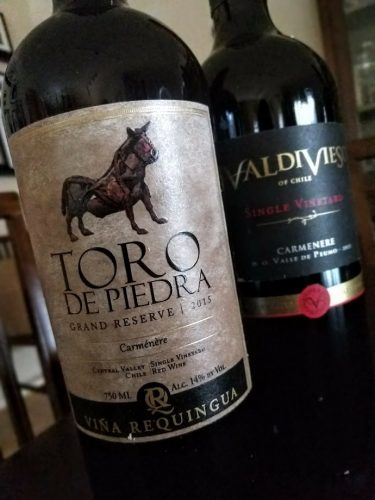 2015 Viña Requingua Toro De Piedra Grand Reserve Carménère (Maule Valley, $15)
This is Carménère in one of its most supple, gulpable forms. The fruit is characteristically dark and smoky, the wood tones are sweet and caramelized (thanks to some time in American oak barrels), and the whole package exudes an easy, sultry sexiness that makes it hard to stop drinking (you'll probably pay for that later).

2012 Valdivieso Single Vineyard Carménère (Valle de Peumo, $24)
Interestingly, this is one of those instances where Chile's long, thin geography is less important than its West/East climatic influences; Peumo, in Cachapoal, is relatively warm and dry, being buffeted from ocean influence by coastal mountains. Now, longtime 1WD readers already know that Valdivieso is full of interesting (and high quality) surprises, and this Carm is no exception to that streak: think earthy, spicy, herbal, and silky, a red that is jsut fine with strutting its stuff.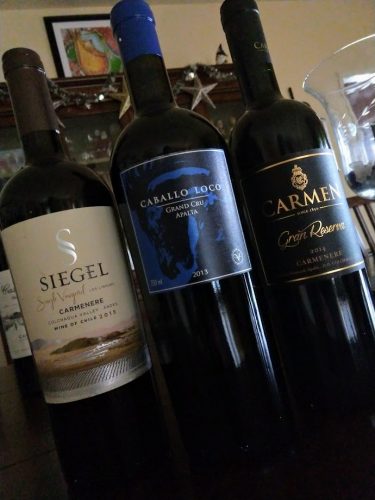 2015 Siegel Single Vineyard Los Lingues Carménère (Colchagua Valley, $29)
Those who want a more contemplative Carm would do well to give this Los Lingues vineyard red a long look. With only eight months of oak aging, it's far from being integrated, and it's going to need some time to ensure that some bottle aging will meld all that woodiness with the dark black cherry fruitiness. BUT… if it does, then you'll have a textural palate that matches the intriguing nose of this thing. Dark and green herb notes abound, and they are not shy.

2013 Valdivieso Caballo Loco Grand Cru Apalta (Colchagua Valley, $35)
Another example of the cooling ocean influence being tempered by the coastal range, this Carm and Cabernet Sauvignon blend is complex, supple, and mouth-watering achievement. What's interesting is how the addition of 45% Cab doesn't mute the essential Carménère-ness of this wine; the textbook herbal spices and deep, dark cherry fruits are right there, with the Cab supplying tannic scaffolding and additional, tarter fruitiness.

2015 Viña Carmen Gran Reserva Carménère (Colchagua Valley, $15)
I am still trying to figure out how they managed this. Technically, there's 7% Carignan and 3% Petite Verdot in this Apalta-area blend, from the "Los Peñascos" Vineyard in the foothills, one of the regions highest elevation zones. It's all hand-tended, French oak aged for ten months, then given another two months in bottle. I just don't understand how they can pull this off for under twenty bucks per bottle. This is vibrant, structured, herbal, spicy, fruity, and just impeccably balanced stuff. You won't notice the 2+ grams of RS, unless you're really, really looking for them (in which case, please just get a life already).
Cheers!