It takes some serious chutzpah to pour your super-Tuscan red, sans hesitation, alongside Le Macchiole Paleo, Ornellaia, and Sassicai.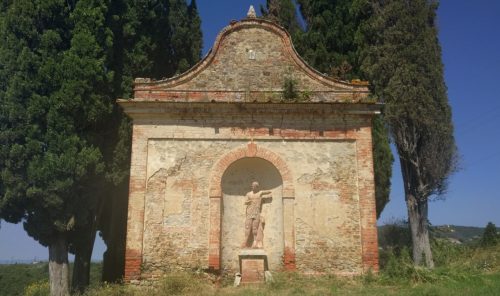 Now, you might expect that kind of faccia tosta from the Italians, but in this case it came from Frenchman veteran vigneron Pierre Seillan who, alonf with winemaker Lawrence Cronin and vineyard manager Michele Pezzicoli, produces the Cabernet Franc-dominated Arcanum at Tuscany's Tenuta di Arceno (I visited as part of a media jaunt earlier this Summer).
Tenuta di Arceno is part of the Jackson Family megapolis of wine brands, for which former Loire and Bordeaux winemaker Seillan also oversees Château Lassègue in Saint-Émilion and Anakota in California. The gorgeous, Etruscan-history-tinged estate, nestled in the San Gusmé area, was purchased in the early 1980s, and now has about 230 acres (among 2500 total) dedicated to the vine.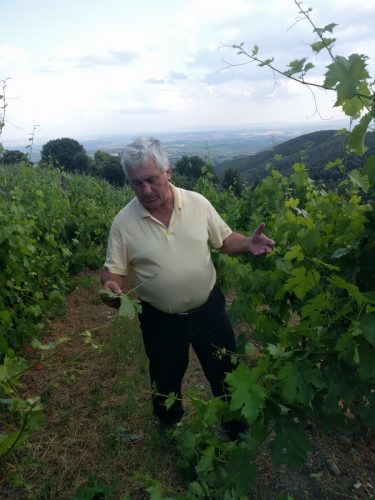 Seillan's faccia tosta isn't just for show; the guy is happy to make bold pronouncements about his wines, because at this point he has notched enough winegrowing experience that the of-course-that's-how-it-would-be timbre of his words are bolstered by an unspoken sense of and-I-know-this-because-I've-lived-it-twenty-times-already. "The future of this region," he noted, "is to show the potential of the wines in ten, fifteen, twenty years."
To wit: Arcanum was birthed in 2002, a difficult vintage for Tuscany. "Cabernet Franc showed its elegance," Seillan said of the vintage; "we had a revelation in Cabernet Franc!" Based on the result, Sellian and his team decided to replant and re-graft even more Cabernet Franc on the estate, some utilizing 20+ year old rootstock. Sellian told me that he now wants to bring Château Ausone's team here, to "scare them a little bit…"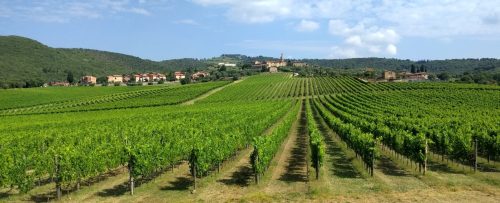 The Arcanum team employs the kind of painstaking, gnat's-ass attention to detail that makes one expect to taste the pain of artistic creation in their wines. "Micro cru" vinification is employed, with separation down to the different soil types within vineyard blocks. They claim to be one of the only outfits utilizing optical sorting (via World Cooperage) on the barrel staves that eventually make their way into their oak barrels, to separate the staves by grain directly after cutting.
It's the kind of stuff that creates enough main effects and interactions to conjure up fractal mathematics. Blending under that kind of regimen takes a special brand of obsession, the results of which are, based on our retrospective tasting, quite enticingly exciting for Cab Franc-ophiles.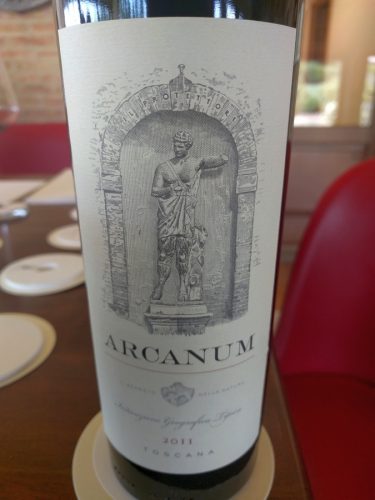 2011 Arcanum (Tuscany, $100)
77% Cabernet Franc, with Merlot, Cabernet Sauvignon, and Petit Verdot rounding it out. Sellian described 2011 as "a good vintage here," with the results "singing in the glass." 2011 was quite a hot vintage in Tuscany, and thankfully Arcanum's team decided not to pull leaves, thus protecting the grapes from cooking on the vines. The result is all-round poised, juicy, fantastic stuff: wild raspberry, cinnamon, dark cherry, graphite, good minerality, excellent length, and great vivacity.

2010 Arcanum (Tuscany, $100)
Sellian thinks that this one needs seven or eight more years to blossom, and I'd say that's a pretty accurate assessment. It's a dark, rich red, probably due to the 15% Cabernet Sauvignon component (there's also 25% Merlot, with the rest being our good friend Cab Franc). Think dried herbs and spices, power, and a hefty amount of tight, tannic grip. Not astringent grip, but definitely tight-ass grip. Just stock it away, and impress whatever lucky person happens to be having dinner with you in 2025.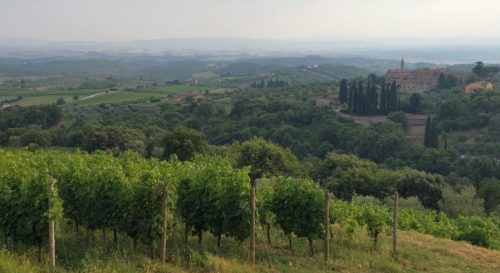 2007 Arcanum (Tuscany, $100)
Sellian had high praise for this "great vintage" and its resulting "cat tongue" tannins (I love that phrase). This is certainly one of Arcanum's most complex releases. It's earthy, dusty, full of dried herb aromas, spices, minerality, and not at all shy or short on length. There's a lot of bonus material to this feature, too; savory balsamic notes, violets, and licorice. While seductive and modern, it's also unmistakably Tuscan. 51% Cab Franc, 32% Merlot (I'm thinking that is the sexy part), and 17% Cab Sauv.

2005 Arcanum (Tuscany, $100)
What?!?? Less than 50% Cab Franc? The Hell?!?? Not to worry, as this vintage is in a very, very good drinking place right now. 28% Merlot, 24% Cab Sauv, and 100% interesting. Cassis, dried rose petals, vanilla, licorice, wood spices, tobacco, toast, green herbs… Rich in dark fruits, and a touch hot, it's the impress-the-clients, steak house selection version of Arcanum.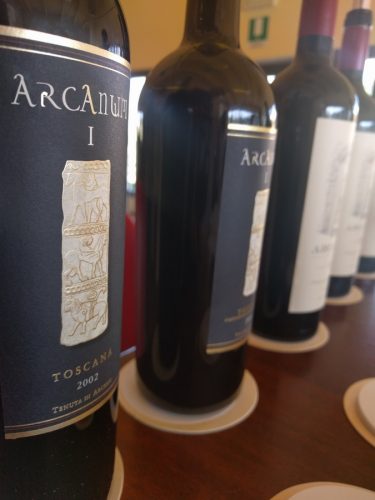 2002 Arcanum (Tuscany, $100)
"It's always good to start with a difficult year," Sellian said, "because then you know the terroir. That's how we've done it in Bordeaux for hundreds of years." A preponderance of Cab Franc, with 13% Cab Sauv and a smattering of Sangiovese, this is elegant stuff that shows a deft winemaking hand, and is absolutely delicious right now. The nose is gorgeous: floral, spicy, and still full of red fruits. The mouthfeel is equally as enticing, showing off cola, darker red fruits flavors, and an acid profile that's just in the sweet spot right now. This is the kind of red that converts wine geeks to Cab Franc, and sends already devout CF lovers further down into the rabbit hole of obsession.
Cheers!