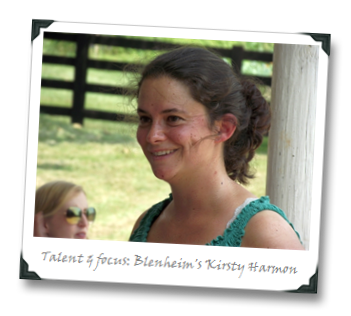 I am not a fan of small producers in emerging wine regions bottling and selling a large array of varietal wines; almost everyone loves having choices, but too often the cumulative result in this case ends up feeling like a Zinfandel that's been watered-down in a feeble attempt to get it under 16% abv – a diluted mess with a lack of focus (with even the worst results being pawned off at inflated prices to unsuspecting tasting room visitors).
Which is why meeting winemakers like Kirsty Harmon is more refreshing than a chilled Monticello Viognier on a steamy Virginia Summer Sunday.  She's the kind of person who, through their laser-like determination, make me eat my own virtual words!
Harmon is the driving force behind the wines of Virginia producer Blenheim Vineyards – a short, wavy-haired whirling dervish of a woman whose freckles belie a winemaking stance that is supremely mature in its simplicity: make wines for now, that are true to place, and make them as delicious as possible.
"I'm not a very patient person," she told me when I (and several other wine bloggers) visited Blenheim as during the producer visits that were part of the recent 2011 Wine Bloggers Conference in Charlottesville. "I try to make wines that are balanced and ready to go right out of the bottle."
Focus is the friend of the emerging-region winemaker, as is talent.  Harmon has both, and Right Coast wine producers would do well to focus on her… well, her focus. "Yummy" is usually a terrible descriptor to bandy about when you're trying to relay the essence of a wine to someone else, but in the case of Blenheim's bottlings the word just fits. Harmon makes yummy wines, and she makes them from several varieties – Syrah (peppery and bright), Chardonnay (peachy and solid), Viognier (floral and elegant), Merlot (herbal and hefty) and Cabernet Sauvignon (tangy and minty), to name a few – without any of them sucking…