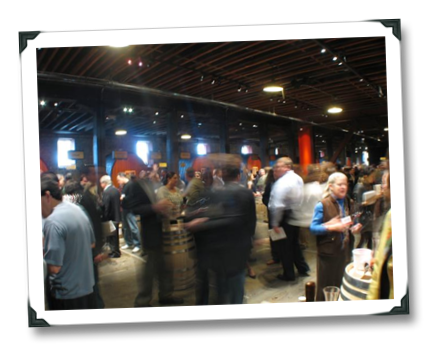 Sometimes the best way to convey the essence of an event is via comparison.  Especially when that event might be too noisy and hectic to capture on video.  Or, when you're video recorder isn't fully charged, so all you have are pictures, words, and memories.
And teeth stains.
Honestly, I think that my dentist is about to have a windfall…
Such is the essence of Premiere Napa Valley, which recently took place (February 20th) at the Culinary Institute of America in St. Helena, and is the spot where members of the Napa Valley Vintners Association hock ultra low-production amounts (often only one barrel / 5 cases worth) of (presumably) ultra-premium red wine.
Winning lot bidders obtain a unique product available nowhere else on the planet, specially bottled for their restaurant / merchants / stores / etc., along with (presumably) bragging rights at achieving the exclusivity.  In other words, it's a (very stiff) competition, presenting (presumably) the best-of-the-best from 200 of Napa's most storied and well-respected producers; a tooth-staining, mouth-puckering wine spectacle orgy of Cabernet-based California goodness.
As for the comparison: PNV is like a cross between Best In Show, the Superbowl, the Emmys, Calligula, and (with a lot of Japanese buyers thrown in for good measure) a Godzilla movie.
It will make sense, in a minute (or two)…