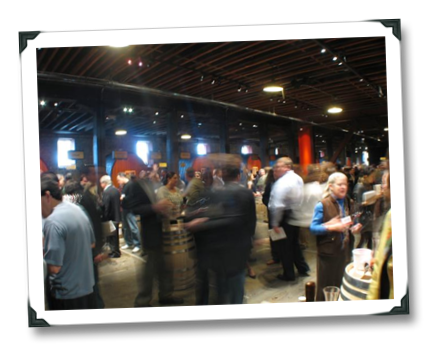 Sometimes the best way to convey the essence of an event is via comparison.  Especially when that event might be too noisy and hectic to capture on video.  Or, when you're video recorder isn't fully charged, so all you have are pictures, words, and memories.
And teeth stains.
Honestly, I think that my dentist is about to have a windfall…
Such is the essence of Premiere Napa Valley, which recently took place (February 20th) at the Culinary Institute of America in St. Helena, and is the spot where members of the Napa Valley Vintners Association hock ultra low-production amounts (often only one barrel / 5 cases worth) of (presumably) ultra-premium red wine.
Winning lot bidders obtain a unique product available nowhere else on the planet, specially bottled for their restaurant / merchants / stores / etc., along with (presumably) bragging rights at achieving the exclusivity.  In other words, it's a (very stiff) competition, presenting (presumably) the best-of-the-best from 200 of Napa's most storied and well-respected producers; a tooth-staining, mouth-puckering wine spectacle orgy of Cabernet-based California goodness.
As for the comparison: PNV is like a cross between Best In Show, the Superbowl, the Emmys, Calligula, and (with a lot of Japanese buyers thrown in for good measure) a Godzilla movie.
It will make sense, in a minute (or two)…
Of course, an event like PNV draws in wine personalities from around the globe, from the famous (Andrea Immer) to the banal (me) to the passionate (volunteers who happily hang coats for three hours just to be able to get some time in the tasting room for the hottest ticket in town).
There is something thoroughly surreal about hanging out with your press pals, talking shop with a famous winemaker (or two), giving social media advice to big-brand wine directors (damn… I should have charged for that one…) and then getting business advice from the owners of some of the most recognized wine publications in the world (not to mention having gourmet buffet lunch at the CIA, followed by dinner at In-N-Out Burger) all in the same day.
Among all of the red wine and purple smiles, there lingered the Godzilla in the room (told you it would make sense in a minute).  Mainly, an undercurrent of down-and-dirty blues to go with the overcast, gray skies that covered the CIA during the noisy and crowded SRO auction (which followed a very noisy and crowded SRO lunch, which followed a very noisy and crowded SRO lot tasting).  As in, singing the blues.
Most involved in this year's PNV probably didn't expect the money to come pouring in when they filed into the bidding area, after lunch in the CIA kitchen was interrupted by a large man in CIA standard white hat and apron, banging on a large pot and calling out "The auction is ABOUT TO BEGIN!" Why? A lousy economy and its even more lousy impacts on the high-end wine market.
But that's not how things turned out.
In the end, the purple teeth met up with a silver lining of sorts in those gray clouds, as the auction brought in about $2 million, a 30% increase vs. 2009 and the third-highest tally ever.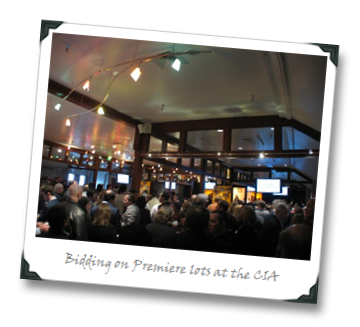 Shafer Shrader Shafer finished the day with the highest-bid lot, 5 cases sold to Winebid.com for $37,000.  Second place went to Ovid Napa Valley's five cases purchased by Capitol Cellars for $33,000.
What does it all mean?
Optimism, according to the Napa Valley Vintners.  From their post-auction press-release:
"The story, however, is not about the funds raised as being the benchmark of the Napa Valley wine industry's price stabilization in the current economy. It's about the confidence buyers for resale have in Napa Valley wines today, and the optimism and viability they feel about Napa Valley wines in the months and years ahead when these wines will be released for sale to consumers," said noted wine industry analyst Barbara Insel, of Stonebridge Research, who was at Saturday's event.
I guess those purple teeth are smiling after all.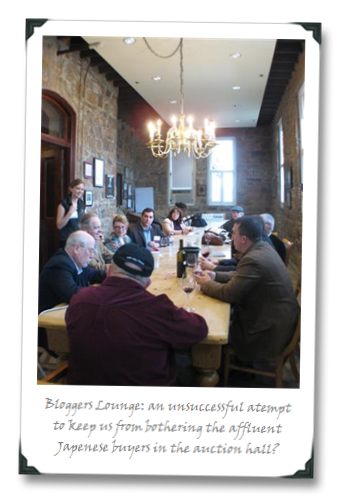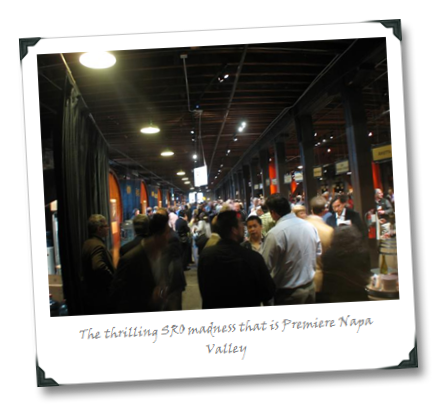 Tomorrow – my fave wines from the tasting.
Cheers!