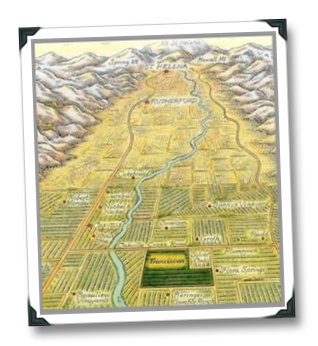 A funny thing happened on my way to the 2010 Pro Wine Writers Symposium.
I did some research, and found what I was looking for, just not where I expected to find it.
Since my Symposium fellowship was underwritten by Franciscan, I'm planning on a visit to the winery when I'm in Napa next month.   So I was digging around on the 'global interwebs' to get my bearings on all things Franciscan before the visit.  Reasons being that I wanted to get a solid starting point of Franciscan knowledge from which to branch out when I ask them questions and generally get all, you know, in-depth on them (you know how I am); also I'm a total geek and that kind of stuff is fun for me.
Not that I am without some knowledge of Franciscan – I've tasted some of their flagship wines, and their website is chock full of background on their Napa legacy (and with a past that featured Agustin Huneeus and one of the first real "Meritage" wines, your bragging rights around having a 'legacy' are pretty safe) and their take-it-to-perfectionist-extremes focus on blending.
As for what's happening now (and I mean, right this second) at Franciscan… not so much.  I didn't find anything at their website to connect me to the current happenings of the people there.
Nada.
I did find some of that information, though – just not at Franciscan.com, and not without a bit of digging…
Boku amounts of this type of Franciscan info. exists on-line, thanks mostly to the brand being part of the Constellation portfolio.  Presumably, this info. was put together for the internal use of Constellation employees, but it's not locked down in ay way so you can freely access what's out there – if you're willing to put up with the fuss of searching for it.
Take, for example, a more-or-less traditional Corporate America slide deck that provides an intro. to Franciscan (with a quiz at the end to ensure you were paying attention and not Facebooking instead when you were supposed to be learning).  The presentation isn't mind-blowing, but it does have links to videos where Franciscan winemaking director Janet Myers talks about current releases and the winemaking approaches behind them.
The videos are cool, if only because they put a human face on the brand – a human connection.
Why isn't this stuff on the Franciscan website? Dunno – seems a missed opportunity to me. I guess I'll have to ask them next month.
Wineries are sitting on such a potential wealth of information that could connect them to their consumers, and it's easy and very inexpensive to get started on it.  And yet… hardly any of them do it.
Sigh…
During my research, I also came across a few other interesting items that might tickle your wine geek fancy:
If you've ever wondered, while driving through Napa, what winery brands have their hands in what vineyard locations, the Oakville Growers Association have put together a handsome and handy interactive appellation map that tells you just that.
If you dig the Franciscan presentation linked above, Constellation has similar material on nearly all of their other wine brands at their Academy of Wine website – well worth a look if you happen to be sampling one of their wines and are curious for more info.
The Academy is also available in a mobile format, which looks smart-phone-friendly and offers quick facts about the brands and their wines.  Looks like a salesperson's tool to me, but I could see value in it if you're at the wine shop considering a purchase and want to check out some more facts about the brand.  Considering how big the Constellation portfolio is, I'd wager that this link could come in handy even though it has info. only on the Constellation brands – especially considering that it also contains vineyard profiles, pronunciation guides, and links to wine-related vids.
Cheers!