Last week, my latest Wined Down column for Playboy.com hit the Global Interwebs, and authoring it was an experience I won't soon forget.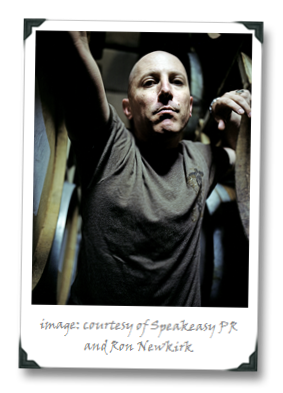 Firstly, it involved me interviewing someone over IP phone software using my laptop. I had to use the laptop becaue I needed a battery. I needed a battery because I didn't have much faith that my house would retain electrical power given the size of the thunderstorm that was sitting almost directly overhead of my snug little neighborhood at the time. I was Doubting Thomas of the powergrid because the last time I'd seen skies that black, I ended up with a flattened garage, a broken deck, a dead lawn (utterly killed off from having a couple of tons of horizontal 110-year-old oak tree deposited unceremoniously on top of it), and no one within an eight mile radius could use electrical appliances for the better part of a week.
Secondly, it involved interviewing a Grammy-award-winning rock-star-turned-winemaker (again): Maynard James Keenan, the man behind Arizona wine brand Caduceus, and someone who doesn't give the impression of suffering fools lightly. Oh, and he's someone who's rumored to be fairly reclusive when off stage, for just about anything other than the topic of wine. This is sort of what was running through my brain at the time, as I crouched on the floor coordinating notebooks, laptops, and headset while the sky outside took on a purplish hue that would have thrown a cheap Argentine Malbec into fits of jealous rage:
Please, please, pleeeeeeease UPS backup battery, keep the f*cking Internet connection online if the meteorological sh*t hits the fan…!
Thirdly, it involved Playboy, a gig for which the coolness factor is hella-far from running out for me (truth be told, I'm not sure the coolness of it has actually sunk in yet). And finally, in it Keenan talks about Grenache being a "panty-dropper" (and as rock-star as the wine world can sometimes get, I'm not sure the wine world gets a whole lot more rock-star than that).
The result of my excessive worrying (the power didn't even blink, by the way) is Wined Down: Exploring The Sexy Side of "Local" U.S. Red Wines With Rock Star Maynard James Keenan. Not all of the conversation between Keenan and I made it to the finished article, so I thought I'd share some of the geekier wine tidbits from MJK here, as a bit of a follow-up on what's been happening with Keenan and his wine brand, Caduceus Cellars since the last time we talked…