Last week, I made a foray into a (sort of) non-wine related piece of writing for Playboy.com's Nightlife section, contributing to what they call the "1% Travel Guide."
The idea behind that guide is to feature travel destinations so remote, or so extreme, or so exclusive, or so expensive (or some combination of the four) that 99% of us will likely never get to experience them.
Some of us get to piggy-back on that world, though. We usually go by the title of "winemaker" or "wine media," and I fall into the latter category. Which means that occasionally I get hosted in surroundings that are ridiculously beautiful and/or ridiculously expensive, because I'm not fitting most/any of the bill myself. When I visited Napa as a guest of C. Milan Communications earlier this year, that's precisely where I found myself, so I pitched the idea to Playboy about giving my hotel at that time – the Poetry Inn, owned by Cliff Lede (yes, that Cliff Lede, whose Stags Leap wine facility is visible from the Inn's hillside perch, so this is actually a little bit wine-related) – a possible feature in the 1% section.
Since I got paid for the Playboy.com piece, I can now afford what I'd calculate to be a few minutes stay back in the Poetry Inn's suite…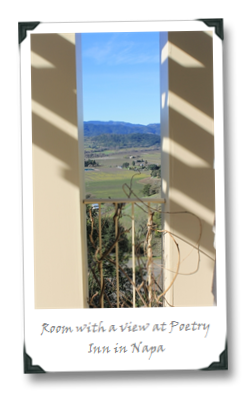 That suite where I stayed, incidentally, is the room that C. Milan founder Charlotte Milan told me was going to be where she spent her wedding night (I thought about leaving her and her newly-wedded hubby a message or funny care package carefully hidden in the room, since I was staying there just before they would be, but in a rare moment of personal restraint decided against it). Anyway, you can check out my PB piece on PI here; I will warn you that it's flattering, but I'd argue that it's also accurate, because aside from the price there's pretty much nothing to complain about with respect to PI. In fact, the only real complaint I had during my stay is that for his Open That Bottle Night party at the time, Lede uncorked a 5L of `90s Y'quem, which was kind of like witnessing vinous infanticide. These are, as they say, First World Problems (in the extreme).
I wish that I could say that all of my press trip hotel experiences ended like this one did – enjoying what's possibly the very height of service in al of Napa, smack dab in the middle of a beautiful location, while trading stories with multi-millionaire guests over breakfast, and then getting paid to write about it later – but that kind of luck comes around about… well, about 1% of the time. For sure I've had some fantastic digs, but I've temporarily called home just as many blah ones, and bedded up in quite a few dumps as well.
Lede's winery and the Inn were just one stop of many mostly-unrelated ports of call on that trip, which included attending Premiere Napa Valley, interviewing Kermit Lynch in Berkley, and touring around Lodi. Does any of this impact how I reviewed wines from that trip? I'd like to think not – and judging by my ratings, it didn't (some of the Lede wines are superb, for example, but I'm hardly in the minority in that determination, and some of them actually received higher ratings before I ever stayed at PI – shhhh, don't tell them!!!). But if it sounds as though I'm gloating a little bit, then you're paying attention. Hey, at least I came back with pictures!
Cheers!