"They already got themselves a woodchuck today."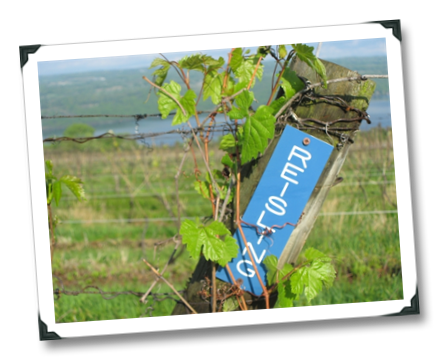 Sam Argetsinger was leading a slow but determined downhill walking pace, flanked by his two dogs who had done the woodchuck hunting before we'd arrived. He is stout, and affable, and his wide smile accentuates a face of weathered features. Sam's vineyard is small, relatively steep, and on the morning of May 8 it was playing host to a series of alternating bursts of warming sunshine from above, and strong cold breezes off of New York's Seneca Lake.
A group of thirty-odd wine writers and bloggers descended onto the area as part of TasteCamp East; I was part of a dozen-or-so who were taking a morning tour of Sam's vineyard on the second day of our trip. We had already, in a mere half-day, tasted dozens and dozens of Finger Lakes wines, some of which have been sourced from Sam's vineyard.
"The other thing about woodchucks," added Sam, stopping briefly and turning to face a small number of our group walking closest to him, and uttering the words without a modicum of sarcasm, "is that they're delicious."  We laugh, of course – most of us aren't farmers and none of us has ever tasted woodchuck.
"Must taste like chicken!" one of us says.  Sam's response – again without hesitation and appearing completely genuine: "Naw – it tastes like muskrat, mostly."  Sam then briefly explains how woodchuck gut can be employed to create a fine-sounding drum skin.
Welcome to the Finger Lakes, folks, where the water – carved out of the land like the claw marks of angry gods by retreating glaciers eons ago – runs long, narrow, and deep, like the traditions and views of the region's people.
It would have been easy to joke that a Fingers Lake red is the best thing to pair with that woodchuck (or muskrat), given the past history of red wines from the region.  And there certainly is nothing about Sam's vineyard that would suggest anything other than the belief that This Is Riesling Country: from the steep plantings facing the water, to the heightened amplification of every nuance of viticulture – aspect, elevation, light exposure, ripening… we might as well be in the Mosel, right?
Exactly what you'd expect of the Finger Lakes.
That is, until you taste the wines that aren't Riesling.  Until you taste the region's new reds…