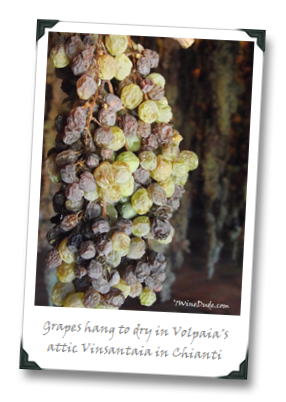 So… remember that little bottle of Vin Santo that I lugged back from Castello di Volpaia (with a not-insignificant amount of help from the VinniBag) during my post-Summer vacation in Tuscany?
Well, it remembers you.
Ok, not really – that would be pretty spooky, wouldn't it?  Like that goldfish in the bowl that was tormenting the kid in that South Park episode.
Anyway, as the weather in the Mid-Atlantic turns towards the cooler side, my vinous thoughts start to move away from Soaves of the world and towards the luscious, viscous, warming spectrum of dessert-style wines. And so I thought that a quick review of the wine that accompanied my long journey back to the States – and a recap of its production from my tour at Volpaia – might serve as an interesting introduction into how the (usually) sweet Tuscan wine Vin Santo is made.
Hang onto your sweet teeth, and let's take a peek inside this Tuscan attic…