Despite the fact that I have content to write up that spans more than a year of travel (including my takes on the wine scene in Israel, the southern Rhone, and Romagna), the thing that's been rattling around in my brain and not letting the hell go stems from a much more recent excursion, when I had a brief, impromptu visit taken during my latest jaunt to Monferrato.
Specifically, to the as-of-right-now 219-year-old building (established the same year – 1900 – as the planting of the sort-of-famous tree in their backyard in Nizza) of Scarpa. My short-term obsession has to do with the impression that this relatively small (22 hectares, yielding about 120,000 bottles/year) producer is fascinatingly, anachronistically refreshing within the context of modern Italian wine. Time passing seems to have little impact on how Scarpa approach crafting wine in Piedmont.
Scarpa works only with indigenous Italian grape varieties, and is one fo the few regional producers that have been grandfathered in to the zonal production laws of Barolo. The rest of this short tale is literally told almost exclusively in liquid form, in the hopes that my written words can transmit the sense of nonchalant, almost insouciant joy that Scarpa's winemaking style presents…

2015 Scarpa 'Casa Scarpa' Barbera d'Asti (Piedmont, $22)

Earthy, old school, and classically framed, this is a textbook definition of how traditional Asti and Piedmontese Barbera shoudl present itself. Juicy red fruits and vivacity are there, but so are hints of tenser structure, leather, and spices. Capable of elevating just about any meat pasta dish to more refined territory at a moment's notice.

2015 Scarpa 'Bric du Nota' Nebbiolo d'Alba (Piedmont, $40)
Only 3,000 bottles of this alternatively-styled Nebbiolo were made, using large-format Slavonian oak barrels for aging. If that sounds Old School, it's intentionally so, but in the best ways imaginable: the ways with stewed plums, incense, cloves, earthiness, minerals, bacon fat, spices, lanolin, violets, licorice, and balsamic. This is intense in its aromatic punch and its vibrancy, but at no point feels overwhelming; in other words, it's a joy.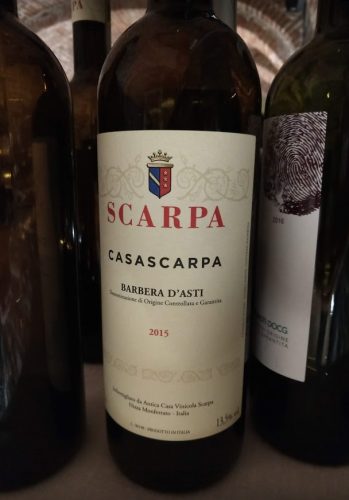 2013 Scarpa 'La Selva di Moirano' Monferrato Freisa Secco (Piedmont, $25)
Occasionally, you run into a wine that makes little sense without food; this was one of those times. Scarpa's Freisa Secco is the kind of red that feels disjointed on its own, yet will gracefully, resplendently shine with just about anything at the dinner table. Pepper, wild raspberries, meat, and spices open things up, juicy red plums are next, followed by acidity that's both intense and yet somehow soft around the edges. The tannins are a bit on the rougher side, but their feel is tempered by a clean, linear, just goddamned delicious finish.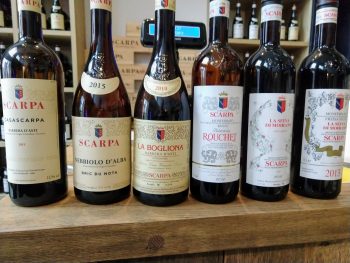 2016 Scarpa 'La Selva di Moirano' Rosso Vino da Tavola (Piedmont, $50)
One of the more complex and complicated Brachetto d'Acqui incarnations that you're likely to ever encounter – herbs, mint, roses, lanolin, juicy and brambly red berries, and savory game meats abound. It's leathery, chewy, lovely, lively, and difficult to understand at first (don't worry, it's also so tasty that soon enough you won't care).

2014 Scarpa 'Briccorosa Rouchet' Monferrato Rosso (Piedmont, $45)

This is Ruché, a Piedmontese grape with which longtime 1WD readers are already quite familiar, though it's not labeled as such. Back in `74, Scarpa received a few Ruché plants as a gift, and planted them on sandy soils in a windy, elevated area of their vineyards. That turned out to be just about the perfect spot for Ruché, but at the time Scarpa weren't permitted to put the grape name on the label. So, like just about all Italian producers do, they turned to their deep penchant for fantasy names. Roses, perfume, pepper, dried herbs, mint, and sour cherries kick things off with this excellent – and stainless steel only – version of one of Italy's wilier red varieties. There's a smooth palate entry, austere tannins, and a finish that's long, tasty, chocolaty, and spicy.
Cheers!