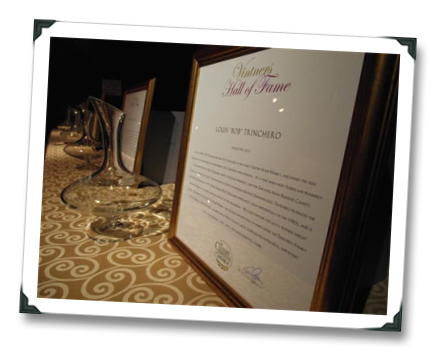 As most regular 1WD readers know, I'm not much for classic reporting-style articles.
In fact, to me the choice between writing a "such-and-such took place on Monday and so-and-so was honored with a whozy-whatsit for their work on the whatcha-ma-jigger" piece or a "let me tell you what I think about X…" piece – namely, between writing a USA Today style event report ,or interpreting an event through the prism of my unique but twisted perception – is sort of like having to choose between being brutally murdered or having amazing sex.  In other words, there's really no choice at all, is there?
So, you'll hopefully understand why I'm having trouble trying to decide how best to bring you news of the Fifth Annual Vintners Hall of Fame event held earlier this week at the Culinary Institute of America in St. Helena (I was invited as part of the 2011 Pro Wine Writers Symposium, which in turn I'm attending as a speaker but more so as a learner as I gear up my efforts trying to make a living in the wine world).  To further complicate the matter, I promised my friend W. Blake Gray (who chairs the VHF Electoral College) that I'd consider writing something about the event, and he's really a very talented and nice guy so I'm gonna feel really bad about myself if I don't at least give this the old college try.
See, even that tiny bit of exposition was painful to write.  F*ck me, I need a drink already.
Anyway, rather than give you a litany of facts about this year's thoroughly deserving inductees (you can read all about them at http://www.ciaprochef.com/winestudies/events/vhf_inductees.html), I want to share with you what those inductees – or, rather, the what the speeches that introduced those inductees – tells us about how California wine came of age.  And it can be summed up in two words…