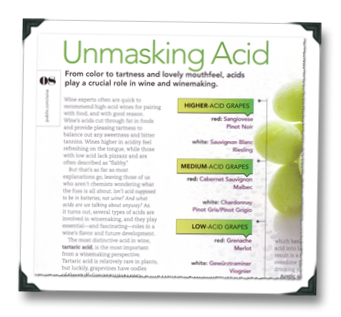 Sometimes synchronicity of seemingly unrelated events feels like it's biting you on the ass (like when you get an increase in property taxes, health care premiums, and the price of your favorite beer, all in the same week). But other times, synchronicity is amicable, gently applying a sort of lifestyle deep tissue massage to your spiritual buttocks.
I think a recent congruence of wine-related events in my life falls into the latter (butt-massaging) category. They involve 1) the Publix supermarket chain, 2) thinking about low-acid wine grape varieties, 3) South Africa, and 4) racial tolerance.
I know what you're thinking… how's he gonna get himself out of this one? Have some faith, people!
For a little while now, I've been quietly (not a normal operating mode for me, I know) penning the In Focus section for Publix Grape Magazine (those of you living in much of the Southern U.S. can sign up for Grape, for free, by the way). I love the gig, because they ask me to take complex wine topics like Oak or Yeasts and make them accessible (and hopefully edu-taining) to wine laypeople (also known as normal people who don't find obsessing over detailed winemaking topics to be as geektastic as we do). The Fall edition of Grape is hitting publication now, and in it I write about the fascinating (to us geeks, I mean) world of… wait for iiiiit… wine acids!
Hello? Anyone still there?!??…