Friuli winemaker Fulvio Bressan's racially-charged political comments about Cécile Kyenge, Italy's first African-Italian government minister (you can read the translation if you're up for it, but fair warning: it will most likely disgust you) just caused a large crap-storm in the wine world.
In my view, only an idiot (it takes a lot of stupid to hate based on race, people) would not find Bressan's original statement offensive.
In the comments section of Jeremy Parzen's excellent Do Bianchi blog,  there is a follow up from Bressan offering an unapologetic rant in defense of his original (indefensible) statement. I have a touchy spot (ok, a huge, ugly, flaming, red-hot-molten-lava spot) for this type of racially-motivated hate talk, particularly when people of African descent are the targets, as I have a niece and a nephew who are beautiful, intelligent, well-rounded, gentle, and amazing young people, who also happen to be black.
So having this kind of thing happen within the wine world hit a little too close to home for me, and I responded to Bressan directly on Do Bianchi:
Fulvio,

Nothing in any of your unapologetic, post-facto rants justifies the fact that you could easily have made your politically-motivated comment without a single one of the racially-charged epithets you decided to include (presumably for emphasis but clearly without regard to what reasonable people would find offensive or hurtful). The right thing to do – the ballsy, mature, adult thing to do – would be to issue a formal apology immediately.
I, of course, have not been the only one to ask Bressan to apologize (far from it). To my great surprise, Bressan actually did so… sort of…
He countered with a nearly 900-word Facebook timeline response, of which exactly ten words were dedicated to a public apology, and in which he referenced Cécile Kyenge not by name but as "that person":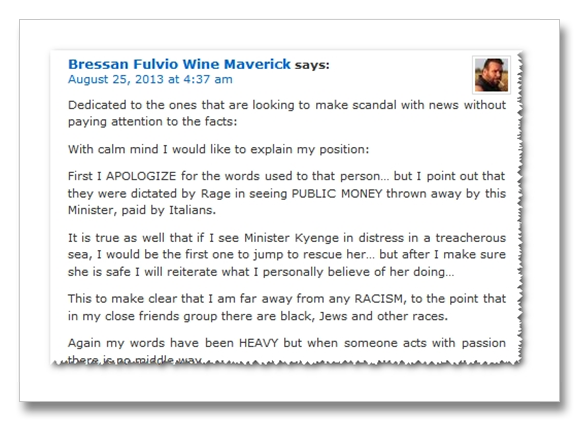 Sorry, dude; NOT GOOD ENOUGH. For my money, I refuse this apology; the explanations should come later, the apology – more heartfelt and sincere than this one – to Cécile Kyenge ought to be coming first. Of course, it's not my place to accept or reject an apology from Bressan… or is it? If I'm also an outraged wine consumer, I may not deserve an apology, but I refuse to believe that I don't deserve a proper explanation (or that my desire to see a wrong by a celebrated producer properly righted is somehow meaningless).
I also refuse to believe that all Northern Italians share Bressan's severely anachronistic and juvenile notions of what constitutes fair play when it comes to freedom of speech. And I refuse to believe that Bressan's mess will soil the beautiful wines and wine culture of Friuli, just as I refuse to believe that Bressan speaks for all Northern Italians, especially considering that I come from a country (the U.S.) that in large part was built from the ground up immigrants and is all the better for it.
I refuse to believe that the wine world isn't better than this, and I certainly refuse to become more heartbroken than offended about Bressan's statements, no matter how heartbreaking it is to have someone so gifted write something so stupidly hurtful.
But most of all, I refuse to drink Bressan's wines, no matter how f*cking good they might be, because we live in a world where context and character do matter. I also refuse to accept that this matter is somehow none of my business, because as a wine lover and wine consumer myself, I definitely get a say when someone who is making products that I am considering purchasing f*cks things up as badly as Bressan just did.
I refuse to believe that there aren't plenty of like-minded wine consumers out there who will agree with me on the above. And I refuse to believe that those like-minded wine consumers won't vote against Bressan's actions with their wallets.
And finally, I refuse to believe that this example isn't serving notice, because there's something fundamental about the wine world that public haters within it need to clearly understand, something that this example – and the many, many public responses from people who are ready to stop buying this guy's wines as a result of it – has taught us:
The wine business is competitive enough that no one in their right mind would buy a wine, regardless of how good it is, if it comes with a large side order of douchebagery.