A few weeks ago I got an intriguing email from a California vintner; intriguing in that he was, he told me, originally from my neck of the woods (near Philly in Southeastern PA), and would soon be in town for a wedding. Could we get together over lunch to taste some of the wines he'd been working on (note: ending of sentence with preposition is intentional for casual effect – deal with it, grammar nerds!)?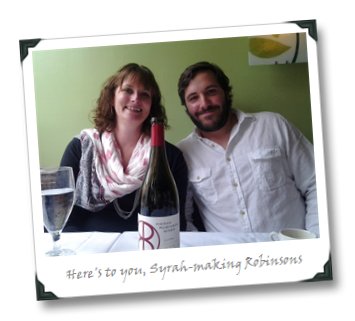 I couldn't say no to that one; I've had too much good luck with tasting wines made by now-Californians with close PA ties.
The former Philly Boy in question was Kieran Robinson, now an assistant winemaker at Jericho Canyon Vineyard in Calistoga, and who makes his own Bennett Valley Syrah under the Kieran Robinson Wines label (more on that in a minute or two). I've now got a bit of a soft spot for Jericho Canyon, because they are the only winery that I can recall that actually filled out my (facetious) Useless California Vintage Report Template (seriously, this has to increase their general ballsy-awesomeness quotient by at least a couple of points, right? – check out their choices).
Anyway, turns out my lucky streak has remained intact, because they guy is making excellent Syrah, the kind of wines that could get overlooked by lazier retailers and distributors, but could send wine geeks swooning.
Before we talk about the wines, we should talk about the guy, as his interesting and circuitous path to winemaking experience has done a lot, I think, to give him both the confidence (or is it insanity?) and the know-how to make Syrah with this kind of vintage- and geographic-driven expressiveness…