Remember when I recently mentioned former Luftwaffe pilot and not semi-retired Port media guy Axel Probst?
Axel (a.k.a. "Herr Plane" now to 1WD readers) contacted me shortly after that article went live (he wasn't aware that I was going to mention him) to thank me for the shout-out, and also to share two of the most unique and interesting pictures of Portugal that I've ever seen.
Axel kindly agreed to let me share these amazing photos with the world, and I can promise you that it's a view of Porto and the Douro that 99.99% of you reading this have never seen, since they were taken from a flyover in a Luftwaffe fighter jet! Unless it involved bikini-clad models with machine guns, capes, and world-saving super-powers parachuting out of the planes in the picture, I'm lost as to how these pics could get any more bad-ass awesome.
Axel's quick explanation of the photos:
"Please find some fotos attached which mix Port and flying quite nicely. On the first you see Dirk Niepoorts Quinta do Napoles below and the other is overhead Vila Nova de Gaia/ Porto."
Enjoy the eye-popping awesomeness after the jump, the kind of awesome that can only be had by combining war machines and Port, the kind of awesome that totally smokes what you now previously thought was an awesome screen grab from your ten-hour marathon session of Call Of Duty: Ghosts (let these shots be a reminder that you really need to get out more often, okay?).
If you're a wine lover, and particularly a Port lover, consider your awesomeness quotient for the week fulfilled…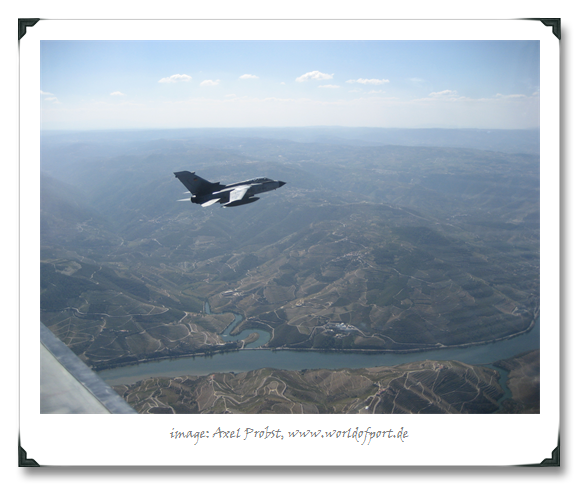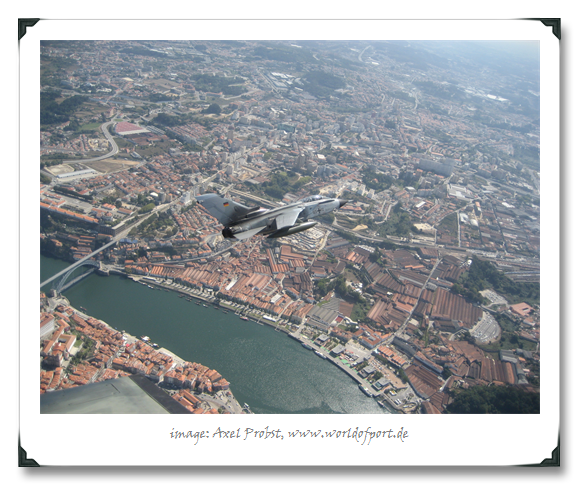 Cheers!