A few weeks ago I got an intriguing email from a California vintner; intriguing in that he was, he told me, originally from my neck of the woods (near Philly in Southeastern PA), and would soon be in town for a wedding. Could we get together over lunch to taste some of the wines he'd been working on (note: ending of sentence with preposition is intentional for casual effect – deal with it, grammar nerds!)?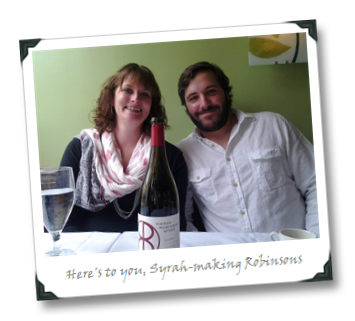 I couldn't say no to that one; I've had too much good luck with tasting wines made by now-Californians with close PA ties.
The former Philly Boy in question was Kieran Robinson, now an assistant winemaker at Jericho Canyon Vineyard in Calistoga, and who makes his own Bennett Valley Syrah under the Kieran Robinson Wines label (more on that in a minute or two). I've now got a bit of a soft spot for Jericho Canyon, because they are the only winery that I can recall that actually filled out my (facetious) Useless California Vintage Report Template (seriously, this has to increase their general ballsy-awesomeness quotient by at least a couple of points, right? – check out their choices).
Anyway, turns out my lucky streak has remained intact, because they guy is making excellent Syrah, the kind of wines that could get overlooked by lazier retailers and distributors, but could send wine geeks swooning.
Before we talk about the wines, we should talk about the guy, as his interesting and circuitous path to winemaking experience has done a lot, I think, to give him both the confidence (or is it insanity?) and the know-how to make Syrah with this kind of vintage- and geographic-driven expressiveness…
Robinson worked as an assistant at Six Mile Creek in the Finger Lakes, then got his hands dirty in the soup-to-nuts winemaking process at Chaddsford Winery in SE Pennsylvania ("That's what got me into the business and kind of hooked," he told me), followed by a stint in the Côte-Rôtie in France's northern Rhone Valley, working for Pierre Gaillard. He then headed west, cellar-ratting for Cakebread Cellars ("It was the first time I ever gained weight during harvest, because I sat on a forklift for thirteen hours straight," he noted) before making wines under Paul Hobbs. Finally, he found his way to Jericho Canyon Vineyards, where he know works under the highly-regarded (and, I should add, extremely funny) Aaron Pott and Über-Consultant Michel Rolland.
"My first year in the business, I was able to be hands on with the winemaking process, from crush to bottling line," the soft-spoken Robinson explained when we met. "Working in Pennsylvania was an opportunity in a place that wasn't traditional or known – maybe one out of five vintages there is awesome. It gave me an advantage, to make wine in challenging years. It taught me how to deal with situations like when it rains in October. People with experience in Europe and the East Coast know how to deal with this stuff. I think that's the number one thing that's helped me in my career."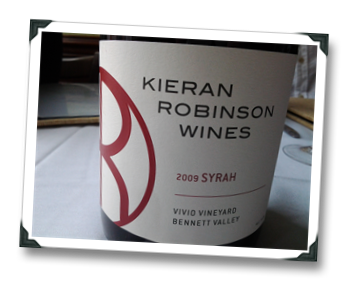 What about stinting under the myopic-wine-world-equivalent of celebrities, like Aaron Pott and Michel Rolland? Any key takeaways form them?
Robinson had high praise for those bosses: "With Aaron it's not being afraid to let the wine sit in tank until you're comfortable with the wine, because once it's off the skins that's basically what you're going to get. He's there every day tasting through tanks. With Michel, it's blending; tasting through wines separately, just learning what each wine will bring to the table. A lot of my preconceived notions completely went out the door. You'd think that a soft, round Merlot would compliment a huge, edgy Cab, but sometimes that's just not the fact. Sometimes you put two huge, edgy Cabs together and it's the softest thing you've ever tasted."
And finally… the key question… as an East-Coaster-gone-Left-Coast, what's his football allegiance?
No hesitation from his wife Kristie, who had joined us for lunch (she is co-owner of the winery, and it should be noted, before reporting her answer, that se met her husband in Philly): "The Eagles; always will be."
Hey, so long as they're not 49ers fans, I suppose… (sorry, had to go there)…

2009 Kieran Robinson Wines Vivio Vineyard Syrah (Bennet Valley)
Price: $50
Rating: B+
Robinson's Syrahs are wildly different wines, a function of letting both place and vintage dictate what the wine wants to be. The Bennett Valley Vivio vineyard, from which both his 2009 and 2010 Syrahs were sourced, was planted in 2001 on gravely clay loam soils at about 900 feet elevation. Native yeasts used in the fermentation, some whole cluster, and about half new French oak in each case. Now that the boring stuff is out of the way, let's talk about the good stuff (and there's a lot of good stuff here): the wine is meaty, spicy, grippy, complex and chewy, and is just about everything that's right with New World Syrah. Fans of bigger reds will dig it, and the only cavil I had was that I wished the finish were a bit longer.

2010 Kieran Robinson Wines Le Voyageur Syrah (Bennett Valley)
Price: $38
Rating: A-
Go figure, they lower the price on a wine that's actually worth at least $12 more than the previous vintage. I loved this Syrah. I drank the hell out of this Syrah later after taking it home. Peppery, bright, meaty; dark cherries that are deep but also have vibrancy. It's pretty, too, with floral and spice notes. The wine-drinkin' Earth needs more Syrah like this; Syrah that's not trying to be Merlot, Syrah that's alive and… honest. The kind of wine that you'd associate with Philly sports fans (minus the throwing-of-ice-balls and the booing-of-Santa).
So, Eagles fans, listen up… do us wine geeks a big favor and start making more Syrah in California, please…
Cheers!